Hurricane Katrina has bombarded Americans with non-stop scenes of devastation. More than two weeks after this gargantuan tempest slammed into the Alabama, Louisiana and Mississippi coastlines, the full extent of loss in life and property has yet to be tallied. But while Americans may still not know exactly how much they've lost, they have already collectively begun to battle this new deficit with donations of cash, goods and labor. The charity is not restricted to Americans, either, as aid flows in from around the world.
Within the gay community, action has also been swift. The Metropolitan Community Church — a GLBT church based in West Hollywood, Calif., but with congregations across the country, including the D.C. metro area — has organized the MCC Hurricane Katrina Relief Center, helping to raise funds and marshal offers of housing and other assistance for those directly affected by the hurricane.
Gay philanthropist Tom Gill's Gay & Lesbian Fund for Colorado has offered $1 million to match assistance to Katrina victims donated by fellow Coloradoans.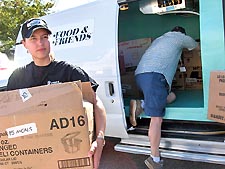 Kirsten Feyling of Food and Friends unloads meals at the DC Armory.
(Photo by Photo courtesy Food & Friends)
The San Francisco-based Rainbow World Fund is gathering gay dollars for America's Second Harvest, a national food-bank network. "We're already approaching a quarter million dollars," says Jeffrey A. Cotter, president and founder of the Fund. "We'll get a check in the mail, where someone says they had a beer bust and named us beneficiaries…. All the work we do, it's all about the gay community responding to need. Right now we're raising money for food aid. Recipients are gay and straight alike."
Another national effort, this one aimed at helping GLBT youths and families affected by Katrina, began with the D.C.-based National Youth Advocacy Coalition (NYAC). The group's Hurricane Katrina LGBT Relief Fund has attracted roughly 30 partner organizations to the effort, including giants such as the Human Rights Campaign and National Gay and Lesbian Task Force, to smaller local groups including Basic Rights Oregon and the L.A. Gay and Lesbian Center.
"The infrastructure formed overnight," says NYAC Executive Director Craig Bowman. "[It was prompted] mostly by offers of help coming in from all over the country. We had a lot of folks calling and writing."
"We encourage folks to give to whatever organization would feel best to them. [This fund] is really intended as human aid directly to LGBT people. We'll do that through the local level…. One-hundred percent of the funds will go down to help the people. No one is keeping any administrative or overhead fees."
While Bowman's relief fund heads south — with Bowman himself scheduled to survey the situation in Houston Sept. 15 — some charity has already begun at home. Food & Friends, which serves meals to more than 1,000 clients with HIV/AIDS, breast cancer, and other illnesses in the district and a 14-county area of Maryland and Virginia, added a few hundred more meals to the routine last week.
"I contacted [city councilmember] David Catania, who I know is a city leader in organizing preparations for hurricane evacuees," says Craig Shniderman, executive director at Food & Friends, referring to the nearly 300 hurricane evacuees who arrived at the D.C. Armory Sept. 6 for temporary shelter. "On Monday [Sept. 5], he said, 'Please stand by.' At 1:45 Tuesday afternoon, we got a call from a member of his staff saying they needed 400 complete hot meals — 'now.' Our volunteers and staff went to work, and at 10 minutes of 4 [o'clock], 400 fried chicken/turkey dinners went out the door."
Though they've not returned to the evacuees' aid, Shniderman says Food & Friends will remain on standby, awaiting any request from the city for more meals. As Shniderman keeps his crew at the ready, other locals are doing what they can to help the hurricane victims. For example, a Sept. 9 concert presented by Deep Dish and Panorama Productions at MCCXXIII Nightclub — venue for the ongoing Lizard Lounge gay event on Sundays — raised $20,140 for the American Red Cross's Katrina relief. Across town, on Capitol Hill, the tune switches from electronic to country.
"Two of our boys are from Mississippi," says Kevin Platte, director of the D.C. Cowboys gay dance company. "Their families are fine, but they had to evacuate. Folks are living with other family members and starting the rebuilding process." Though his two dancers' families may have been affected, the devastation in the Gulf States was already personal for the Cowboys. In 2003 and 2004, the D.C. Cowboys were the guest headliners of Halloween in New Orleans, an annual circuit event that benefits Lazarus House, a New Orleans AIDS Hospice. Lazarus House, in operation since 1986, has temporarily moved its base of operations to Arizona, but administrators say they intend to repair their buildings in New Orleans. On Sept. 16, the D.C. Cowboys aim to help with their regular monthly event at Remington's.
"We thought it would be appropriate," says Platte. "It goes hand-in-hand with our mission to giving back to groups that provide services to people HIV/AIDS. Basically it will be our regular format, but we'll be educating throughout the evening about what Lazarus does. There will be dancing, live entertainment, a live auction. We just put this together. It would be nice to raise a few thousand dollars. It just depends on how tapped-out people are."
Other local events scheduled for the benefit of Hurricane Katrina victims include HRC's Sept. 30 Comedy Rocks show with Leslie Jodan, Alec Mapa, Suzanne Westenhoefer and Karen Williams, and haircuts, with all proceeds going to the American Red Cross, on Sunday, Sept. 18, at Urban Style Lab, 1341 Connecticut Ave., just south of Dupont Circle.
Additional fundraising and relief efforts will be listed and updated at www.metroweekly.com.