"I'm in gay heaven," thought Christopher Dyer when he found himself backstage at a Capital Pride celebration as Martha Wash belted "It's Raining Men" from the stage and the Village People warmed up to follow her.
That's one of many memorable highlights for Dyer — a.k.a. Cookie Buffet, his long-time drag persona — during his decade as one of the many volunteers who work behind the scenes to make the Capital Pride festival possible.
It's a lot of work putting the event together. While festival attendees may not arrive until afternoon on Sunday, for some the festival begins at 8 p.m. the night before — that's when Dyer and his fellow volunteers would drive Capital Pride's motorcade of golf carts from the parade closing area to the festival site on Pennsylvania Avenue, often with Sgt. Brett Parson of the police's Gay and Lesbian Liaison Unit providing escort.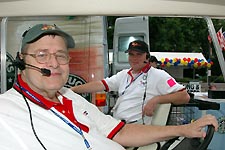 Stansbury and a fellow volunteer
(Photo by File photo/Metro Weekly)
After the location is closed to traffic, the booths and stage are set up, followed by a brief respite. Volunteers return around 5 a.m. Sunday morning. But somebody always remains behind to hold down the fort. And there's a lot to hold down.
"There are 185 tents, 365 tables and chairs," says Dyer, who generally would begin his Pride day as Cookie Buffet. "Moving Porta-Potties around at 5 or 6 in the morning is always exciting. Setting up a Porta-Potty in a wig is not the easiest thing in the world."
Dyer's current schedule precludes him from continuing his volunteering. However, as with past years, there are many volunteers ready to take on the day.
This year's Capital Pride marks the third year that Burgundy Crescent Volunteers (BCV) has coordinated volunteers for the event. BCV's Jonathan Blumenthal says that about 150 volunteers are ready to go, with about half of those assigned to the festival.
Volunteers do last-minute checks, such as making sure all the aforementioned toilets are unlocked, and then label all the tent assignments during the morning hours before the crowds begin pouring in. Different types of booths are generally grouped together — non-profits in one area, retail vendors in another.
"One year I decided it would be fun to arrange vendors in similarly themed clusters," says Dyer. "But I actually put the bears next to the electrolysis group. My bad. But these things happen."
Once the crowds reach capacity by early afternoon, it's time to hold tight and hope all the early planning makes the festival go off without a hitch.
Of course, different positions may entail longer responsibilities. While booth duties may involve a two-hour shift, Blumenthal says backstage volunteers work longer shifts because it helps to keep things running more smoothly.
Blumenthal says that people volunteer for a variety of reasons, from a desire to get involved in the community to wanting to learn more about how the event works.
"It's also a great way — with so many people…who are new to the city — to get involved and meet new people," he says. "Volunteering is a way to be active and involved."
Larry Stansbury, executive director of Brother, Help Thyself, says he first volunteered with the Pride festival in the 1970s, though he's not quite sure of the year. "Back when it was on the school grounds, I handled the money for the beer truck," Stansbury recalls. "For the last six or seven years, I've been handling the safety and security for all the events."
Stansbury notes that most Capital Pride Festival attendees don't fathom all the work that goes on behind the scenes:
"We make sure outside vendors don't drop in without an invitation. We make sure people drink responsibly. We make sure the stage is protected. We make sure we comply with all the city's rules and regulations. It's all part of what I do to make sure that everybody gets a chance to enjoy the festival. And most of it comes off looking pretty seamless.
"We're one of the largest one-day events in the city. And the city patterns most of its other events on us. We do what we do very well. We manage one of the largest crowds in the city.
"I'm just glad to do what I do to make Pride easier. It's a labor of love for the community."
For more information on the Capital Pride Festival Site, including a map and a list of rules and regulations, click here.
For more information on this year's scheduled festival vendors, click here.