METRO WEEKLY: How did the performing bug bite you?
CHRISTINE BARANSKI: It's hard to exactly pinpoint, but the fact is that my paternal grandparents were actors in the Polish theater in Buffalo. They did plays and operettas when I was a little girl. My grandmother lived in our home with us while my father was still alive. She had her own radio show with her friend and they wrote comedic sketches and performed on the Polish radio station. So there was theater in my family background.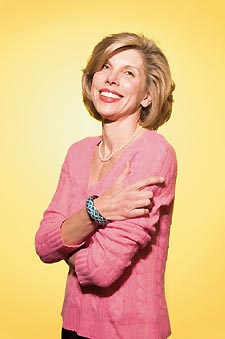 Baranski
My maternal grandmother had a beautiful coloratura voice and both my parents sang in Polish choruses, so I would go and hear musical concerts. I was sent to ballet school when I was very young and really loved dancing. I started performing in high school by the end of my sophomore year. We had an absolutely marvelous drama coach. She had been an opera singer from Australia and she had beautiful dark red hair and a beak-like nose and talked with this Australian accent. She was a wonderful person to have in a school for girls to direct plays. She was an actress and a singer, and she encouraged me. By the time I was a junior, I thought, "Oh, this is it, I want — just want — to be an actress."
I auditioned for various theater schools but the one I really wanted to get into was Juilliard. They didn't want to accept me because I had like a Lauren Hutton type space between my teeth and they said it was possibly causing a sibilant "s," the most difficult sound to correct. So they said if I was willing to get speech therapy and cap my teeth to close up the gap they might reconsider me. I had them capped and had a summer of speech therapy and then I re-auditioned for Juilliard. I was in John Houseman's office with John Houseman sitting there and this formidable voice and speech teacher named Elizabeth Smith and I had to do a monologue that was nothing but "s" words. I got in on almost a full scholarship. So I say I got into Juilliard on the skin of my teeth — literally.
MW: Michael Kahn, whom you ultimately had as a professor there, was important to your career.
BARANSKI: He was very influential. I always thought he was the best acting teacher I had. He directed me in my fourth year at Juilliard and gave me the lead in 'Tis Pity She's A Whore. And then he hired me to go to the Stratford Festival in Connecticut in April. I wasn't even at my own graduation at Juilliard because I was already a working actress. Michael is really responsible for launching my career. I got some wonderful credits at the get-go. He had me meet a manager and I got representation. Yeah, Michael is a big part of my life.
MW: Your career has successfully encompassed every single facet of what an actor can do — from Broadway and off-Broadway to major film and television work. Which do you get the most enjoyment out of?
BARANSKI: I'm not sure I ever had a bigger high, honestly, than doing Sweeney Todd [at the Kennedy Center], singing that score onstage with a full orchestra. I'm not sure anything gets better than that, you know? Doing the work of a great playwright and composer. But, honestly, I do enjoy film. The more I do it the more I learn.
But I never say I have a preference for one medium as opposed to another. Most of my training and most of my career has been theater and I have to say it's great to be back doing it. I had to put it on hold for a while because my children were growing up and I had to pay bills. Television and movies did that. With an actress you have a certain number of [working] years. I always say God should have given women one extra decade at least, especially if you want a family. You're trying to pack a lot in.
MW: You were on television at a point where it was starting to actually overtake film in terms of overall quality. Television had always been kind of looked down upon, the bottom tier.
BARANSKI: I know what you mean. It was considered that you were stepping down by doing television, you know. I almost turned Cybill down because I so wanted to remain a theater actress. I didn't want to move my family to California. I had such ambivalence about it. I was one of those actors who was a chauvinist. "No, I'm a theater actress. If they do a show in New York maybe I'll consider it but I'm not going out there."
MW: What convinced you?
BARANSKI: It was the early '90s, and in the early '90s New York was a pretty depressing place. I had done some absolutely wonderful theater roles. I was in a couple of marvelous plays that never made it to Broadway from off-Broadway. I did great work and yet they weren't packing in the audiences. There wasn't a market for serious plays. People weren't going. And I thought, "Where are the producers? Why aren't these plays filling seats?"
When I left [for L.A.] I did it almost kicking and screaming. I almost called my agent in the middle of the night and said, "I can't, I just can't make the jump." But I did and it absolutely changed my career because even my theater career improved. I'm sad to say that stardom is a commodity in our culture — your celebrity becomes something of value. I'll give you an example. I had won two Tony Awards. I was never asked to present a Tony. I was never invited, and unless I was nominated, I never went. As soon as I did Cybill and won an Emmy, suddenly I was a presenter on the Tonys and asked all the time. My first year of Cybill, Mike Nichols called and asked if I would do The Birdcage. Mike and I are dear friends — I'd worked with him many times in the theater — but he had never offered me a feature role in a movie. I think being in Cybill had that kind of impact. My television career just opened other doors for me. And so now I'm like "Thank God, I did it."
MW: Thank God you did it, too. With all due respect to Cybill Shepard, you were the reason to watch Cybill. At least you were the reason I watched it.
BARANSKI: Maryann was a fabulous character, you have to admit. She really packed a punch. First of all, she was the first of those ladies on American television — you know, the martini swilling, decadent, middle-aged woman. There was Joanna Lumley on Absolutely Fabulous, but American television hadn't seen that yet. In fact, when [the producers] approached me about Cybill, they also were interested in me for the American version of Ab Fab. They were talking to me about both projects, but Cybill was going to happen right away. And Ab Fab, which was the one I was really interested in, didn't take hold.
MW: I always thought Maryann seemed modeled off of the Lumley character.
BARANSKI: But Chuck Lorre, who created Cybill, had never seen Ab Fab. He'd always had in mind to create in Maryann this hard-drinking woman who hated her ex-husband. She was politically pretty incorrect, with the martinis, with her language, and Chuck wrote that character very witty. Some of her one-liners were just primo. I had great material. People used to say, "I can't wait to hear what's going to come out of your mouth next" and "I can't wait to see what you're going to wear." She became this clotheshorse with these fabulous outfits and one-liners. It was the greatest way to come to television.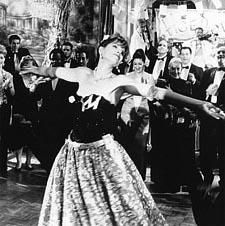 Baranski in 'Jeffrey'
MW: We live in an era where we're increasingly concerned with things like alcohol dependency and crystal meth addiction. Do you think a character like Maryann is harmful in a subliminal way?
BARANSKI: You know, people would question me when I was doing it. And I said, "It's fiction, it's comedy, nobody can drink three martinis at lunch and function." I always said her martini glass was like her handbag. It was an accoutrement. It was meant to be fun. I remember a mother at school saying to me, "My daughter is watching the show and maybe you should come and talk with the children about the fact that you don't approve." And my feeling was don't let your daughter watch it. You make a choice whether or not to turn that TV on. It's not like you have to. My kids didn't watch it. My kids didn't watch me play Maryann. We didn't even have a television in the house.
MW: At the time, Cybill was one of those must-see shows for gay men, much like Desperate Housewives is now. Through that character of Maryann, you became a gay icon.
BARANSKI: I occasionally hear that. It's still hard for me to believe.
MW: Why do you think gay men were drawn to Maryann?
BARANSKI: In the same way they would be drawn to Mame. I think there's a bravura spirit there, an unabashedness, a love of clothes, a love of life, a kind of esprit. She had an irreverence that I think appeals to the gay sensibility.
I really suggest everybody get the book Auntie Mame by Patrick Dennis and read Paul Rudnick's introduction about Mame. One of the things he said was that she considered her life a work of art and the whole planet was her audience. It's a way of living. It says life is hard, life is difficult, it's unpredictable, we lose things, we lose people we love, let's get out there and put our best face forward and be as witty and wonderful as we can be. We're still lucky to be here, right?
MW: There are some very apparent similarities between Maryann and Mame.
BARANSKI: Well, Mame — my God she and Vera drink so much and it's just so funny how they're hung over. I said to Harriet the other day, "What is it about women drinking that's so funny that wouldn't be true if men were drinking? What is it with women and the jokes with women drinking? I'm mystified by it." But it certainly was funny when Maryann did it and in Mame there's this whole scene predicated on [Mame and Vera] nursing their hangovers.
MW: Auntie Mame is hung.
BARANSKI: Auntie Mame is hung. And then Vera, of course, makes entrances, "What day is it? What time is it?" A lot of that is the humor in Mame. If you read the book, Mame is constantly drinking sidecars and martinis.
MW: Do you have anything in common with the characters of Maryann and Mame?
BARANSKI: I must, because I play these kinds of women a lot. I wouldn't say I live their lifestyle. I've raised two children and I live in a rural town in Connecticut. But I adore clothes, I adore drinking. I just don't have the time or the inclination to totally indulge in it. These are fantasy women. They're fun on the page, they're fun in fiction because they're so unabashed. But really, can anyone drink several martinis at lunch and spend the whole day getting dressed in a Christian Lacroix suit just to sit in some restaurant? Although I must say, on the upper East side of Manhattan, there are a lot of women who spend a lot of time shopping and dressing up and having that kind of lifestyle.
MW: Regarding Mame, are you feeling pressure to leave your own mark on the role? Angela Lansbury defined it years ago in the original Broadway production — though Lucille Ball nearly demolished it on film. In any case, your performance is going to be compared and judged against the memory of others. How do you cope with that?
BARANSKI: You know, you can only do the work to the very best of your ability. I've wanted to do this for years. If not now, when? I'm at a place in my career where I feel like this is the time to do it. I don't go to sleep at night worrying about whether or not I'll be as good or even measure up. Comparisons really are odious. I wish I didn't have to live up to anything. But what can I do? I can only do my work and get my rest at night. Why would I lose sleep when I really need valuable sleep just to recuperate and come back and do my job? The older I get the more I try not to waste my time on negative energy.
MW: You've done so many things and occasionally they don't work. How do you learn to deal with the disappointment?
BARANSKI: You can't avoid the disappointment, especially when you go at everything with your heart and soul. If things don't work out or if they're less than what you expected, or if it's really a flop, there's no question that it's heartbreaking. But my feeling is that over the course of a long career — if you're lucky enough to have a long career, which I have had — you learn as much about yourself, your character and your resiliency by doing the stuff that fails. There's no way every experience can be just great. No way. Isn't life like that? It goes up and down. But to be shocked that things go badly or things maybe didn't work is, I think, naïve. I always tell my kids, don't be surprised if things don't work out or if you have dark days. That's the nature of life on the planet. There's light and dark, there's good and bad, and there's ups and downs. And when the down times come, that's when your character checks in and you just get through it. Hopefully you move on and you come upon the good times again.
Click for even more from the stars of Mame