April was a banner month for Latin@s en Accion — literally. The local group, championing the metro area's GLBT Latino community, joined the National March for Action & Justice on April 10 behind their banner along with thousands of others protesting congressional efforts for a harsh crackdown on illegal immigration. Also in April, the IRS granted the group its non-profit 501c3 status.
These two events are evidence of a new political, advocacy role for the four-year-old organization, says the group's president, Ruby Corado. Originally formed as a vehicle for Latino GLBT participation in Capital Pride, Corado, a 35-year-old transgender activist and translator at the Whitman-Walker Clinic, says Latin@s en Accion has a new calling for the future.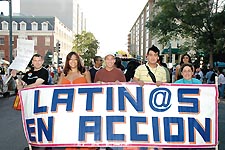 Corado (second from left) marches with her group at the 2006 Capital Pride Parade.
(Photo by Randy Shulman/File Photo)
"It was basically a social group that focused on the Capital Pride celebration," say Corado. "Now it's a full organization with a working plan. We have things we really want to accomplish.
"I've always said we're lucky," she continues, "but that we're the victims of our own success. We have national organizations with Latinos who work in them. We have people who do excellent work for national organizations. But when we look in the context of local activism, somehow we've not been able to establish an organization for local issues. When it comes to people working for their own city-level issues, we've failed."
While Corado can point to homophobic and transphobic violence, HIV, suicide, and a number of other issues facing D.C.'s GLBT Latino community, the first step is a physical address. Though she's been president since December, Corado says the mission to find a home for the community has been with her far longer.
"The No. 1 issue is we don't have a space we can really call our own. We're homeless. We've been running from place to place. We need a safe space where people can come together.
"Before I took over the leadership, I don't think people had a concrete, realistic work plan. People were doing their own thing. When I came on, I really had to put everything together and get the organization established. I had to have specific ideas. I've been working on the drop-in center for the past two years."
Corado says she's gotten solid leads on a few locations so far, mentioning one site on Mount Pleasant Road and another on Irving Street between 15th and 16th streets NW.
"If we had the tools for people to come and just sit down, gossip, read,…people would have options. Sometimes we have programs in straight organizations, but we can't be ourselves. You really have to behave in a certain way. We need a place to be who we are. If you want to be fabulous, go ahead, girl! This is something we really need here, even if it's just a refrigerator and a bathroom, a place to clean up. I really need people to believe this will happen."
Faith in the project has been coming, so far, from a number of sources. Corado counts Councilmember Jim Graham (D-Ward 1), and the Mayor's Office on Latino Affairs and Office of LGBT Affairs among her group's allies. She also says the mainstream Latino community is realizing the need for a local group advocating on behalf of the area's gay Latino community.
"We have made great contributions to the whole Latino movement. And we have strong support from the straight community. Part of the reason is that we joined the march for immigration rights and we were really welcome. We were there as Latin@s en Accion. I think that's why I feel it's really going to take place — we have a lot of support.
"At Capital Pride, we did some events, particularly tailored to LGBT Latinos," Corado continues. "We had a community dialogue. We had about 35 people at that. People are responding, and that makes me happy…. My pay doesn't come from money. I've tried to bring people together. And when I see a person change from suicidal to having a positive outlook, that's my pay."
To receive the Latin@s en Accion e-mail alerts, send a subscription request to latinosenaccion@aol.com.