The sporting arena in its various forms is the place where athletes come to test themselves against one another, and their own personal bests. Sometimes the arenas themselves compete, however, against each other. Witness the competition between the Gay Games VII in Chicago, July 15 to 22, and the First World Outgames in Montreal, July 26 to Aug. 5.
While the competition between these two events might be reminiscent of Cold War friction — remember the 1980 and '84 Olympic boycotts and the 1986 Goodwill Games? — the GLBT community employs some of the same drama, but quite a bit more détente, with this community conflict.
"Team DC was probably one of the biggest voices in trying to bring reconciliation to this whole mess," says Brent Minor, president of the umbrella organization representing area participants in both games. Incorporated in 2000, Team DC is represented on the board of the Federation of Gay Games, parent of the Gay Games. Following financial difficulties with Gay Games in Amsterdam and Sydney — 1998 and 2002, respectively — the federation attempted to take more fiscal control of the 2006 games slated for Montreal. Montreal organizers, now the Gay and Lesbian International Sport Association, confident in their plans, were unwilling to cede control to the federation. In turn, the federation pulled the Gay Games from Montreal, while Montreal continued ahead with plans for a global, gay sporting event, albeit under a different name.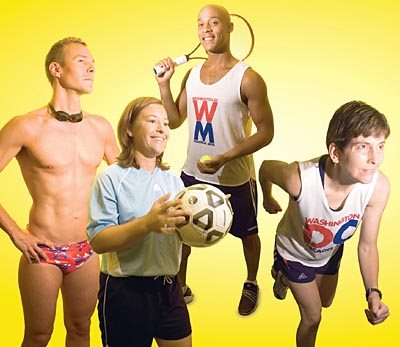 "Our choice would be to have one event," says Minor, granting he has somewhat of a bias in favor of the federation's Gay Games. "Very few people have ever said this is a better situation, having two games. I think both sides are right, and both sides are wrong…. What our [Team DC] board voted was that we'd support athletes with whichever games they want to go to. There are about 300 to 350 Team DC people going to either. It's a about a 60-40 split in favor of Chicago."
While Chicago might be an obvious choice for American athletes and spectators, Montreal makes a compelling case for others, as well to many Americans. Unlike the United States, for example, Canada offers no hurdles to HIV-positive foreigners entering the country. Then there is Montreal's reputation as one of the world's gay-friendliest cities, in a country that allows same-sex marriage. For good measure, throw in Liza Minnelli, k.d. lang, a few more divas and Cirque du Soleil.
The Gay Games in Chicago, on the other hand, have faced indirect protests from the American Family Association and the Illinois Family Institute, upset about financial support for the games from Kraft Foods Inc. and Harris Bank. Residents of suburban Crystal Lake, Ill., heatedly debated use of their town for the Gay Games rowing events. Then again, the Gay Games are offering Margaret Cho, Frankie Knuckles, Megan Mullally and a handful of other gay favorites.
"If the majority of Europeans go to Montreal and the majority of Americans to go to Chicago, I think you lose something," laments Minor.
D.C. locals staying behind can rest assured, however, that Team DC will decently represent the metro area at both venues with dedicated athletes who seem far less interested in the political schism than in the chance to compete.
"I'VE BEEN PLAYING soccer since I was 6 or 7. I was one of the children who couldn't take ballet," says Melanie Lilliston, vice president of the local Federal Triangles GLBT soccer league. "I was lucky they had girls' sports where I lived, in Plano [Texas]."
Today, the 28-year-old plays year-round, indoors and out, on both women's and mixed teams — goalkeeper with the girls, defender when boys are on the field. While many of her male teammates are hitting Chicago, she's headed to Montreal. She'll be the only female representing the Federal Triangles in Montreal, meaning she's had to find some replacement teammates to get her kicks.
"I'm playing with a Philly team," Lilliston explains. "[The Federal Triangles] do a lot of stuff with them. There are 10 of us going."
Though Lilliston seems only mildly disappointed that she won't be playing with her D.C. teammates, she offers that the Federal Triangles have been rapidly increasing their number of female players. Nevertheless, she's excited at the prospect of playing with her Philadelphia peers and the guarantee of at least three games during her week in Montreal. And she's more worried about her packing than the politics.
"I know there's been some controversy, but [the Federal Triangles are] supporting both games. Logistically, Montreal made more sense for me. As a club, we've supported both. That's my position: The more the merrier…. I'm excited to be going. I'm not too nervous. I'm already lining up my stuff to pack — someone always forgets shin guards."
Dr. Eric Czander and his partner, Fred Dever, have been swimming quite a bit longer than Lilliston has been playing soccer. The couple, who met through the District of Columbia Aquatics Club (DCAC) nearly three years ago, are headed to Chicago to compete in a number of swimming events, as well as a triathlon.
"I've been swimming competitively since I was 6 years old," says Dever, 40. Czander, also 40, started when he was 8. "We both swam in college," Dever continues. "We both have a love of the sport, and health and physical fitness. And we're really competitive."
The pair may have a triathlon advantage at the Gay Games, in that they've already competed on the Chicago course. But while that common need for competition drives them, intimacy on the field presents a sort of "Achilles' heel."
"At the beginning of a triathlon, Eric generally says to me, 'Be safe,"' says Dever. "There have been several triathlons where we've seen people wipe out in the middle of the road. I'll hear an ambulance and say, 'My God, I hope it's not Eric."'
It's not an unfounded fear — at the Boston Marathon, Dever ended up in the medical tent with hyponatremia, a low concentration of sodium in his blood.
"Eric was looking all over for me," he says. "It was pretty emotional. It puts a scare into you when you can't find each other."
Sometimes it's a bit less serious, adds Czander, talking about another race when he thought Dever might be in a bit of trouble.
"I came up to him, by his side. I didn't know what to say to him because he can get testy. That's his ultra-competitiveness," Czander laughs. "He said he felt fine, but I worried. He still beat me by two seconds."
Like Czander and Dever, Blake Rushin, outreach director of the local Front Runners group, will also be competing in her first Gay Games this year. She'll be running in 5K and 10K road races in Chicago as part of Team DC.
"I just enjoy the feeling of moving — when you get a groove going," says Rushin, 44, who's been running since she was a teen growing up in Auburn, Ala. "When I race, I try my very best. It's not my job, but it's something I enjoy. I do pretty well in my age group."
Rushin says the Front Runners will be sending about 15 people each to the Gay Games and Outgames. The choice was tough for her, but again, had nothing to do with the schism. "I wanted to go to Montreal, but Chicago was easier for me," she says. "[The Front Runners] decided not to endorse either one, and not to bad-mouth either one."
Chris Coates will likely spot some of Rushin's fellow Front Runners on the track in Montreal. A member of the Capital Tennis Association (CTA), he's heading to the Outgames for singles matches.
"I thought about going to both Chicago and Montreal, but that was a little much," says Coates, 31. This trip to the Outgames will mark his first venture into these global games. Echoing a sentiment expressed by Dever, he says he wishes the events actually got more attention in that the level of athleticism offered is some of the best to be found, gay or straight.
"It's just a matter of time till it gets enough attention," says Coates. "It takes time for the mainstream to catch up. I think any person who appreciates sports will appreciate [these events]. A good tennis match is a good tennis match."
With fewer than 1,000 miles between venues, and a four-day gap between, some may try to do both. Celia "C.C." Ford, an avid bowler, hasn't made up her mind. A retired D.C. public schools physical education teacher, Ford, 55, says she's got time to spare. She's also in need of a diversion. Her partner of four years, Delores "Dee" Smith, died last month. Compounding Ford's grief, Smith's biological family swept in and, for the most part, shut Ford out. At the funeral services, says Ford, the minister kept his back turned to Ford and Smith's community of GLBT friends, addressing only Smith's family on the other side of the aisle.
"I know how much Dee wanted me to do good and be in the games," says Ford, who is already committed to bowling in the Gay Games. "She was always cheering for me. She was just so supportive. I've got to do this to follow through."
Driving, rather than flying, to Chicago also gives Ford the flexibility to consider Montreal's Outgames. But though friends have offered to drive with her, Ford says she has to keep the passenger seat of her BMW convertible free. It was one of Smith's favorite spots.
"She was going to be right by my side," Ford says of the planned trip to Chicago. "My car didn't move without her…. I've had friends who want to ride up with me, but I tell them, 'Dee will be sitting right there beside me all the way to Chicago."'
Several of those friends will be in Chicago to cheer her on just the same, and Ford says she's looking forward to playing for Smith and for herself, calling bowling one of the great loves of her life.
"This will be my first Gay Games — it would've been our first," says Ford. "I'm expecting lots of love, lots of acceptance and a lot of excitement. As an athlete, this means the world to me…. I'm just taking every day as it comes, and I'm going to do the best I can. I'm looking forward to being highly competitive."
WHILE ANY SAMPLING of D.C. area athletes headed to either Chicago or Montreal shows a genuine interest in sport and competition, participants agree that these largely gay sporting events are more than sport for its own sake.
"I can relate my experience of walking into the [Gay Games] stadium in Vancouver in 1990," offers Minor. "Without being a Hallmark card, I went from a man who accepted that he was gay, to being proud he was gay. It is that overwhelming an experience. You realize, 'I'm a full-fledged member of society, and I'm glad I'm gay.' I've talked to so many people who have that sort of experience."
Adds Dever: "I'm amazed at how competitive it is. From the swimming perspective, it's extremely competitive. There are All-Americans that will be swimming at this meet. It's not just fun. The top swimmers will probably be the top in the country, period. As a community, it shows we're strong in every area. Sport is certainly something gay folks can practice and excel in. In the amateur arena, it really makes me so proud to see such quality. It shows our community is into everything. That says a lot."
Still, there is some sadness in the split between the Gay Games and the Outgames — not remorse about practical considerations like money and venues, but about the community being torn.
"We're not there to protest anything — and I'm all for protesting — but we're there to celebrate our lives through sports and culture," says Minor. "I don't want anything to diminish that and, I regret, I see that in the split, the potential to do that. We're taking about 200 to Chicago and 140 to Montreal. We've lost something there. It doesn't mean our experience will be bad — but it's been lessened. It will still be wonderful for everybody."
As it stands, the next round of games is set for Europe, with the second Outgames slated for Copenhagen in 2009, and Gay Games VIII for Cologne in 2010.
"Copenhagen or Cologne? I'd like to go to both," says Rushin with an eye toward the future. "It would be nice to see all these people gathered in one place. The future will tell…. It's more than just sports. If I just wanted to compete, there are any number of venues. But to the mainstream community, this is a chance to say, 'We compete in sports. We're athletic.' We have people who work very hard to achieve a certain level in their sports. This is another way of showing what we have to give."
To visit Team DC online, go to www.teamdc.org. For more information about the Gay Games, visit www.chicago2006.org. For the Outgames, visit www.montreal2006.org.