With showgirls, "hottie guards," elaborate headdresses and even a touch of royalty — the King and Queen of Sodom, no less — the Actors' Theatre of Washington (ATW) greeted spectators of this year's Capital Pride Parade on Sunday, June 10 with a little signature spectacle of their own. The apparent message: "Our star is rising!" The plucky theater company was making a splash, thanks to designer Greg Stevens, offering a taste of its upcoming show, Charles Busch's Vampire Lesbians of Sodom (the show opened July 14).
"I don't know that ATW was ever in the [Capital Pride] Parade prior to this year," says Matty Griffiths, the company's managing director. "Certainly not in the three years we've been running it." Griffiths is part of ATW's new formula, adopted by Jeffrey Johnson, ATW's artistic director since 2003.
Noi Chudnoff, the Queen of Sodom for the parade, may have been the lynchpin of the contingent — and perhaps of the upswing in ATW's profile. Owner of the go mama go! boutique on 14th Street NW, Chudnoff prides herself in her philanthropy and her love of the gay community. She's one of ATW's new patrons, helping pump up the profile of the company that bills itself as "D.C.'s premier GLBT theatre company."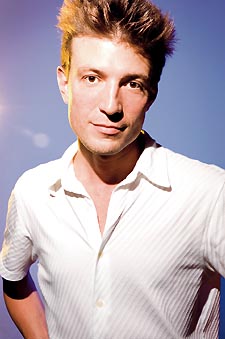 ATW artistic director Jeffrey Johnson
"Jeffrey [Johnson] used to work for Whitman-Walker Clinic as a temp," says Chudnoff, explaining how she came to take ATW under her wing. Chip Lewis of Whitman-Walker, who also helps out as an ATW volunteer, offered to take Chudnoff to ATW's staging of Les Liaisons Dangereuses in late summer 2005. "I went with Chip and I said, 'These guys are good.' At the end of the show, I wrote a check for Jeffrey [Johnson]. He came and thanked me. I said, 'Don't you know I give out money?'
"I've always thought the arts are as important as Whitman-Walker Clinic or the Victory Fund," Chudnoff continues. "It kind of sucks that a lot of gay guys will go to New York and pay a lot of big bucks to go to Broadway. But how can you do that and not support your family here?"
Chudnoff isn't the only new patron to come ATW's aid recently. While Chudnoff is underwriting the current run of ATW's "Tramps and Vamps" show — a pairing of Joe Orton's Ruffian on the Stair and Busch's vampire parody — JR.'s Bar & Grill has gotten behind ATW's "Late Night" SEXE! The Floorshow.
"One of our board members brought a JR.'s manager to see Boston Marriage," says Johnson, referring to ATW's winter 2006 production. "After that, we met with JR.'s and they asked how they could help. I said, 'Why don't you sponsor our "Late Night"? That way we can come do a performance at JR.'s. Ticket stubs could be worth a free drink at JR.'s.' So far, I think we've done them very proud. They've been so wonderful to work with."
Adds Griffiths: "The Weissburg Foundation and the businesses, they look after us. They call us and ask us what we need. Noi shows up at every event and brings tons of people. JR.'s kicks in so much. We have a tie to Pabst Blue Ribbon. It's really been very nice. We tried to make our first season really set the tone — reduce debt and move into some really strong shows."

ATW's Johnson with Chudnoff (center) at the 2006 Pride Parade
THOUGH FORTUNES MAY be looking up at ATW, the troupe remains a relatively small theater company. And any small business must struggle. Certainly there have been times when the company almost disappeared entirely.
"I founded it with a friend of mine from high school, Marcia Newbill," says Michael Russotto, a respected director and actor on the D.C. theater scene. "I think we incorporated in 1993 and did our first show in 1994. It was a double bill: Teechers and Remedial English. They both had to do with young people coming of age."
Though Russotto is gay, ATW did not start out with a gay-specific mission. Rather, the mission offered a fairly flexible plan of showcasing socially aware plays and providing freshman thespians a chance to break into D.C.'s theater community. After a few years, says Russotto, he had all the experience he needed and was ready to move on.
"I didn't struggle with the decision," he says without hesitation. "When you're managing a theater, you have to be married to it and let it take over your life. I was finding I couldn't act anymore, or even direct very much — which was one of the reasons I founded the theater…. I left in '97 or '98. I wanted to turn it over to someone else."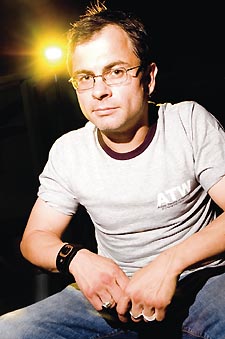 ATW managing director Matty Griffiths
Enter Jeff Keenan, who got his first acting job from Russotto. It was under Keenan's direction that ATW gained a GLBT-specific mission. As he told Metro Weekly in 2001, as ATW's artistic director: "The audience here is huge for gay and lesbian theater. We're going to do shows other places are not going to touch….
"I want to be able to say we're doing the stuff here that needs to be seen, that deserves to be seen, without making sure we're not going to offend Joe and Mary Smith from Rockville who bought a subscription and don't want to hear the word 'fuck' 20 times, who don't want to see two men making out, who think that excessive nudity is excessive. I don't want to feel as though we have to make a lot of people happy. I want to make my audience happy."
Johnson, who assisted Keenan, recalls Keenan's ambition and his successes. He also points to the stresses of running a tiny, volunteer-dependent company taking their toll.
"The very first thing I did with ATW was After Dark in 2001," says Johnson. "It was just after Jeff Keenan took over and changed the mission to be a GLBT theater company…. After that first show, the next thing [Keenan] asked me to do was stage and choreograph Naked Boys Singing! I worked very closely with him….
"Fairly soon after that show opened, he asked me to come on as associate artistic director. Soon after that, I was on vacation in Florida. He said, 'Okay, when you come back in two weeks, I'm going to close the business down. Or, if you want, you can give it a shot.' In June 2003, I took over the reins. It was pretty much a dead business — no board, no staff, no bank account. A lot of bridges — to patrons, artists, businesses — were burned. I inherited a company that probably should've closed.
"It's hard to keep volunteers," continues Johnson, "and Jeff Keenan basically got to the point where it was only him. He was the artistic director, the managing director, the bookkeeper. It was just too much to do, so things began falling apart. It was burning him out."
Says Russotto, "Jeff Keenan had a lot of very big ideas. Under the budget we had, that just wasn't possible."
Johnson adds that Keenan had a knack for bringing full houses to ATW, pointing to the high demand — and second run added — for Naked Boys Singing! But although the popularity of Keenan's lineup was not enough to overcome other shortfalls, Naked Boys Singing! may have sown the seed for ATW's ongoing viability. Johnson and Griffiths met on the set of that unclothed offering, with Griffiths — stage name Matty Boyd at the time — singing and dancing onstage to Johnson's staging and choreography.
TODAY'S ATW IS an obvious extension of Keenan's GLBT plan for the company. The pairing of Johnson and Griffiths, along with an infusion of support from the community, seems to be a formula that is infusing the company with new vigor, as they claim the 2006-2007 season to be the company's strongest yet.
Starting in the fall, the company will offer Never the Sinner by John Logan. The play is based on the true-life tale of Nathan Leopold and Richard Loeb, teenage lovers convicted of the 1924 murder of 14-year-old Bobby Franks. Fatal Attraction — A Greek Tragedy will follow Sinner's Friday and Saturday shows. Winter 2007 finds ATW offering the East Coast premiere of Elizabeth Rex, Timothy Findley's exploration of gender roles centering on Queen Elizabeth and starring Sybil Lines and Johnson. And next summer will sizzle with The Best Little Whorehouse in Texas, with direction and choreography by Johnson, followed Saturdays and Fridays by a "Late Night" Debbie Does Dallas porn parody, adapted by Erica Schmidt. Helen Hayes Award-winner Rick Hammerly, currently stealing the Vampire Lesbians show as the Virgin Sacrifice, will direct Dallas. Who can resist?
"What I've been trying to do for the past three years," says Johnson, "is take not just GLBT-written pieces, but also classics — plays you might not see, like last summer's Les Liaisons Dangereuses. Men played women, but we didn't do it in drag. It was exploring gender roles. Now we have SEXE! The Floorshow. We're trying to give the community something that when they leave the theater, they're not only proud we're their community and their theater company, but are proud of the quality. All our money goes back into our product. They quality is important to us. We want them to leave saying, 'Wow, that was pretty damn great."'
Griffiths says that while shows like SEXE!, with its band of four drag-queens pushing the limits far beyond the expectations of a drag show, are accessible crowd-pleasers that help the company reduce its debt, there is room for more esoteric content as well.
"We're hoping to explore the edges of our community that haven't had a voice — more of the LBT, rather than the G," he says, adding that ATW will be workshopping a new play in the fall inspired by the 1995 death of Tyra Hunter, a transgender Washingtonian who died after being denied care by emergency medical technicians.
No longer associated with ATW in any formal way, Russotto, for one, offers kudos for what he sees from this latest incarnation of the company he founded.
"I like what they're doing," he says. "It's very different from the reason I founded the theater. It's a whole different kind of mission. I think it works. They do a great job on a limited budget…. I think Jeffrey doesn't try to do more than the budget allows, but I think he's got an eye for growth."
Matt Conner, composer of Nevermore, a hit at Signature earlier this year, also has no current ties to ATW. But he says that based on what he's seeing, he'd like to.
"I would love to work with them again," says Conner, who met Griffiths and Johnson as a cast member of Naked Boys Singing! "I'd love to develop something for Actors' Theatre that would target a gay audience, something a little more risqué. I'd work with them on any level."
Johnson says that his ambitions for the company leave him open to all offers.
"We've got people paying attention to us," he says. "We'll be bringing you more things because people really seem to like what we do. But we're going to need a little bit back as well. We really do need the community's support. Be there. Help us. Donate to us. Be on our board. Volunteer on our staff. We're still struggling, but the light at the end of the tunnel is there."
Actors' Theatre of Washington "Tramps and Vamps" production of The Ruffian on the Stair with Vampire Lesbians of Sodom runs Thursday-Sunday through Aug. 13. SEXE! The Floorshow: The Vagina Sing-A-Longs follows Friday performances. For more information, visit ATW online at www.atwdc.org, or call 800-494-7227.