Cazwell is not your typical rapper. As far as we know, Eminem has never admitted to masturbating via webcam, or to liking foreskin. Sure, maybe 50 Cent "eats ass like a cannibal" — but can you imagine him rhyming about it? Would you want him to?
But there's still loads more that distinguishes Cazwell as a one-of-a-kind rapper. With Cazwell, it doesn't matter how big he is. He makes no effort to convince you he's the biggest, baddest cock on the block, in any sense of the term. Instead, you could say, it's all in how he uses it.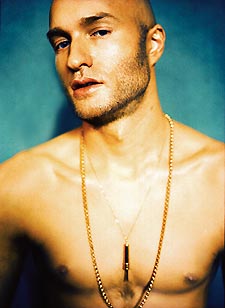 Exhausticated: Cazwell |Danilo
"I don't care if you think I'm dirty: I am dirty. Learn me!" Cazwell raps on lead single "All Over Your Face." The thing is though, through his rhymes, you don't learn all that much about Cazwell. (His dirtiness is learned from the get-go, though.) When he's not giving instruction to the DJ and potential tricks, Cazwell tells tales about his encounters by mostly focusing on others: the hooker in a shady hotel room, the Puerto Rican boyfriend from Queens, tranny-extraordinaire Amanda Lepore. In its own clever way, the deflecting technique helps this gay white rapper, originally from "Wusta," Massachusetts, draw even more attention to himself, enhancing his initial appeal.
Cazwell is all about creating fun, party hip-hop, with no violence or threat of violence, or any problems of real consequence. Cazwell evokes the sexually wild and carefree days pre-AIDS — though he pointedly makes mention of using "rubbers" — in both his lyrics and especially his disco-dipped music. His intention is to be the next big New York-based novelty party act, following in the foot-shuffles of the Beastie Boys, Deee-Lite and RuPaul, to name a few influences. There's no reason why he shouldn't succeed: This is a new-school club kid's take on old-school hip-hop, and it results in a very hot, too-cool-for-school sensibility. If only more of today's hip hop would make you feel this damn giddy.
"All Over Your Face" is built around an obscure disco sample, "Is It All Over My Face," that adds a catchy chorus, infectious percussion and funky bass guitars to Cazwell's dirty rhymes that he reportedly wrote at a McDonald's. What better way to draw out the track's guilty greasy goodness factor? "I masturbated till my K-Y faded," Cazwell says, before sighing and spitting out what could be a new gay phrase: "I'm exhausticated!" Unfortunately, LOGO has deemed the song and its accompanying video too hot for airplay. Thankfully, it's gaining gay attention anyway.
Disco's signature mid-tempo sauntering beats are stamped all over Get Into It, giving the album real verve. "Watch My Mouth" samples the familiar sweetness of Taana Gardner's late-disco hit "Heartbeat" and references at least one other hit from the same time period: "I'm so excited and I just can't hide it," Cazwell raps. The funky bass guitar returns on "The Sex That I Need," on which Cazwell is joined by New York's raunchiest rap duo, self-professed sluts Avenue D. The three trade raps and playfully compete to see who's the most over-sexed.
Cazwell isn't all sex, all the time, though. He throws in humorous asides and truth-telling cultural references. At one point, he says his rap flow is hot — it's "sweating like my ass crack in yoga class." At another point, he calls his contemporaries' style "all played out like a tribal tattoo on 8th Avenue."
Get Into It is a short debut, with only seven original songs. But it features as many remixes to balance out the album. And it's all unique and appealing enough to ensure you'll be listening for a long time. It'll take a lot of Cazwell before you get exhausticated.
The hip-hop artist drawing the most attention as the probable next novelty act isn't even from the states. London's Lady Sovereign is the hip hop star of the moment in her native U.K., and she's being promoted in the U.S. by hip hop's true Lord Sovereign, Jay-Z, whose Def Jam label has just released her debut, Public Warning. Listening to it, you can't help but think about all the British hip-hop sensations who've tried and failed to dent the American market, from the Streets to M.I.A. You can hear influences from those earlier artists on this white and middle class artist, born Louise Harman.
But SOV, or S-O-V as she repeatedly references herself, is more appealing and accessible than her predecessors, and like Cazwell, she's much more into playing and having fun, recreating an old-school, hip-hop vibe for today's kids. Her chief concern, in fact, is getting tipsy. From one song to another, she talks about how much of a heavy boozer she is, and how little patience she has for those who can't handle their alcohol or who think she's uncouth. "Whoops, might burp in your face/A little unladylike, what can I say," she rhymes on hooky first single "Love Me Or Hate Me," on which Missy Elliott guest raps on a remix. On her best track, "Hoodie," SOV rap-sings about her casual fashion proclivities over a paddycake party beat. "Fling on an Adidas hoodie and just boogie woogie with me, ooh," she says. Well, alrighty then, let's get loose.