Ballot Boxes


---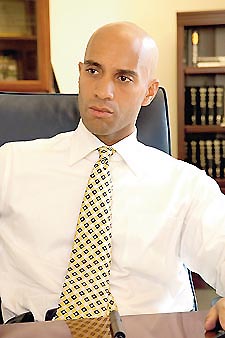 Fenty
IT MAY HAVE seemed like a political gimmick when Adrian Fenty ran his months-long campaign focusing on knocking on just about ever door in town. But it was a "gimmick" that paid off big, as he obliterated the rest of the mayoral field in the Democratic primary elections, the precursor to the pre-ordained Democratic victory in the general election.
Fenty launched his campaign early — his candidate interview with Metro Weekly was actually published in the fall of 2005 — and he pursued the gay vote aggressively. For a few months, it seemed impossible not to see the young then-Ward 4 Councilmember at a gay and lesbian event.
Although Fenty courted heavily, much of the D.C. gay political establishment threw its support behind City Council stalwart Linda Cropp, who had hoped to use her office of Council Chair as the final stepping stone to the mayor's office.
Former Verizon executive Marie Johns also made a strong appeal to the gay community, and seemed to have locked up the race for "I'd vote for her, but I don't think she can win." Michael Brown never gained any traction, and pulled out of the race in the final days of the campaign.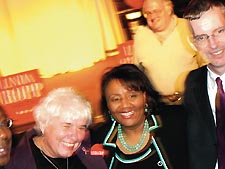 Cropp's (center) gay support didn't translate to victory
(Photo by Todd Franson)
Councilmember Vincent Orange, like Cropp, had to give up his seat to run for mayor. Unlike Cropp, the value of the trade-off never seemed to add up in any political calculus and his campaign never took hold. And by taking an out-of-the-blue and surprisingly hostile position against same-sex marriage, he wrote off whatever gay support he might have had.
Now the big question for 2007 is whether D.C.'s fifth and youngest mayor can live up to his energetic campaign.
Virginia Is for (Some) Lovers


---
IT WAS HARD to be optimistic about the chances for defeating Virginia's ballot question to amendment the state constitution to ban same-sex marriage, and anything even remotely resembling marriage. The poll numbers weren't as bad as might have been expected, and the more time voters had to hear about it, the less they seemed to support it.
Unfortunately, elections can't be put off forever and the amendment passed. The silver lining this particularly cloud, however, was that Northern Virginia resoundingly rejected the amendment, cementing further the divide between the Washington suburbs and the rest of the state.
The amendment battle was overshadowed in large part by the self-destruction of Republican Sen. George Allen, whose "macaca" slur was the opening that allowed Democratic challenger Jim Webb into the race, and eventually swung the Senate out of Republican hands.
Stein Club Anniversary


---
THE GERTRUDE STEIN Democratic Club, established for the district's GLBT Dems, marked its 30-year anniversary in 2006, making it one of the oldest Democratic clubs in the city. The group celebrated by offering a "Leadership Awards" gala in September at the Women's National Democratic Club.
The group's president, Mario Acosta-Velez, also received special honors this year, being named a "Capital Pride Hero" in June. Aside from his work with the Stein Democrats, Acosta-Velez was honored for being the first openly gay Latino to serve on the D.C. Commission on Human Rights, for serving as executive director of the Latino Civil Rights Center, and for serving on Mayor Anthony Williams's Executive LGBT Advisory Council, among other things.
Maryland to Marry-land?


---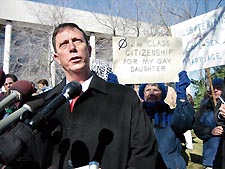 Spinning outside the Maryland court
Photo by Yusef Najafi
EQUAL RIGHTS activists and opponents, and many other residents of Maryland are still awaiting a verdict from the seven judges of the state's highest court, the Court of Appeals, regarding an appeal to a lower court's ruling that a 1973 state statute that defines marriage as a union between a man and woman only is discriminatory, earlier in 2006. And while that decision might be days, weeks or even months away, a Dec. 4 court hearing marked a victorious opportunity for the nine gay couples and one widow who filed a lawsuit — Dean and Polyak v. Conaway — with the help of the American Civil Liberties Union (ACLU) and Equality Maryland several years ago.
Equality Maryland executive director Dan Furmansky emphasized the plaintiff's need to "share in the happiness, security, stability and the health that everyone else can know by being legally married."
Outspoken anti-gay delegate Del. Don Dwyer (R) announced his plans to try to pass a constitutional amendment banning same-sex marriage in Maryland. "We've already initiated the constitutional marriage amendment again, from last year, and we'll be working in the direction to make sure that we at least get that on the floor for a vote sometime in the next four years."
Maryland Gets Gayer


---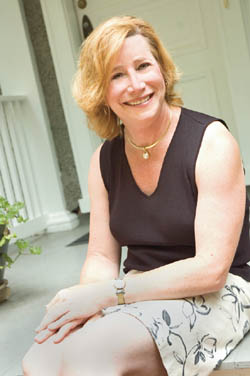 Beyer
Photo by Todd Franson
GAY MARYLANDERS happily bid farewell to Republican Gov. Robert Ehrlich, who had endorsed a constitutional amendment on banning gay marriage, as well as vetoed the Medical Decision-Making Act, which would have granted medical decision-making rights and hospital visitations to gay couples. And they welcomed Baltimore Mayor Martin O'Malley (D), who was commended by activists in the state for his efforts in support of the transgender community.
The gay community also elected its own: Rich Madaleno (D) became Maryland's first openly gay state senator, while openly gay delegates Maggie McIntosh (D) and Anne Kaiser (D) were both reelected and joined by another openly gay delegate, Heather Mizeur (D). "We've already seen the [advantages] of having three amazing openly [gay] officials," said Dan Furmansky, executive director of Equality Maryland, "with the addition of Heather, the caucus will be even stronger in advocating for our community, where it counts most."
While she didn't win, 2006 marked an important milestone for Dana Beyer, a retired doctor who led a vigorous fight to become the state's first transgender delegate. "I have learned what it means to 'win through losing' — running a positive, passionate, clean campaign with bold ideas," said Beyer.
Poe Baby Cheney


---
WORD CAME FROM the White House that Mary Cheney, lesbian daughter of Vice President Dick Cheney, became pregnant in 2006, with baby to follow in 2007. Cheney and her partner, Heather Poe, live in Virginia. While there's no word at all as to how Cheney's egg was fertilized, her parents and even President Bush have offered well-wishes to the expectant couple. The president, when asked by People magazine in December if Cheney's pregnancy affects his view that children ideally need a family headed by one man and one woman, said, "I think Mary is going to be a loving soul to her child. And I'm very happy for her."
Despite the president's support, November passage of Ballot Question No. 1 in Cheney's home state of Virginia, means being a gay parent in the commonwealth may be a dicey proposition.
Kelly Young of Ballston, founder and chair of To Keep Us Safe, a Web-based effort that fought against the sweepingly homophobic ballot measure offered a warning: "This baby will literally put a new, albeit little, face on Virginia's ugly discrimination against same-sex couples and their children."