"The first designer who started doing clothes for me was Gianni Versace," recalls concert pianist Jean-Yves Thibaudet. "That was the late '80s and it was quite an eccentric period for me and for him. It was a little bit more loud than what I'm wearing now." What he's wearing now are suits with "different…elegant" cuts designed by Vivienne Westwood, and not the customary concert pianist uniform — a black tux with tails — a style he abhors.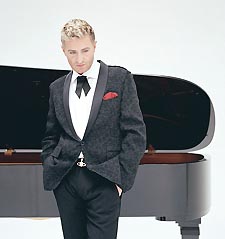 Thibaudet
"In the beginning [of my career] people were speaking more about what I was wearing than what I was playing, which was a bit annoying," he says with a short laugh. "By now they've gotten used to it."
The French-born classical pianist will appear this Saturday, Feb. 17, at the Kennedy Center Concert Hall, as part of the Washington Performing Arts Society's season. His solo concert will include pieces by Chopin, Liszt, Debussy and Satie.
Thibaudet has been out since the onset of his career. "The first interview I gave was in the '80s for The Advocate," he recalls. "And I think in those days I was probably…the first classical musician to do an interview there.
"I'm lucky to be in a business in a world where it's allowed," he continues. "I've never felt anything negative. Wherever I go in the world I'm very often invited by very important people — ambassadors, ministers, kings, queens — and I'm always with my partner. And I always make it clear that I am coming with my partner. If they have a problem with that I just won't come."
However, he does note that "I'm lucky to have been born when I was born. I have a lot of friends now who are in their seventies and eighties, and they were telling me when they were in their forties they just couldn't speak about it. Either they had to get married or just have a completely obscure life where nothing could come out of it. It must have been very sad."
Thibaudet's latest recording — Aria: Opera Without Words — was released on Tuesday. "Basically," he explains, "it's some of the most famous arias from the operas but without the singer, just the piano and transcriptions from different composers. I have accompanied some of the greatest singers. I don't have a voice and I will never sing because I am not a singer, but…it was really the love of the human voice and the opera repertoire that made me do that project.
"I do everything on it," he laughs. "Orchestra, singer…. I'm just a one-man show."
Jean-Yves Thibaudet will perform Saturday, Feb. 17 at 4 p.m. at the Kennedy Center Concert Hall. Tickets start at $24. Call 202-785-9727 or visit wpas.org.