If the Dixie Chicks can't get time on country radio these days, then there's no hope for Erasure. But if the Dixie Chicks can sweep the Grammys in an upset stirred at least in part to protest country music's shunning, maybe next year can be Erasure's year.
Erasure as a country band? The same synth-pop pioneers known for sugar-sweet electronica hits "A Little Respect," "Chains of Love" and "Oh L'Amour"? Perhaps you missed the memo, but yes, the British duo of Andy Bell and Vince Clarke have journeyed of late from London to Nashville. You could say they've gone from "Yahoo!" to yee-haw.
But whatever you may say, Erasure stops you in your two-stepping tracks. With last year's Union Street and now even more with the live CD/DVD On The Road to Nashville (




), Erasure demands respect as one of today's best bands, no matter the genre.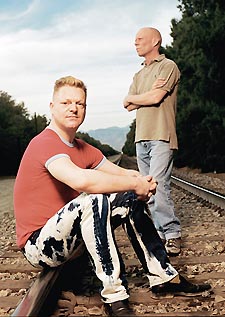 Grand ole boys: Bell and Clarke
Their turn as a country band may be short-lived — and now, with the release next Tuesday of Nashville, complete. (The duo will release a new all-electronica set in May and then tour in support of the set.) But you'll savor it more than you'd ever expect. Nashville is a revelation. In comparison, Union Street was a relatively safe option, featuring as it did mostly obscure Erasure hits remade as country. Since you probably couldn't recall the originals, and certainly couldn't recite them note for note from memory, it wasn't quite as earth-shattering as Nashville, which features most of the band's biggest theatrical pop hits.
The 18 songs included on the CD, as well as two bonus songs on the DVD, are remade — re-imagined, really — into torchy and touching country tunes, as ballads and as jams. "Oh L'Amour" completely aches as a torch-style ballad, aching so much it's seriously beautiful. "Stop!" is even faster as a rockabilly rouser. It's as fun as music gets. And the strong six-piece backing band, plus fabulous female backing vocalists, adds a new dimension to the duo's music.
The concert isn't all beauty and bliss. The new tempo of "Breathe" is a bit too fast, for example. The song loses some of its original longing breathiness: Bell spends less time inhaling in angst than exhaling in relief. And in between an invigorating opening section and a blowout of a closing, the concert's middle stretch draws a bit middling.
But Nashville demonstrates that Erasure remains one of the better live acts anywhere. The album was recorded in the cradle of the city of country's birth, at Nashville's Ryman Auditorium, former home of the Grand Ole Opry. Given the nature of the Erasure Acoustic tour, Bell purposely toned down his usual flair for theatrics. But nothing could suppress his charm and charisma, or his awe at performing in the venerated space. And unlike other tours, Erasure also went with a much simpler stage setup but, as always, makes dazzling use of lighting and color.
It's the crowd that really makes an Erasure concert special. In the short film The Road to Union Street, included on the DVD, Steve Walsh, the producer and guitarist for the band's country phase, says "what makes it all work is that Erasure has some of the best fans." And Nashville is pretty magical, not just because Erasure sounds so great as a country band. But because the very gay crowd is so ecstatic and enraptured at how great Erasure sounds as a country band. They're constantly on their feet, cheering and clapping wildly, professing love for Andy and Vince, and singing and swaying along. It's as if many of these gay Erasure fans finally feel free, after two decades, to come out and express their love of both the music they secretly loved growing up and the music they couldn't escape.