The local Asian/Pacific-Islander GLBT community is an expansive mix, reflecting cultures from Pakistan to Fiji, from the tropics to the high Himalaya. The nearly infinite breadth of cultures represented by this subset of the gay community is appropriately reflected in the 8th Annual Pride and Heritage celebration, which seems to take on a slightly different flavor each year.
"Each year it's really different by nature of the leadership," explains Wee Lee Sim, a member of Asian/Pacific Islander Queers United for Action (AQUA) and a spokesperson for Pride and Heritage. AQUA is one of the four local groups collaborating each year to craft this unique celebration. The other groups are Asian/Pacific Islander Queer Sisters (APIQS), KhushDC, and the D.C. Chapter of the National Asian Pacific American Women's Forum (NAPAWF-DC).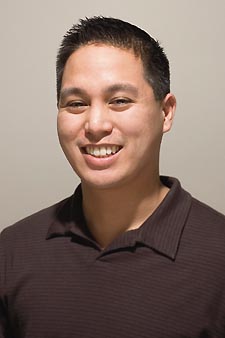 Don Verde
"Everyone comes into the planning committee with a different idea of what Pride and Heritage means," Sim continues, pointing to years past that have included poetry readings, movies and brunches. "This year, we have the immigration panel. I don't think we've ever had a panel discussion before. The immigration issue is pretty dear to the A/PI community."
The Panel on LGBTQ Asian Immigration will kick-off the 2007 Pride and Heritage celebration Thursday, May 3, at St. Thomas Parish, 1772 Church St. NW, at 7 p.m. The pinnacle of the planned events is, however, the May 12 awards ceremony honoring the Asian/Pacific Islander Domestic Violence Resource Project (DVRP) and social-justice activist Don Verde, an AQUA member and Filipino dance and culture teacher.
"Both DVRP and Don Verde embody activism that's challenging our community to be better," offered Joseph Truong, a member of AQUA and the Pride and Heritage planning committee, in a statement naming the honorees. "They've worked incredibly hard to foster a city where Asian and Pacific Islanders, and especially LGBT A/PIs, can feel proud of who they are and confident about their lives."
Verde, who has lived in D.C. since 2002 and as AQUA co-chair is credited with increasing that group's visibility, commented on the importance of such visibility in statement released by Pride and Heritage: "One thing that I really like about D.C. is the fact that there is diversity, and that most people welcome it. Visibility is so important for the A/PI LGBT community because we are a part of society. The more familiar people are with us, the easier it is to see beyond antiquated stereotypes. So it's nice to see an A/PI recruiting for [the Human Rights Campaign], volunteering for Whitman-Walker Clinic, playing on a sports team or bartending at a popular bar."
Outside the gay community, Verde added that the mainstream A/PI community could also do a better job when it comes to the GLBT A/PI community: "Most mainstream A/PI organizations are reticent when it comes to LGBTs. On a personal level, they might focus only on a person's A/PI aspects, but are dismissive of the rest. The fact is, A/PI LGBTs are not one-dimensional caricatures defined only by one aspect of our lives. We need to be recognized as the multi-faceted persons we are. We are whole people. You can't love us for our 'Asianness,' but hate us for our 'gayness."'
DVRP may be a good example of a mainstream A/PI group that has taken Verde's message to heart.
"DVRP is involved in the whole A/PI community, but they've also been very active in reaching out for anti-homophobia training," says Sim, expanding upon DVRP's selections as an award recipient. "We feel that for both their work and their enthusiasm in curbing homophobia, they deserve this award."
On the surface, DVRP's mission and programs may not strike any particular note of gay-friendliness, but Hannah Sin, the organization's community outreach director, is happy to explain how DVRP has been striving to make inroads into the gay community in order to better serve the community.
"We have done some collaboration with API Queer Sisters, in which we provide services for abuse sufferers from the A/PI community who come from all different backgrounds," Sin explains. "We've made a commitment to ensure our services are accessible to all members of our community. We're doing training for staff and advocates so we can increase our competency and be aware of best practices working within the LGBT community."
Although DVRP is a relatively small organization with limited resources and a mission geared toward female victims of domestic violence, Sin assures that they will make every effort to help gay men who find themselves victims of such violence. Considering DVRP offers advocates who collectively speak more than a dozen A/PI languages, those services may be a lifesaver to gay victims of abuse who have may have limited English with which to access services aimed gay men.
"We don't have the capacity to serve men, but anyone can contact us," says Sin. "We'd do an intake and we would definitely make a referral. And our services are free and confidential."
The May 12 award event runs from 6:30 to 9 p.m. at Club Chaos, and will include a dance performance by Dakshina/Daniel Phoenix Singh & Company dance company.
In years past, the highlight of Pride and Heritage has been "Jalwa," a dance party organized by KhushDC, named for the Urdu work for "splendor" or "display." While secondary to the awards ceremony, 2007 will not miss the Jalwa beat, scheduled to run Saturday, May 12, from 10 p.m. to 2 a.m. at Avenue nightclub, 649 New York Ave. NW.
No other official Pride and Heritage events have been announced, but May offers plenty of other opportunities to celebrate the D.C. A/PI GLBT community. AQUA, for example, holds its regular coffeehouse social at Soho Tea and Coffee followed by "AQUA Night Out" at Apex on Friday, May 4. Dakashina/Daniel Phoenix Singh & Company will also precede the company's May 12 Pride and Heritage appearance with two shows, May 5 and May 6, celebrating Asian Pacific American Heritage Month — May's month-long celebration of the wider A/PI community — with guests Pallabi Chakravorty of Philadelphia and a local ensemble from the Lesbian & Gay Chorus of Washington, D.C., Not What You Think.
For more information about Pride and Heritage and the May 12 awards gala or May 3 immigration panel, visit www.dcprideandheritage.org. For information about AQUA's May events, visit the group's social calendar at www.aquadc.org. For more information about DVRP, visit the group online at www.dvrp.org.