Saturday, June 23 may go down as the "day" the Hillwood Gardens "rocked" when Pillow Talk screens on the Lunar Lawn of this sprawling estate and museum in Northwest D.C. In this 1959 story of a playboy and a career girl, Rock Hudson and Doris Day laid the classic groundwork for many romantic bedroom comedies to follow. And thanks to One In Ten, D.C. audiences can catch a screening under the stars. In keeping with One In Ten's mission of promoting GLBT culture — aside from featuring the famously closeted Hudson — the screening includes a Doris Day look-alike contest. But that's not all. Not by a long shot.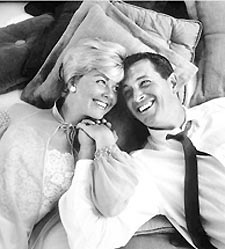 Day and Hudson: Pillow Talk
"Tylenol PM will have reps there in pajamas giving away W Hotel bed sets with body pillows, regular pillows, the whole works," promises Margaret Murray, One In Ten's executive director. "I'm really excited about that."
Murray warns, however, that a second contest for best picnic spread, means people should arrive early to secure prime Lunar Lawn real estate. "The space is huge, but some people are going to have elaborate picnic spreads."
One In Ten is going further than Hillwood this summer, though. The Pillow Talk screening will be followed with a special preview of the new Hairspray on Wednesday, June 27, at the Arlington Cinema 'N' Drafthouse.
"This is probably our big splash for the summer," says Murray, explaining that both summer offerings will have to take a backseat to preparing the jewel in One In Ten's crown: Reel Affirmations GLBT film festival in October. Planning for that, says Murray, actually began in spring, and doesn't leave resources or time for more summer fare. But it's a trend Murray says she hopes to continue, with even more of a One In Ten splash in summer 2008.
For more information or tickets for either screening, go to www.oneinten.org.