IT'S NOT JUST about the music, says Kaye Love, the 27-year-old lesbian rapper who performs as K. Love the Infinite."I feel like I have a message that needs to be heard," the Baltimore resident says. "Whoever you are…if you have a passion, you need to do it and don't let anything hold you back from that."
Love discovered her passion at 16, two years after she started writing poetry, when she began collaborating with other artists who helped her develop her poetry into hip hop. At that time, Love was also struggling with being open about her sexuality and how others would perceive her.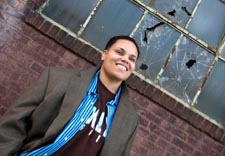 K. Love
"At 16, me wearing baggy jeans and bandanas and stuff like that, it was cute," she says, noting that other women in hip hop were dressing like that at the time. "But as I got older they changed and I didn't see any more women like me, still dressing how I was dressing, and I felt intimidated," she says. "My own issues with coming to terms with my sexuality played a part in not being able to own my musicianship and to move forward in putting myself out there as an artist."
While she points out that it's a continuing process, Love says she has grown enough to be able to step on stage as the woman she is, without having to conform to what society or the hip-hop industry wants her to be.
To help other GLBT artists do that, earlier this year Love launched We Are Hip Hop Too!, a Baltimore-based organization that works to "cultivate the development, visibility and inclusion of" out hip-hop, neo-soul and spoken-word artists.
"I think there is a little bit more of a barrier in hip hop than in other genres of music," Love says about gay women performing in the genre.
"One of the biggest things I've done so far is [to say] to myself I can no longer use being a gay as an excuse not to try to thrive in my music and to develop my art," she says. "I have to be honest with who I am and I have to share that, no matter what people may say about me."
K. Love the Infinite performs Friday, Aug. 17 at 8:30 p.m.