AN ELECTRO-DANCE party featuring computerized and synthesized beats, vocals and top '40 music, is how Nicky Click describes her sound.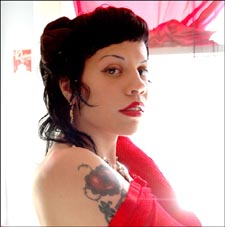 Nicky Click
The 27-year-old native of Olympia, Wash., who now lives in New Hampshire and identifies as "queer," uses her computer and a drum machine to create beats, which are then layered with lyrics to create a song.
"My music is really tongue-in-cheek humor, but it's also political and pretty deep too," Click says. "I talk about queer-femme identity, feminism and my personal life. I feel like my songs are kind of like my diary entries."
One of those songs, "2 Femme Girls," is about the stereotypes regarding femininity and society's lack of taking it seriously.
"For me it's been an evolution of reclaiming my femininity and knowing that it's valid and should be taken seriously in the queer community."
It's a message she'll send loud and clear while performing at Phase Fest.
"I think it's really cool that [Phase 1 is] the oldest lesbian bar in the nation. It just seems like a really empowering event."
Nicky Click performs Friday, Aug. 17, at 10:30 p.m.