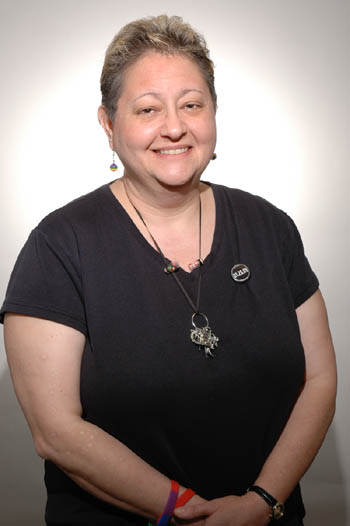 Cheryl Ann Spector
After a 10-week battle with leukemia, local lesbian activist Cheryl Ann Spector died on Tuesday, Sept. 4, at the George Washington University Hospital, with the taste of her favorite food, watermelon, on her breath, and a simple to-do list in her head, says her older sister Barbara Spector Yeninas.
"I think the last words she said were, 'Mmm, delicious,"' Yeninas says of her final moment with Spector for whom she brought freshly cut watermelon.
It was then that Spector, a 49-year-old Arlington resident shared all of the things she planned to do upon beating the terminal illness she was diagnosed with in late June: travel to Spain, return to work as an executive secretary for the federal government, and write a book about her 20 years of gay-rights advocacy in Washington.
"She said to me, 'All I need is six months, I just have to write my book,"' Yeninas recalls, "Then she went into a coma."
Spector never woke from the coma.
"It's like the world got a little grayer today," Yeninas said Tuesday.
Spector died just a few hours after a crowd of about 75 people gathered outside the hospital for a candlelight vigil on Monday night. Among those gathered were Spector's two brothers from Chicago and Colorado, who joined Yeninas, of Homedale, N.J., and several local friends, including Richard Legg, who performs in drag regularly as "Destiny B. Childs."
"She was an icon in our community, and she will never be forgotten," says Legg.
During the past 20 years, Spector played an active role in Washington's GLBT community. The native of Toms River, N.J., who came to Washington to study Spanish and broadcast journalism at American University, built a reputation for attending and videotaping nearly every GLBT-related event in Washington, whether it be Capital Pride events, the funerals of the many people who died from AIDS in the late '80s and '90s, or even drag performances. She also often took part in shows with the D.C. Drag Kings as "Dick Hurtz Bottoms," a drag persona she created several years ago.

Cheryl Spector and friends as captured in just a few of Metro Weekly's archived Scene events
"Every time you saw her she had a camera, even when she was in the hospital," says Legg.
"I'll never forget when I went and saw her after her first round of [chemotherapy]. As weak as she was, as soon as I walked in, she said, 'Stop right there,' and she pulled out a camera from under her pillow and took a picture."
Spector's activism came after the 1985 suicide of her brother, Stan Spector, who was gay and had AIDS. Her contributions to D.C.'s gay community include her efforts as the co-founder of Oppression Under Target (OUT/DC!), as well as her involvement with the Arlington Gay and Lesbian Alliance (AGLA), Servicemembers Legal Defense Network (SLDN), the Human Rights Campaign (HRC), Whitman-Walker Clinic's Max Robinson Center, the Rainbow History Project and a number of other organizations.
According to Yeninas, Spector wanted her memoir to highlight her activism and what inspired her to do it. While the death of their brother initially got Spector involved in AIDS and gay-rights advocacy, Yeninas says it was the many injustices Spector witnessed as a lesbian that made her work "more than just, 'Let's find a cure for AIDS.' It became, 'Let's find a way to right these wrongs."
"She was a one-woman peace committee," says Yeninas.
Spector was also religious. She practiced Christianity and Judaism, and wore a necklace of the Star of David with a cross in the middle of it. She served on the committee of the Wellness Center of the Metropolitan Community Church of Washington, where she was a member, and also regularly attended Bet Mishpachah, a congregation for GLBT Jews in Washington.
"She was an important link between different communities and she was a peacemaker among groups," Yeninas says. "She really wanted things to be right. She was a velvet hammer. She was a gentle soul with energy and incredible determination — never anger, determination."
Spector's life hit a downward spiral in early June when her Rosslyn apartment — where she had stored more than 500 videos, various photographs and other memorabilia documenting more than two decades of Washington's GLBT history — caught fire, as a result of an electrical problem involving a power strip. She was at work when it happened.
Later in the month, after feeling faint and rundown, she was taken to GW Hospital, where tests showed she was anemic. After a bone biopsy, Spector was diagnosed with myeloid dysplasia, an underlying cancer of the bone marrow, and acute myelogenous leukemia (AML), the most common form of leukemia in adults.
Mark Meinke of the Rainbow History Project, of which Spector was a board member, says he will remember her as one of the most "committed activists and community organizers."
"I've been thinking about what it's going to be like to not have Cheryl around," says Meinke. "I think we've lost a sense of humor and we've also lost an example of a very selfless, committed activism. We've lost quite a remarkable person.
"Cheryl was ubiquitous. I don't know how she did it, but in a single evening she would go to three or four events, or demonstrations. She seemed to have boundless energy."
According to Meinke and Yeninas, Spector amended her will several years ago to make Rainbow History Project the recipient of her archival materials."Unfortunately, we've lost a sizable portion of those [in the fire], and Rainbow History Project has a grant application in for funds for a pilot project, on cleaning and preserving what's left of her videotapes and recordings."
The Mautner Project had planned to honor Spector with its "Unsung Hero Award" at its annual gala event on Saturday, Sept. 29 at the Hilton Washington.
Mautner Project Interim Executive Director Andrea Densham says Spector was chosen by the lesbian health organization for the work she has done over the years as a leader.
"We have respected the extraordinary hard work that she has done over the many years not only an activist, but [as] someone who recognizes that political change has to happen hand in hand with cultural production," she says.
"She had a vision and commitment to positive political change [which] is so infrequent sometimes, and is such an asset to our community…. It's going to be a great loss losing someone who has both the sense of history and a sense of tenacity around change."
Yeninas, who has been asked to accept the award on her sister's behalf, says she has found comfort in the love expressed by Washington's GLBT community for her sister.
"Cheryl gave me an incredible gift, these last 10 weeks," Yeninas says. "Besides letting me be with her and letting her know how much she is loved, she introduced me to a world of some of the most wonderful people that I've ever met in my life.
"I really saw the outpouring of love that the gay and lesbian community has for my sister, and that has helped our family ease the pain of her passing by seeing the quality life that she led, and the quality people she hung out with."
Still, Yeninas can't deny the pain she is feeling for her younger sister.
"It's just cruel what life dished out to her in a very short period of time," she says, "A devastating fire, and three weeks later from the date, she's in the hospital with a terminal illness. It was more than any mortal should be asked to endure. They picked a fighter, they got a fight. But eventually, leukemia won."
Close friends and family will gather at 2 p.m., on Sunday, Sept. 9, at the Metropolitan Community Church of Washington, by invitation only due to spacing issues. A celebration of Spector's life, featuring performances, music and a slide show, which will be open to the general public, is currently being planned for Sept. 30 at a location to be announced at a later date.