You don't go to Damien Ministries to die.
Unlike its early days in the late '80s, when it was known as Damien House, the HIV/AIDS organization inspired by the Catholic Church and located in Northeast is no longer solely a hospice.
"We used to be a palliative organization, but now we are providing people with assistance to continue their lives," says Otis "Buddy" Sutson, of the various services Damien Ministries has adapted throughout its 20-year history.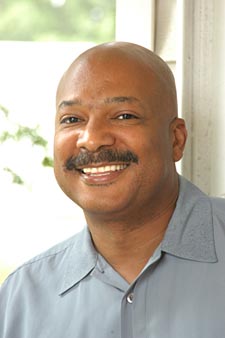 Buddy Sutson
Those services include the not-for-profit organization's monthly Food Bank, managed by Sutson. Last year, the Food Bank fed nearly 580 people living with HIV/AIDS in Washington.
Damien Ministries celebrates its growth over the past 20 years at its first-ever gala event on Saturday, Nov. 10, at St. Francis Hall in Northeast. The evening will feature entertainment by the Oberon String Quartet.
Rashid Darden, Program and Development Coordinator at Damien Ministries says, "We are celebrating the twentieth anniversary of the founding of Damien Ministries as well as taking the time to recognize some of our longtime contributors."
Those longtime contributors include Sutson, who came on board full-time with the organization several years ago after retiring from his job at the federal government as a personnel specialist.
"Naturally I was drawn to HIV and AIDS," he says. "I specifically lost a lot of friends to HIV and AIDS. About 35."
Surviving the HIV epidemic hasn't been particularly easy for Sutson, who adds that he has dealt with guilt issues, and wondered why he survived when so many of his close friends passed away.
"You go through the guilt period of 'Why me?"' he says. "I've dealt with that and contributing to Damien Ministries," has helped. Eventually we'll get a hold of this disease. We're making progress."
Damien Ministries Executive Director James R. Nickel says the organization operates today similarly like other HIV/AIDS agencies, but on "smaller scales."
"We have housing programs, a food bank, support groups and case managers," he says. "So we do provide those kinds of needed services for the community, but we also have a spiritual component."
Nickel says members are offered to attend Damien Ministries' four-day-retreats, held in November, February and August of each year, usually conducted in an "outdoorsy country environment" with an emphasis on spirituality.
"It offers comfort, encouragement, and companionship on the journey," Nickel says, adding that members are also given the chance to interact with professional religious leaders, who have been in AIDS ministry for most of their lives.
The "ministry" aspect of Damien Ministries can be traced back to founder Louis J. Tesconi, who in 1986 decided to abandon the six-figure salary he was making as a real-estate agent and move to D.C. to join the priesthood.
Six weeks after joining the seminary, Tesconi was diagnosed with Kaposi's Sarcoma, AIDS-related cancer, and was immediately asked to leave the church.
He didn't leave discouraged.
Instead he was reminded of the work of Joseph de Veuster, a Roman Catholic missionary known as "Blessed Damien of Molokai" and "Father Damien," who in the 1800s helped lepers on Molokai, a Hawaiian island, before succumbing to leprosy at the age of 49.
According to Darden, Tesconi "viewed AIDS as a modern day form of leprosy, in that a lot of people living with AIDS [in the late '80s] were poor and cast off members of society."
Nickel agrees. "Lou chose Damien as a model for working with what he considered modern day leprosy, AIDS, especially the way people were ostracized, given a death sentence and then left alone by others. [He] felt very strongly that somebody had to walk the journey with them in their final days. Twenty years ago, [it was] a journey we were taking very often," he says.
Upon opening a housing unit for women infected with HIV in Washington in August 1987, Tesconi told The Washington Post, "We want to reach out to people whose needs are not being met by other groups."
In December of that year, Tesconi opened a housing unit for men living with HIV, followed by a house for Hispanic men in September of 1991.
He died from AIDS-related complications in November 1991.
Darden says that while the organization is inspired by the Catholic Church, "we obviously serve anybody who wants assistance."
Sutson describes the group's client base as "people who have lived on the edge for all their lives. It's a struggle for them to stay above the water.
"Most of our clients are challenged educationally and financially," he continues. "Some of them have a dependency with drugs and a lot of them are recovering from drug use."
And while there are no services specifically dealing with GLBT people, Darden says Damien Ministries is geared toward anybody living with HIV/AIDS in Washington D.C.
"Many of those people identify as GLBT," he says, adding that while the organization has come a long way since its inception, there is still room for improvement. "Though we have clearly demonstrated the staying power of a non-profit, we definitely want more people to know what we do. Because just like any non-profit, we could always use any help that anybody is able to provide."
The Damien Ministries 20th Anniversary Gala Celebration will be held on Saturday, Nov. 10, starting at 5 p.m. at St. Francis Hall, 1340 Quincy Street NE. Black tie optional. Tickets are $150. For more information about Damien Ministries, visit www.damienministries.org.