Singer-songwriter Nicole Reynolds had her heart broken recently, and as history has shown, heartbreak can be a powerful artistic muse. Reynolds translated her tumultuous experience into a confessional sophomore album, This Arduous Alchemy, which she describes as "a break-up album with some love songs thrown in." It is steeped in regret, betrayal, disillusionment and loneliness, with a dash of hope and romanticism.
Reynolds possesses a youthful, girlish voice that is warm and inviting in its intimacy and immediacy. Her lyrics are rich in detail. Her rhyme schemes tend to be simplistic, though they're not always predictable. It is in her musical arrangements, however, that she is most adventurous, with songs ranging from straightforward acoustic folk to country-tinged laments.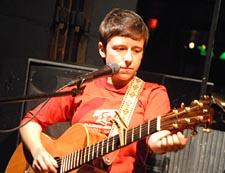 Nicole Reynolds
An out and proud lesbian from Pennsylvania, 24-year-old Reynolds spent the past couple of years on the road, performing at the National Women's Music Festival and touring with fellow folkies Melissa Ferrick, Erin McKeown and Dan Bern, among others.
While leftist political songs peppered Reynolds' 2006 debut, Wolves Won't Eat Us, there are none to be found on This Arduous Alchemy. Her focus here is singular: exorcising the demons of her failed relationship and learning to love again.
"Here Right Now," with its lovelorn sentiments and anatomical references, is readymade for an episode of Grey's Anatomy: "Would you give me your lung if I needed a lung / if my breath draws shallow in the winter / Would you hand me your heart if I needed a start / pumping blood through this November."
Also ripe for the picking for a primetime drama is the deceptively bouncy indie pop of "When We Meet Again," in which a chance encounter with a former lover brings a rush of residual physical attraction tempered with deep, lingering hurt. The concise but poetic lyrics beautifully capture the details and intense emotions of the moment: "When we meet again / your eyes will drop / my heart will stop / the time will show / your hair has grown / we are alone, now."
The ache in Reynolds' voice is palpable as it stretches thin and almost breaks on "In the Morning," a spare and striking ballad that identifies the early hours as when she's at her loneliest and most vulnerable. On the other end of the spectrum, "We Could Be Dancing," a swirling romantic waltz of infinite possibility, is the album's sole happy love song. It prevents This Arduous Alchemy from being a total downer. The freewheeling escapism of "France," while not exactly joyful, is also a welcome reprieve from the dark cloud that hovers over the album.
When she isn't going it alone, Reynolds' backing band offers solid but subtle color. Todd Barneson provides delicate mandolin accompaniment on several songs, Jim Boggia adds guitar and keyboards, Matt Muir keeps the beat with drums and percussion, and Adam Winokur plays bass, guitar, and keyboards. On occasion, the guys even step in with soothing harmony vocals.
NICOLE REYNOLDS
This Arduous Alchemy
Available at
CDBaby.com
and on
iTunes
Performing Live at Phase 1
Sunday, Jan. 27
8 p.m.
The band's best ensemble work is showcased on "Overcast," a roadhouse shuffle propelled by swinging electric guitar and chugging drums that recalls the rootsy Americana of Dylan's recent Modern Times album.
While This Arduous Alchemy contains a few choice nuggets, it is evident that Reynolds is still a young artist honing her craft. But her talent is promising. Remember her name, because Nicole Reynolds is an artist to watch.