Is Madonna so shameless and craven she'd sacrifice her own artistry for commercial success? Well, maybe. "You're only here to win, forget what they say," Madonna sings on "Give It 2 Me," the second single to come from her new album Hard Candy (




).
After failing most of this decade to sustain success on top of the American charts, Madonna decided she couldn't wait any longer and turned to today's biggest and best-known hitmakers in an attempt to become relevant again, to become more than just another aging diva with a reliably strong fan base but a retiring image in the mainstream. Ubiquitous producer Timbaland, along with his protégé Nate "Danja" Hills and frequent partner Justin Timberlake, produce almost half of Madonna's new set. The other half comes from the Neptunes, the fellow Virginia Beach-based production duo that includes Pharrell Williams, as ubiquitous as Timbaland earlier in the decade.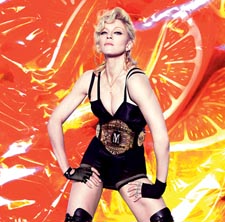 Ah, sugar, sugar: Madonna
(Photo by Steven Klein)
Madonna doesn't even take production credit for the five tracks with the two Timbs. And she frequently allows her production partners to ad-lib or take co-vocalist duties, even upstaging her at times. The Timbs, for example, are both heard before she is on the marching-band-styled first single, "4 Minutes," about doing your best for the greatest number with the greatest sense of urgency.
"Keep it up, keep it up, don't be a prima donna!" Timberlake repeatedly calls, interjecting a "hey!" before sounding out Madonna's name in a play on words that's as cute as it is cunning. Everybody knows what time it is here.
But here's where it gets surprising: Given its blatant pandering, you don't expect the album to be as great as it is. Hard Candy is far more than just a formulaic exercise in making top-of-the-pop confections providing an instant sugar rush. Madonna hasn't lost her way here in any sense. She struts her way through this album with the same appealingly cocksure attitude she had when she started in the business half her life ago. In fact, anyone who ever counted himself a fan will likely savor this for a long time to come. You're constantly reminded of sweet treats from Madonna's 25-year-long repertoire — though, of course, everything has gotten more complicated. Forget bubble-gum and lollipops: Madonna's sound may be still "sticky and sweet," but it's also a bit more tart, and certainly more refined.
Advertisement

| | | |
| --- | --- | --- |
| Madonna: Hard Candy (Bonus) [MP3 download] | Donna Summer: Crayons | Cyndi Lauper: Bring Ya to the Brink |
The fantastic "Give It 2 Me" bristles with energy from disco-rock: The snare drums and the bass get you up and moving, and then the chorus' rising and sweeping synths get you growing and glowing under the strobe lights. If that doesn't convince you that you can dance to this album even without the help of Stuart Price — the producer of Madonna's last album, the brilliant Confessions on a Dance Floor — well, keep listening. "On any given night, catch me on the floor, working up a sweat, that's what music's for," Madonna sings on the very next track. "Heartbeat" is a good-natured adult take of sorts on her early hit "Lucky Star" — she's still feeling euphoric, but not nearly as naïve, and certainly more focused on pleasing herself first. "You probably think I'm crazy…I've never felt so free," she sings, in a tone as assured as it is sentimental.
Though occasionally weak and generic, the lyrics often convey thoughts of love and longing — as well as a need for speed — in ways more complex, even more insightful, than they first appear. At her best, Madonna celebrates the power of music, especially dance music, to make you feel better. The music will set you free.
There's not a ballad in the bunch, and even the tracks heavy in sentiment never waver from the purpose of making you move. A stretch in the middle of the album features one stunning track after another, with caustic lyrics focused on relationship troubles, from "Miles Away," about absence making the heart grow fonder, to "She's Not Me," about recognizing the appeal of someone new, to "Incredible," about reviving the feeling of new love after it's matured. "Let's finish what we started," Madonna shouts on this track, as bright and bouncy as it is wistful and unsettled. This appropriately titled club-banger straddles the borders between hip hop, house and rock.
From YouTube: Madonna & Justin Timberlake: 4 Minutes
She may turn to hip hop here, but fortunately she doesn't rap — though Kanye West tosses off an inane one on the otherwise joyous disco gem, "Beat Goes On." Later, Madonna inexplicably decides to teach us key phrases in Spanish. The only one worth learning from "Spanish Lesson" is "callate," which she politely translates as "close your mouth." This Neptunes' Flamenco-flamed dance jam is straight out of the duo's playbook — specifically, Timberlake's "Like I Love You." Except that Madonna's there this time, and she won't shut up.
"Who is the master? Who is the slave?" Madonna asks with Timberlake on the sweeping, haunting album closer, "Voices." Arabic strings add to the mystery of this Massive Attack-styled track, produced by Danja. Just like the album as a whole, the track negates any concern you may have had about Madonna's seeming willingness to sacrifice her artistic soul to win in the market.
In the end, whether it becomes a commercial success, Hard Candy is an artistic triumph. Forget what they say: She wins.