When serving up poignancy, there cannot be contrivance unless it is intended. In any other form, its presence will dull and deflate the impact of the emotional revelation. Verdi's Rigoletto is an opera concerned first and foremost with poignancy — Rigoletto's tender love for his innocent daughter Gilda, his daily humiliations as the court jester, his agony as he discovers that Gilda has been lost within the storm of his revenge. Everything about Verdi's score is designed to deliver this poignancy: themes of sweetness and jollity dip and soar above deep returning currents of danger and portent which strengthen inexorably as the story moves toward the final heartbreak.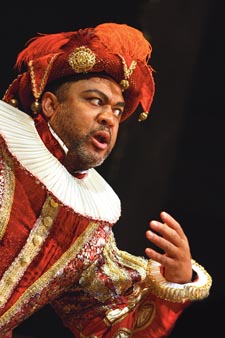 Rigoletto
The Washington National Opera production, directed with care and a potent sense of atmosphere by Catherine Malfitano (the wonderful soprano last seen here in Jenufa), has everything in place to deliver such fuel-injected poignancy but for one subtle but determinative element: JiYoung Lee's Gilda.
An up and coming talent with a sweet and pure-toned soprano, Lee has all the moves but not yet the experience. Wearing the role instead of inhabiting it, she seems constantly to be playing to the mirror. It is more lethal to her Gilda than any edge on Sparafucile's knife. By the time we have reached the opera's climax, we have seen an impressive performance but not a convincing one. Thus, poignancy fails to rise with Rigoletto's loss. (Note: Lee shares the role with Lyubov Petrova.)
Still, much is salvaged by the wonderful baritone Gordon Hawkins as Rigoletto (sharing the role with Carlos Alvarez), even as his consummate embodiment of this vulnerable man highlights the dramatic imbalance with Lee. Hawkins expresses wonderfully the essential sweetness of his love for Gilda. He touches her with the grace of a father who cherishes, tames his huge bull-like anger when he is in her presence, emanates with agony at his failure to protect her. Hawkins sings with amazing agility, sending his rich, rounded sound soaring above the orchestra, communicating emotion straight from the heart. He is an actor who commands the stage and commands our emotion.
Others of the cast also give strong performances. Bass Andrea Silvestrelli, as Sparafucile the assassin, delivers an understated and yet utterly compelling evocation of this casually evil man. A physically impressive figure with a vocal resonance that knows no bounds, Silvestrelli conveys perfectly a sense of contained but readily accessible violence. He sings with just the right blend of mournful foreboding that announces both Sparafucile's unmovable heart and the warning of what is to come. Malgorzata Walewska as Maddalena, his equally amoral sister, exudes a convincing earthiness and the finely honed instincts of a survivor. Her striking mezzo-soprano, with a tone like heavy velvet, brings much magic to her smaller singing role. Their scene is also one of several areas in which director Malfitano shines — there is something very clever in the way this familial life of crime, which at first seems rather amusingly domestic, transforms into something most brutally inhuman.
RIGOLETTO
April 12 & 13
Kennedy Center
Opera House
$45-$225
202-295-2400
www.dc-opera.org
Alexey Dolgov as the Duke of Mantua (sharing the role with Joseph Calleja), is a believable cad despite a blow-dry that would look at home in the stands at Nascar. He is an energetic tenor with the range for some good high notes though his tone is slightly edged with static, like a radio not precisely tuned to the station. His ardor for the chaste Gilda works quite well despite DiYoung's contrived performance as he is so clearly the kind of womanizer who does not need to connect before he conquers. Chemistry is optional.
And thus, this will not be the Rigoletto that devastates in its finale act. It will, however, be a night to savor Gordon Hawkins along with the WNO orchestra, under the able baton of conductor Giovanni Reggioli, delivering some classic Verdi.