Sir Peter Lustforth. Dame Stickle. Molly Tawdry. Lady Vanity Lustforth. And, of course, Dick Dashwood.
If you're looking for a clue as to what kind of show David Grimm's Measure for Pleasure might be, you need only take the most cursory glance at the above cast of characters. What you should pay no attention to are the claims that the show is a "naughty Restoration comedy." Measure for Pleasure is as much a naughty Restoration comedy as Airplane was a mildly humorous disaster film spoof and Carol Burnett's Went With The Wind was a clever Civil War satire.
Grimm's fairy tale might be wearing a powdered wig and corset, but there's a ball gag and strap-on occupying the drawer where the deceitful, quill-penned love letters should be. And both are kitted out with whoopee cushions.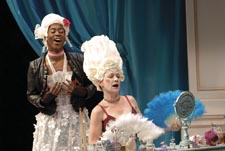 Measure for Pleasure: Honeycutt, Mendenhall
(Photo by Stan Barouh)
But make no mistake, this is not a complaint. For this production the cast and crew at Woolly Mammoth have not missed a trick or a chance for an easy laugh — and it all works. The mugging, the faux-exasperation at the childish laughter coming from the audience, the near constant acknowledgement of how much direct exposition and suspension of disbelief is required to make 17th century drama actually work — it's all there and splayed out across the stage like the contents of a leatherman's suitcase in an airport screening station.
A raunchy sex comedy that punctuates every double-entendre with a rim shot, Measure for Pleasure is the tale of what happens when the aging Sir Lustforth (Doug Brown) sets his attentions on the innocent young Hermione Goode (Kimberly Gilbert). But fear not, because as is so often the case, true love will win the day thanks (again as is so often the case) to a hooker with a heart of gold. Or, more precisely, harlot with a heart of gold.
This is, despite all appearances to the contrary, not an easy show to pull off well. That's not to say that one should try to wax eloquently about the deep historical research and serious understanding of Restoration theater evident in the actors' performances. Because, well, it's really not.
What these actors understand is comedy. Seriously juvenile comedy. Comedy so lowbrow it would fail to bump its head if it ran full tilt underneath a low-slung, mid-century coffee table. Comedy that needs to be played without fear, hesitation or the slightest whiff of embarrassment. Comedy involving washcloths and carefully placed privacy screens, and whatever it was they called Vaseline in the 1600s.
Measure for Pleasure is a production whose ability to be truly funny depends on a cast willing to take the most obvious and potentially horrible gag and play it for all it's worth. Think the scene in Footloose where the kids play chicken with tractors. Nobody's slowing down or screwing around here. (Well, okay, literally most of them are screwing around but….)
Our guide through this high society swingers' association is Will Blunt (Joel Reuben Ganz), valet to Sir Lustforth. Ganz is a real charmer whose character's love story is lovely and surprising and surprising for being quite lovely.
Mammoth favorite Gilbert is quite some distance from the character she played in Martha, Josie and the Chinese Elvis — a performance that earned her a Helen Hayes nomination — and is hysterical as the seemingly empty-headed virgin Goode. Some of the play's best moments occur when they're being guided by Gilbert and her Thelma & Louise sidekick, Molly Tawdry (Andrew Honeycutt).
If we are to give the recent hot and humid weather any positive marks, it should be for the clear and resounding signal that summer has arrived in the District. Measure for Pleasure could be considered Senior Week for those sticking the season out with the D.C. theater scene. It's a whole lot of fun, but the kind of fun we hope our parents never find out about.