Following the pattern of humanity and quite a few other species — though by no means all — computer technology has been largely born of binary roots. In people, the XX and XY can combine to replicate themselves in either of those two formats. With computers, the binary has taken the simple options of 0 or 1 to heights that have changed our world forever.
But if binary has been something of rule, that guarantees there will be exceptions. Ina Fried, a senior writer at CNET News, could be considered just such an exception, an example of how people — and perhaps someday computers — may grow beyond their "programming."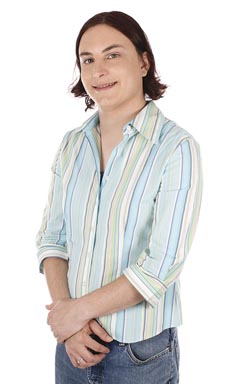 Ina Fried
Fried's CNET blog illustrates the point, first with its title: Beyond Binary. Then there is the brief bio-sketch that reads, in part: "During her years at CNET News, Ina Fried has changed beats several times, [and] changed genders once…. These days, most of her attention is focused on Microsoft."
As she recalls her on-the-job gender transition, Fried says her peers in the technology realm, true to form, expressed some curiosity, but not much else. Her experience at the San Francisco CNET office makes it seem that she was as likely to encounter transphobia there as she would be to find a co-worker banging away on a Commodore 64.
"Transitioning here, people were very accommodating," she says. "But not everyone had familiarity with transgender issues. Other employees had transitioned, but what was new was someone in the newsroom, someone facing the public.
"One of my big concerns was that my gender would become the story. As journalists, we don't want to become the story. But I was able to go back to doing my job. My gender hasn't been an issue. I get lots of unfriendly e-mail, but mostly from people who feel one way or another about Apple or Microsoft."
Fried's experience with NLGJA did not, however, start off as well. While Fried currently serves as the organization's national vice president for print and new media, her relationship with the organization was at first rocky.
She remembers the NLGJA national convention coming to San Francisco in 2000, coinciding with a budding effort on her part to begin marrying these two important parts of her persona: transgender woman and journalist.
"It wasn't the most positive experience," she says of her initial NLGJA orientation. "'Transgender' was still pretty unheard of. The organization wasn't all that advanced when it came to transgender members. I went away not really feeling terribly supported. I stayed away until I transitioned at work."
As Fried transitioned to express her gender identity outwardly, NLGJA was going through a transition of its own, using those first years of the new millennium to move beyond its acronym.
"When I came back [to NLGJA] in 2003 or 2004, I had made up my mind that the organization should be there for other transgender journalists, whether [NLGJA] was ready or not. But in the years I'd been away, other people had been doing good work. [Past President] Steven Petro had made transgender inclusion much more important. I was pleasantly surprised and instantly got involved."
Some of that involvement has been dedicated to serving as chair of NLGJA's Transgender and Allies Task Force. She's also worked with the Rapid Response Task Force, which fosters fair and accurate news coverage of GLBT issues. Fried says that although input from her and other transgender NLGJA members may have been crucial a few years ago, today any member of the Rapid Response team knows what is appropriate. "They don't need me to tell them what good [transgender] coverage looks like," she says.
Though Fried has great praise for the job NLGJA is doing to advance transgender equality today, both inside the newsroom and in coverage, just doing her job at CNET adds an invaluable component toward the same goal.
"I especially like the ability to be on TV, radio and print, not for being transgender, but for being an expert in the field. To go on NPR or a local television station, I think that's really powerful. It sends such an important message to youth: Transgenders can be experts in their fields."