Contemplation of the Post-Industrial Family surely ranks as one of the most indispensable themes of the modern playwright. What writer worth their salt can resist the call to explore the many and varied psychological boxes from which we all hail? Sometimes referred to as "kitchen-sink" dramas, these are the up-close and personal hours, often autobiographical, where we get the playwright's take on what lurks beneath the familiar rhythms and rituals of a particular family. At their worst these can be dour accounts of dysfunction steeped in the writer's own unresolved "life issues." At their most mundane they involve endless moments of hyper-domesticity (mother folding and re-folding the tea towel) as words go unsaid. And then they can be as crazily entertaining as Jason Grote's Maria/Stuart.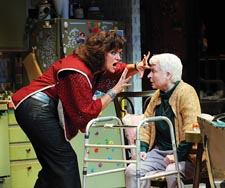 'Maria/Stuart' at Woolly Mammoth
(Photo by Stan Barouh)
Grote certainly gives us the genre's required family in need of deep therapy, but beyond that he abjectly refuses to play it straight. Despite the increasingly serious clues as to what ails the women in this family, Grote seamlessly injects not only a skein of ruthless wit, but also the surreal, the outrageous, and the basic thrills of a good old-fashioned ghost story. He is a man at home with chaos and also one who understands storytelling with its requirements of arcing suspense and mysteries revealed. The result is compulsive if not necessarily profound viewing.
Much goes on above and below board in Maria/Stuart. For starters, the drama revolves around not one but two kitchen sinks, amid the marvelously apt set from James Kronzer. This is the unraveling of real people and their sticky secrets with the aid of even stickier apparitions who revolve in and around the kitchens and psyches of the protagonists. Keeping it cohesive, tight and emotionally true is no mean feat and huge praise must go to the excellent ensemble. Every performance is on target and in sync with Grote's style of giving each role the kind of consistent meat and significance that obviates the need for those tag-team moments when players must take turns delivering "revelatory" monologues.
Sarah Marshall as Ruthie, the elderly mother of the now grown Marnie, Lizzie and Sylvia, stands out for her spectacularly versatile turn as the crotchety matriarch and another far more otherworldly incarnation. She is a deeply comical presence and yet she conveys much of the emotional loss that lies at the heart of this family.
Naomi Jacobson, Amy McWilliams and Emily Townley, as the three adult sisters give nicely conceived definition to their respective women. McWilliams and Townley in particular leave a palpable residue in their wake — one feels they are still out there in the world, angry and bewildered at themselves. Jacobson inhabits the wackiest of the three sisters and has the none-too-easy task of embodying the reality of the stickiest of denials. In a way she is more metaphor than person. But she provides some of the biggest laughs of the piece with some superb comic timing and attitude.
Eli James gives a very credible and humorous performance as Marnie's son Stuart, the unassuming lightning rod to the older women in his life. Though his breakdown moments are not overly convincing, the dynamic with his mother, his submissiveness mixed with compassion for her, has an unusual poignancy. Meghan Grady as Hannah, Lizzie's daughter, delivers another solidly believable character. She is of the moment without devolving into a sitcom twentysomething.
Grote apparently based this play, at least on some conceptual level, on an early 19th century piece about the warring female royals of 16th century Great Britain. Frankly, knowledge of this academic inspiration does nothing to heighten the enjoyment of Grote's contemporary work. The peculiar language of the apparitions is more than fun enough without worrying about any possible literary references. Taken at face value, Maria/Stuart is a mélange of intense, ludicrous, silly, common-garden-variety family hell. It is more than enough for a great night out at the theater.