Sitting in his doctor's office on June 2, Justin Smith breaks down and begins to cry. Just a few seconds earlier, when asked by his doctor if there was anything else he needed, Smith had jokingly asked for a HIV cure.
"I don't think we are going to see that in my lifetime or yours," his doctor replies. "This virus integrates into your DNA. It's in every single cell you could imagine. It's in various brain cells. It's in your bone marrow. What we measure in your blood is only 1 percent of it. Because it … writes itself into your own DNA, into your own genome, I don't see any way that they can get rid of that."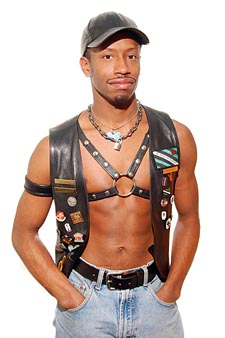 Justin Smith
It's a deeply personal moment that Smith — a 28-year-old Silver Spring native, and today a Baltimore resident — shares with the world on the Internet via YouTube, a video-sharing Web site.
He posted that video, nearly 11 minutes long, as part of an ongoing video log, or "vlog," project he started three months ago, to spread awareness about HIV among young, gay, black men.
"This is not to scare people," Smith, a medical technician working toward a degree in online communications, shares in his second video installment. "It's not to gross anyone out. It's to warn people that this could happen to any one of you at any time."
Speaking with Metro Weekly, Smith says he was an HIV/AIDS-prevention advocate long before he was infected with the virus in 2005.
"But I couldn't really find my niche, or find what I could do to help my community," he says, adding that eventually one area caught his attention.
"I noticed that there was little or no representation of a gay black man who's doing a documentary or videotaping his life experiences with HIV and AIDS."
And that was all it took.
With some help from friends, Smith began offering a weekly account of how the virus affects him. Among the first peeks into his personal struggle with HIV was that June 2 doctor's visit, in which Smith takes the first steps in beginning to treat his infection with medication.
But the journey from infection to diagnosis to treatment wasn't without conflict, he says, recalling his reaction to the HIV-positive result from a test at Us Helping Us, a local organization specializing in HIV/AIDS prevention and care for black gay/bisexual men, in early 2006.
"I felt like I was going to die anyway, I might as well go out and drink a lot and have fun at the bar, basically hurting myself physically."
Smith's fun, however, was taking a toll as his T-cell count, a key marker in the strength of one's immune system, dropped from a healthy 600 to 261 — just 61 points above the definition of AIDS. And as his T cells dropped, the amount of HIV in Smith's system kept rising.
"If your T-cell count is below 200, you will have an AIDS diagnosis and that will be on paper forever," Smith says. "Even if your T-cell count goes above 200, you will still be diagnosed as an AIDS patient. So I decided to take better care of myself when [my T cells dropped]. My doctor said it was time for me to go on medication."
Smith himself decided at the same juncture that it was time to start documenting his experience.
In addition to raising awareness, Smith says his vlog has also helped to empower him, in part due to the many encouraging comments he has received from viewers he has never met.
"There are so many different things that you can do for yourself in terms of complementary therapies," says Peter Fox, the national director of the HIV Specialist Certification Program run by the American Academy of HIV Medicine in D.C. Smith's vlog, says Fox, is one example.
Fox, a contractor for Alpha Drugs, a D.C.-based pharmacy specializing in medications for treating HIV and other immunity-related conditions, adds that locals will have an opportunity Sept. 18 to hear more empowering messages when it comes to living with HIV. That day, Alpha Drugs sponsors a free lecture with Dr. Jon D. Kaiser, author of Healing HIV: How to Rebuild Your Immune System. The event is titled "Living a Normal and Healthy Lifespan with HIV."
"Jon [Kaiser] offers an encouraging message on ways that you can see your illness, and things that you can do for yourself in addition to what you get from your doctor," Fox says.
"I think the way that people approach HIV can be of two extremes. One being, 'I'm just going to go to the doctor and do what he says and then leave there and then hopefully try to forget about this and just go about my life.' Then there are other people who are kind of energized to sort of live a different kind of life."
Smith may fit the mold of the latter, by turning his diagnosis into something that can help others.
Says Smith: "As long as there's at least one person that walks away from watching those videos and says, 'This is what I don't want to happen to me,' or, 'I'm positive and this is what I need to get ready for and prepare myself for,' as long as they do that, I feel like the biggest man in the world."
To view Smith's vlog, visit www.youtube.com/user/jsmithco98.
Living a Normal & Healthy Lifespan with HIV is scheduled for 6:30-9:30 p.m., at the Jurys Washington Hotel, 1500 New Hampshire Ave. NW. The event is free. RSVP to RSVPJonKaiser@gmail.com.
From YouTube: