On any given day, chances are you will probably catch Shannon Minter in one of two places: Washington, D.C., where he shares a home with his wife, Robin, and their daughter; or San Francisco, where he's continuing to defend the nationally prominent case for same-sex marriage.
Minter was the lead counsel for same-sex couples in the marriage case that the California Supreme Court ruled in favor of recently, citing that same-sex couples have the right to marry and live free of discriminatory laws.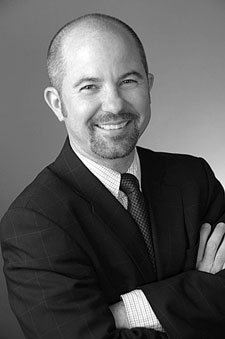 Shannon Minter
Minter is also a transgender man.
"I think a lot of people aren't aware that it happened to be a transgender person who argued that case for the community," Minter says, "but I'm very proud that I was able to do that. I think it does show how much we need each other, and that we can really help each other."
Helping the larger community is not new for the 47-year-old native of Sulphur Springs, Texas. He currently serves as the legal director of the National Center for Lesbian Rights (NCLR), based in San Francisco, and has worked with the organization for the past 15 years.
"I really approached [law] almost as an experiment to see whether I would be good at it and whether I would like it," says Minter, who in 1993 earned his J.D. from Cornell Law School, in Ithaca, N.Y.
"As it turned out, I really enjoyed law school and I was so lucky. I was incredibly fortunate to have so many law professors who encouraged me to pursue my own interests, and I took a lot of human-rights courses, children's rights, employment discrimination, things that helped me really kind of prepare for the kind of work that I wanted to do."
Now he's focused on helping defeat California's Proposition 8, slated to appear on the state's November ballot. If passed, it would add, "Only marriage between a man and a woman is valid or recognized in California," to the state's constitution, voiding Minter's court win legalizing same-sex marriage in the state.
"At this time, it is the most important political battle for our community, without a doubt" Minter says.
"We can only win if we can match the other side in fundraising. They have raised about $18 million and we have raised about $14 million. I do worry that some people in our community are complacent and just are assuming that we're going to win. And believe me, that is a tragic mistake. We will only win if people step up, and I hope they do. We're trying very hard to make sure people understand that. It's going to be extremely close."
Minter plans to reiterate that message at the upcoming 2008 Equal Justice Works Conference and Career Fair in D.C., Oct. 10 to 11. He credits Equal Justice Works' fellowship program for helping him start his career by landing a position at NCLR.
"I would have never been able to go there or stay there if it wasn't for the Equal Justice fellowship program."
That's one of the things he plans to talk about on Friday, Oct. 10, when he kicks off the career fair at 9:30 a.m.
"I will be talking about my own personal history as a public-interest lawyer and especially how I ended up being the lead counsel on the California marriage case for same-sex couples, and how that issue fits into the larger framework of what's happening now in the social-justice movement."
For those unfamiliar with the event, Minter describes the national career fair, which usually attracts more than 1,000 people, as a conference that highlights the organization's fellowship program.
"It is important that we all support young people and new lawyers who want to advocate for civil rights and human rights," Minter says. "And this conference is the national event where it's possible to show your support and build those networks, and encourage new leadership."
Before doing all of those things himself, Minter struggled as a teen growing up in Texas.
"It became very difficult and frightening to be there as a young transgender person," he says.
"It took me many years to figure that out. I identified as lesbian in high school and I had a terrible time. I was rejected by my parents. I was worried they were going to put me in a psychiatric hospital. I worried about that every single day.
"They made it clear that they thought that I was disgusting, sick. My mother found a love letter to my girlfriend, and [my parents] confronted me, and were extremely rejecting. My classmates were as well. It was constant verbal harassment. I had my tires slashed multiple times, several threats of violence, it was very scary," he says of his last year of high school in 1979.
"It was profoundly traumatizing for many years thereafter."
Even after coming out as a lesbian to his parents, Minter says he felt his journey was far from complete.
"It's kind of hard to explain for people who aren't transgender, but my whole life I had the most profound feeling that something was wrong. I was so uncomfortable in my own skin. Being able to transition was just incredibly empowering and huge relief."
Minter, 47, transitioned when he was 35.
While the transition brought a sense of empowerment and relief for Minter, his rocky relationship with his parents only got worse. He says they were "embarrassed" by his female-to-male transition. Coincidentally, for a man on the forefront of the marriage fight, his own marriage seven years ago began the healing between his parents and himself.
"When I married, my parents did not come to my wedding, but some of my other relatives did. That broke the barrier, and in pretty short order my parents and I were reconciled."
Minter says his marriage made it easier for his parents to be understanding and supporting of him. "Because they understand marriage, they can relate to my situation."
That marriage became a bridge for Minter's transphobic and homophobic parents to better relate to their son helps to illustrate the incredible worth of Minter's legal victory, as well as how much the gay community stands to lose should Proposition 8 pass in California.
"Our society, for better or for worse, is very focused on the law," says Minter. "[Marriage] is an incredibly powerful arena to make social change."
For more information about the Equal Justice Works Conference and Career Fair, running Oct. 10 and 11 at the Omni Shoreham Hotel, 2500 Calvert St. NW, visit www.equaljusticeworks.org or call 202-466-3686.