MADONNA'S NEW MARRIAGE… Maybe Madonna will finally come back to D.C. with her next tour, since George W. Bush will no longer be president — apparently the reason she hasn't stopped here since 2001's Drowned World Tour. Chances will be greater if Barack Obama wins, of course. But for now, the only way to see her eighth worldwide show, the Sticky and Sweet Tour, is to either travel or wait for it on DVD. No word on when that will happen, but since the tour doesn't wrap until December in Brazil, it likely won't be until early next year at the earliest.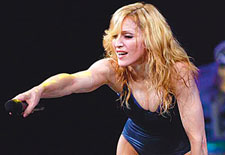 Madonna
When you do get a chance to see it, chances are you'll fall for her mashed-up recreation of "Like A Prayer" — and chances are you'll soon be hearing it in clubland, too. "It feels like; It feels like; It feels like home," Dino Lenny sings, as Madonna replies, "Just like a prayer, your voice can take me there." Dino who? Actually, "Feels Like Home" is a European dance hit from last year credited to Meck, the alias of DJ Craig Dimech, a behind-the-scenes player in British dance music. He worked with the Italian Lenny, who has a wonderfully haunting voice reminiscent of Depeche Mode's Dave Gahan, to fashion what has become his first international hit, the raw basis of which comes from a 16-year-old house hit, Felix's "Don't You Want Me."
So in marrying "Feels Like Home" with "Like A Prayer," Madonna not only recreated for today's dancefloor one of her best older songs. She also once again spotlighted a budding act worthy of more attention. Ready? Meck is. The follow-up single "So Strong" is fantastic, and it serves as Dimech's M.O. as well as a promise. "And I feel so strong, if nothing goes wrong, I'll pay back tomorrow," Lenny seems to be singing, based on what I can make of the lyrics. "Stay right back, 'cause it's taking on the dance floor!" And it will. Dimech works those intense high-church, pipe-organ style synths that trance gave us (think Faithless' "Insomnia"). Actually, Dimech samples heavily from this year's club hit "Hold That Sucker Down," a serviceable number from David Vendetta/QT Quartet that you wanted to like more than you did. Meck's "So Strong" original hits with Nine Inch Nails-esque force, while the Inpetto's remix is a fascinating rework that'll floor you….
GOOD CHARLOTTE'S GREATEST DANCING… Joel Madden may be known to tabloid readers as Mr. Nicole Richie, but with his identical twin brother Benji, he's also a power-pop fixture, fronting the band Good Charlotte. This Waldorf, Md.-grown five-piece was named after a children's book, and has been very much focused on creating "anthems" in its seven years of operation. ("This is the anthem, throw all your hands up.") Now, they think they can create club-burners that'll make us shuffle our feet — and they're doing it in lieu of actually issuing a greatest-hits set. Due just in time for Christmas and holiday shopping – Nov. 25 – The Greatest Remixes will feature remixes and reworks of hits including "Little Things," "Lifestyles of the Rich and Famous," "I Just Wanna Live," and, of course, "The Anthem" and "I Don't Wanna Be in Love (Dance Floor Anthem)." Members of Fall Out Boy and Linkin Park's Joseph Hahn are among those on tap to do the remixing deeds, as are club notables such as Junior Sanchez and Metro Station. Billboard reports that in conjunction with the set's release the Madden brothers will DJ a series of parties. Of course they will….
HOT CHIP, NEW AND REMADE… Hot Chip will also next month release a collection of remixes of songs taken from its third album Made in the Dark. Cute as ever, the quirky synth-pop band known for clever lyrics and catchy music ("Over and Over," "Don't Dance") will brand this set Remade in the Dark. Billboard reported few other details about the set, except to note that it will be released in November and that it will feature brand-new mixes of tracks "We're Looking for a Lot of Love" and "Whistle for Will." Instead, Billboard provided a laundry list of work the prolific band's got going on, including the fact that it plans to release a follow-up full-length album to Made in the Dark early next year — or just one year later. Apparently, they're already recorded half of the set. "Made in the Dark felt bold, but for me it was all over the place. This next one…won't have an A-side and a B-side. It will be much more mid-paced, like a Fleetwood Mac album," the magazine quoted the band's Joe Goddard. Up until now, the goofy Brits just kept getting more energetic and more club-oriented with each album. Guess they're looking for a mid-paced correction….