It sounds like a joke, right? And not an especially good one. But Beyonce isn't kidding. She really has adopted a laughably bad alter ego to serve as part of the title of her new album, the former Destiny's Child lead singer's third solo set. Why? Well, it's not exactly clear. The official reason is to put still more distance between Beyonce's public and private personas. Ultimately though, what adopting the alter ego "Sasha Fierce" does at this stage is put distance between Beyonce's publicly professed happiness and the dark, unstable messages conveyed in her lyrics.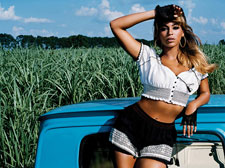 Fierce new persona: Beyonce
In promoting the new album, Beyonce says, "I'm in a very good place right now, I'm very happy." Mrs. Jay-Z also notes that the album can be viewed as her diary. Further, she notes that the main goal is to write songs that inspire her female fans, or at least make them relate to her.
But woe unto them if they're single. That frothy new single of hers is all the rage in clubland, on YouTube, and even earned a Saturday Night Live spoof. "Single Ladies (Put A Ring On It)" has a "Crazy in Love" headiness about it, and you can't resist its musical appeal. But lyrically, it has to rank as one of the most un-affirming "single" anthems ever, as Beyonce leads a chorus telling the whole world she's only single because her man didn't ask for her hand in marriage. Total dependence on another for one's happiness is nothing to lead a chorus in song about — much less pretend its some kind of female-empowerment anthem. This is decidedly not "Independent Women, Part III." And doesn't it seem strange that a recently married singer is talking about being single, anyway?
Beyonce
I Am…Sasha Fierce
MusicWorld/Columbia
$15.98

That's just one of several songs racked by insecurity on this album, what's touted as Beyonce's most personal ever. She co-wrote or co-produced every track, and spent nearly a year putting it together, far longer than any other she's produced as a solo artist or as the lead member of Destiny's Child. I Am…Sasha Fierce is technically a double album – disc one is ballad heavy and titled I Am, while disc two is the club-fired Sasha Fierce. But the basic edition's first disc only has six tracks, the second only five, and the total run time is only 41 minutes long.
I Am…Sasha Fierce is not quite the audacious powerhouse that was 2006's B'Day, but it does offer many stunning ballads and spicy club burners. "If I Were A Boy," a chilling plea for boys to grow up when in love, is a showcase for Beyonce's voice. Though a Beyonce trademark is to offer up emotionally overjoyed and playfully supercharged vocals, she shows here she can be restrained and reserved, and let the lyrics power the drama as much as her voice. On "Disappear," she scales her voice up and down several octaves, but not in a showoff-y kind of way. In particular, it's when she goes quiet and hits some incredibly low notes that she really shines. And besides the musically irresistible "Single Ladies," disc two features a couple other gems, especially the giddy synth-pop "Radio," in which Beyonce professes love for her radio. Unlike men, the radio never lets her down.
---
MICHELLE WILLIAMS
Unexpected
MusicWorld/Columbia
$15.98

Last month, Michelle Williams released her third solo set. You probably missed Williams' first two albums, since they were gospel affairs, quietly released while Destiny's Child was still together and ruling the pop charts. Now that the trio is no longer, Williams seems to have reasoned that gospel is no way to maintain a career chartered by the Destiny's Child juggernaut. So Unexpected is a completely secular set, and one that she says is inspired by her love of club music and dancing. It's a love lacking in passion.
Williams, who has also starred in Aida on Broadway and in the touring version of The Color Purple, has a pretty, bright voice, but lacks Beyonce's pizzazz. Most of the songs on Unexpected are as subtle and smooth as she seems to be — perfectly pleasant and winsome, but they don't pop and provoke in the Destiny's Child mold. There are several songs that could or should be hits. "Thank You" is hardly the sweet ballad it sounds like, and all the better for it. "I want to thank you, for losing me," Williams coos to her ex. "I almost loved you forever, never would have found someone better." Both "Stop This Car" and the title track are moody mid-tempo hip-hop-styled songs that show real sparks of heat.
Unfortunately, Williams is too cool and too timid on too many other songs here, including current single "The Greatest," which plays it safe in the shallow end of the pop pool. You might call that unexpected from a Destiny's Child alum, true. It's just not the kind of surprise you hope for.