There is something appealing and unpretentious about the cave-like, yet artfully accented, interior of the Clark Street Playhouse in Crystal City. The many cheerful regulars you are likely to encounter along with the old-fashioned tiers of squeaky seats are a cozy counterpoint to the abandoned warehouse-feel of the Playhouse neighborhood. Without doubt, environment informs inhabitant and with the Washington Shakespeare Company the mood is friendly, engaging and happily irreverent. This refreshing spirit emanates from program to production in the case of their latest offering, Shakespeare's All's Well That End Well.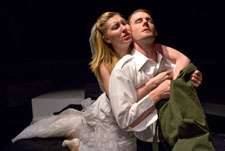 'All's Well That Ends Well'
Adding clever contemporizing touches without losing the traditional constructs of the play, director Joe Banno strikes a nice balance likely to please newcomer and committed Bardophile alike. And that is no easy task, for despite its wit and wonderful lingual flights, All's Well is not among Shakespeare's most user-friendly plots.
By turns comic and vaguely unsavory, the story centers around the peculiar and unpleasant lengths to which Helen, a young untitled woman, goes to get her man, the peculiar and unpleasant Bertram, a count. Amid Helen's machinations there runs a subplot in which the court blowhard (and occasional poignant philosopher) Parolles eventually gets his comeuppance at the hands of his colleagues.
Though he sets the play in late 1930s Europe, Banno counters both the pre-war and Elizabethan mores with a clever aural device that humorously injects a thoroughly 21st century sensibility. The abruptness and indeed, the surrealness, of this device also complements the manner in which this play moves between plot, subplot and a myriad of moods. Fully simpatico with these chops and changes, Banno and his players establish an easy rhythm to the piece and we are soon effortlessly drawn into Helen's more or less humorous turmoil.
Playing the determined Helen is an energetic Mundy Spears showing a strong facility for the language but a less convincing emotional connection to her character. Though Spears' face registers every appropriate emotion with speed and dexterity, the very precision of it denies authenticity. She seems capable of digging deeper than she is.
As for Helen's obsession, Bertram, Shakespeare barely bothers with what makes this man tick. Left with this void to fill, Parker Dixon gives his count a buttoned-down public persona which contrasts interestingly with the "private" scenes in which we see (rather than hear) that Bertram is ravenously into the thrill of the chase (at least until the end of the play). This simple dichotomy goes a long way towards imbuing Bertram with a bit of quirky believability.
Cam Magee, as Bertram's distracted mother, compellingly suggests a woman who has found herself in a most strange place in life. She is also a good comic foil to Nathan Weinberger's Fool, her butler, and their relationship is one of the evening's most clever innovations as they balance the silliness of their dynamic with an expert restraint.
The standout is Ian Armstrong in the role of Parolles, a man who so hopelessly blusters and stumbles his way through a world he can never quite get. Although Armstrong seems, at first, almost too big a presence for this intimate production, his rare instinct for Shakespeare's language and intent, along with his wonderful ability to bring up the darkness of the soul rapidly makes him compulsive viewing.
All's Well moves between silliness, passion, obsession and sadness and yet, as noted in the program notes, enjoying this play is more about going with the flow than connecting all the dots.