Find something cute to wear. Pick a place to go. Make sure your teeth are clean and you smell wonderful. Get a haircut. When you think about it, there's an awful lot that can go into making a good impression on a first date. So why waste all that effort on just one person? If you're Jewish by any definition, or just enjoy Jewish culture, you're in luck.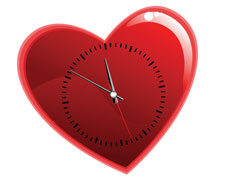 On Saturday, Jan. 31, the D.C. Jewish Community Center's Kurlander Program for Gay & Lesbian Outreach and Engagement (GLOE) is offering "You Had Me at Shalom: An Evening of Same Sex Jewish Speed Dating." Justin Lerner, program director for GLOE, says the idea is an import from a Boston GLBT Jewish group, Keshet, that's been doing this for years.
"I think they started this in 1999," says Lerner. "They typically do it on Christmas Eve. They have a manual for how they do it. So far, it's been getting a great response from the community. Because this is such a fresh program here, it's exciting."
One of those who has responded is David Fox who says he's not too nervous about his upcoming dates.
"I can talk to anybody for five or 10 minutes," says Fox, adding that while he's ultimately looking for a partner, he'd be happy just meeting someone who held the potential of getting to know better.
"Generally, I'm looking for a decent, good person, who I can have a conversation with; someone with similar values about social issues, who is active, who I can go hiking with," says Fox, adding that while he may not be nervous about the big night, he has some concern about being matched in his age group.
"I'm on the upper end of the age scale. I'm 50," says Fox of the new 30. On the preregistration questionnaire, required for the event, he said he's open to being matched with people from 40 to 60.
Lerner says that Fox need not worry about the organizers finding him some matches, explaining that GLOE is working hard to attract a range of ages, 21 and older, and to achieve a gender-identity balance.
Another registration question, regarding Jewish identity, piqued Fox's curiosity. The questionnaire asks daters to rate their own Judaism, as well as what they're looking for.
"It was Orthodox to secular," says Fox, with a slight chuckle. "Or 'Jewish in spirit.' I'm not sure what that means. Maybe you're not Jewish, but you get farklempt when you see Barbra Streisand?"
Says Lerner: "People sign up in advance, fill out registration online. They put down what they're looking for, an age range, level of Judaism – who they would date. It's your identity as Jewish – your spirituality, interest in the culture, whether you're interested in converting, or whether you've been part of the Jewish community. We want to be inclusive of everyone. The responses, for the most part, are that people are fine with [dating non-Jews].
"We're going to take that and pre-match people. We're thinking it's going to be about four dates, then some schmooze time, an activity, four more dates, and then more time to schmooze."
To ensure that everyone uses his or her face time appropriately, and to keep the mood festive, Lerner promises there will be a "Yenta" on hand — in this instance meaning a matchmaker, to borrow from Fiddler on the Roof.
"We wanted to find someone who could be really entertaining and make people feel comfortable," says Lerner, adding that she'll also be monitoring to make sure daters don't waste their minutes talking about their mothers or other date-killing topics.
To purchase tickets and pre-register (by Jan. 24 to guarantee a spot) for "You Had Me at Shalom," visit GLOE at www.washingtondcjcc.org/gloe. General admission, which includes a kosher nosh and drinks, is $27, or $18 for DCJCC members, students, seniors or limited income. For more information, call 202-777-3253 or e-mail justinl@washingtondcjcc.org.