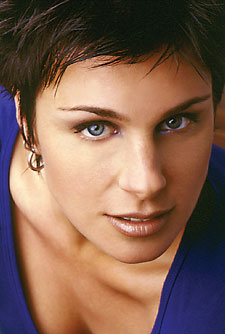 Tracy Young
D.C.'S YOUNG VALENTINE… Last fall, DJ Tracy Young spun in her hometown of Washington for the first time in way too many years, hitting Be Bar. This Saturday, Feb. 14, she'll finally make her debut at Town. The gay circuit's No. 1 female DJ is coming in part to support her latest compilation, Tracy Young Presents Genesis Part 1, released on her own Ferosh label and named after her famed New Year's Day party in Miami, her adopted hometown. In a couple weeks, the lesbian will headline Miami's happiest event, the Winter Party, spinning right on South Beach in the glorious afternoon heat. But first, she'll bring her sweet heat to us. Welcome back to town….
ATLANTIS' BEST MOVE YET… "Though the album is the second in the Move series, I really didn't pay much attention to the first," Wayne G candidly admits in a press release. Last year, Manny Lehman compiled the first double-set in Atlantis Events' Move DJ-compilation series, released on Tommy Boy's Silver Label. But everyone would be better off just focusing on the second edition, Wayne G's Move: Atlantis Dance 2009. Wayne G, one of Europe's leading gay DJs who will make his D.C. debut at Town Saturday, Feb. 28, proves why he's been a staple on the leading gay cruise company for five years now. He demonstrates real versatility. Whereas Lehman only thought to produce one disc of vocal-based club mixes and then a second simply with dub versions of the same songs – wow, how creative – Wayne G created a light, swaying tea-dance disc and then a dark, sweat-pouring late-hours disc, the kind of music you hear while "at sea." A couple artists factor on both discs – Darren Hayes, Rosabel, Bimbo Jones, Ultra Naté — but no one song repeats.
More than a third of the 24 tracks here are Wayne G's own productions or remixes, and they're all first-rate, including many re-worked classics. He also has a clever way of pairing songs together. Opening the set, for example, he ties Ultra Naté's "Twisted" to Kristine W's recent dance chart-topper "Never" by repeating Nate's command, "Don't let nobody steal your joy" as "Never" begins. Just a minute later, Kristine W. sings, "You can't steal my joy" in her song's chorus. Message received! Party on….
HARDER BETTER FASTER ZZZZ… Just when you thought dance music is as gay as it gets, Daft Punk and Justice come to ruin the fantasy. And to think, the two acts are even French. Their brand of blippy, glitchy, rock-steeped techno is often a bit too hyper-butch, as if they feel a need to prove something. Well, now they have: They proved they have what it takes to sweep the dance awards at the Grammys. Daft Punk not only garnered a nomination but actually won an artist album award for a live set, a rarity at the Grammys – and with good reason. More work goes into creating an all-original artist album – or at least, it should – than a recording of a concert, no matter how great said concert may be. (And by all accounts, Daft Punk's Alive Tour of two years ago was one for the history books in terms of spectacle.) The duo beat out both Robyn and Cyndi Lauper – even Kylie Minogue – for the crown. That's a real crime. The duo also won for Best Dance Recording for the live album version of its seven-year-old dance hit "Harder Better Faster Stronger." They bested Madonna's "Give It 2 Me" and Rihanna's "Disturbia" for the honor – another crime.
Meanwhile, fellow Frenchies Justice won the Best Remixed Recording, Non-Classical award, for its remix of the Brooklyn band MGMT's "Electric Feel." I know, I hadn't heard of it either. The "D.A.N.C.E." duo beat out StoneBridge (remixing Ne-Yo's "Closer"), Junkie XL (Madonna's "4 Minutes") and Moto Blanco (Mary J. Blige's "Just Fine") for the honor. Interesting. At least Katy Perry was shutout at this year's ceremony. She kissed a girl, and mercifully Grammy voters didn't like it…
WAMMIE'S LOCAL LIGHTS… The Washington region's own Grammys will be presented this Sunday, Feb. 15, by the Washington Area Music Association. Anyone can attend the 23rd Annual Wammies, held at Falls Church's State Theatre. Among the nominees, the Gay Men's Chorus is up for Best Choral Group, and Tom Goss's "Rise," a staple on LOGO, is nominated in the Video of the Year category, along with Thievery Corporation's "Radio Retaliation."
Probably D.C.'s most popular export right now, the Corporation is also nominated at the Wammies as Artist of the Year, Album of the Year, and in nearly every Electronica category – though Bob Mould should have best Electronica Vocalist in the bag. The Corporation will battle Mould and Rich Morel's Blowoff – not to mention Deep Dish – as Best Live Electronica Performing Artist, and both Mould and Morel again, this time as solo artists, for Best Electronica DJ. (Yes, Deep Dish, and Deep Dish's Sharam, are nominated here too.) For best studio-based Electronica Artist/Producer, the Corporation will battle Morel and Deep Dish, as well as Bev Stanton's Arthur Loves Plastic. Stanton's "Brief Episodes of Joy" is also nominated as Best Electronica Recording….