Antebellum is a story that moves across continents and genders, from World War II to a cinematic memory of the American Civil War.
With his own crossing of continents — first from Singapore to California, then on to New York — coupled with bona fide military training, Chay Yew (aka Lance Corporal Chay Yew) may be the perfect choice for directing this bold new play by Robert O'Hara. That Yew has known O'Hara for years, that he is gay, and that he's an Obie-award winning director just sweetens the deal.
When you're presenting a world premiere, there's plenty on the line. For Yew, however, directing Antebellum at Woolly Mammoth seems to be not so much about career and critiques as it is simply helping a friend realize his vision.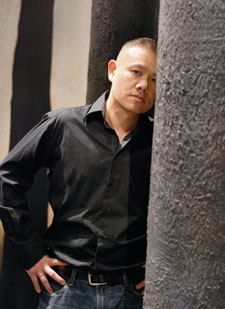 Chay Yew
"I believe very strongly that the first version, the first production of the play, should be exactly how the playwright envisioned it," says Yew. "I want to give him the production that he feels is like the play being realized from the point when he had written the first word — not only to give him that, but to amplify it through direction and design."
That quality will surely translate for audiences, for whom Yew promises even more: "When else is there an opportunity to see hoop skirts, Nazis, gay people and mammies onstage at the same time?"
With rehearsals over and the run begun, Yew's work in Washington is largely done. But with theater work on the schedule back in New York, in Italy and in Singapore, Metro Weekly was lucky to grab an hour of the director's time.
METRO WEEKLY: Your schedule with Antebellum, is it overwhelming?
CHAY YEW: It is overwhelming, because when you direct plays you put yourself into someone else's world and you think you can actually leave it after rehearsals. But you don't. You carry the characters. It's like being the unwritten character of the play, until it opens. Then it slowly disappears. It's been overwhelming in a wonderful way.
MW: You've done a lot of work in D.C., so I don't suppose you're too disappointed if the workload doesn't leave you much tourist time.
YEW: I am determined to see at least a cherry blossom this weekend. On my days off, I try to make it to the Smithsonian. That's my special treat. That's where my tax dollars go. If they're going to give me a free museum with art, I'm going to take advantage of it.
MW: Are you still based out of L.A?
YEW: No, I'm in New York. About five years ago, I realized I was directing a lot more, and I was hardly in L.A. Most of my work was centered around the East Coast, particularly New York. So I thought, with the goading of my friends — "move, move, move" — I might as well move to New York, which fits me like a glove. I've always been very happy there.
I stayed in L.A. because I was working with a theater called Mark Taper Forum that had given me tenure to develop Asian-American theater for emerging and established playwrights, as well as become an associate artist there. When the artistic director left, I decided to leave with him. But as I said, I was already working a lot outside. It felt like a nice little transition into moving out of L.A. and into New York.
I don't know if I want to go back again. I think I've done it. [Laughs.] I don't know what L.A. holds in store for me in the future. If there's a work opportunity, it will find me back there. But if it's about settling down, I don't think I'll go back to L.A.
MW: Was there much of an adjustment going from Pan-Pacific to North Atlantic?
YEW: Not really. I think we all have different worlds we travel in. The so-called Pan-Pacific world, you can still find it in New York, though it may be very different compared to the West Coast.
The other world I've always felt myself more immersed in is the theater world. Wherever there's a theater, I feel at home. I know where my rehearsal rooms are, I know what I'm doing or what challenges we have.
It's a very strange thing. I go to the theater every night [in New York]. It's weird and it's good. Some nights have been wasted and some nights have been fulfilling. It's also part of a community, so it's always a great place for constant dialogue with the art form and with the artists who are your peers about what we are trying to achieve or where we felt we did not succeed. There is dialogue. Whereas in L.A., I find the dialogue lacking. When you talk about theater, the thing that makes you do your art, it's not particularly challenging or frequent.
MW: I've read you have little interest in film or TV. Is that true?
YEW: Once in a while, I think it would be great, but I realize I can do a lot more in theater. I find my voice more clearly in the theater. As much as theater can be difficult to produce, I think films are more difficult to raise money for. For me to say something — this is gay, or Asian, or even American, the way I see it — it's easier to find it onstage than in film. In film, it takes a lot of people to raise money for that one story that you have, and all these producers will have some take on what the story should be. I'm just not sure I want to share my voice with people who have money. I'd rather share my voice with artistic collaborators and get my work done more frequently.
MW: You're afraid of being colonized?
YEW: Yeah. [Laughs.] There are many different types of colonialism. As much as I can get unfettered to do my work, I will go that route.
MW: The issue of colonization appears in your work, and there are your roots, too. Tell me about Singapore.
YEW: When I was kid in the 1970s, Singapore was not a very cultural place. Nor was it a very gay-friendly place. I think there were gay people running around: It was one of those "I know who you are, you know who I am, I can tolerate you, but please don't come out." It's that kind of culture.
In our teens, there was a huge gay community in high school. They're still my friends today. I see them all around the world, or back in Singapore. They're all in art or fashion or even in business. In high school, the question was, how do we express ourselves? How do we come together?
Of course, the cliché, like in America, it's the choir or drama club. We all belonged. We put on plays. These were the seeds of self-expression, particularly for theater.
I wanted to act. No one wants to direct. [Laughs.] All of us wanted to be onstage. I came through that and I realized I have no facility for memorizing lines. And I hate the lines I'm given. I always loved to change them. The natural route to that was to be a playwright. What really changed it for me was having playwright friends who would ask, "Hey, would you direct a reading for me?" "Would you direct my play?" So I started directing more.
MW: When did you come to the U.S.?
YEW: I came to the states at 16 to do undergraduate work in California. Upon my graduation, I had to do military service, so I went back when I was 20 or 21. It was a mandatory thing. Like three long years of mine, I was in khakis. [Laughs.] Isn't that funny? Me with an M-16, running around. It was the ultimate make-believe.
Sometimes you shouldn't think about things, just do it. Which I did, for three years. I didn't think about it. It's like puberty: You just have to go through it, and then you emerge, hopefully more interesting as an individual.
MW: You must be one of a very few militarily trained, openly gay playwright/directors on the scene today.
YEW: [Laughs.] If any theater director fucks with me, I can take him down in two minutes.
MW: Was it an enriching experience?
YEW: Probably. People get very surprised when I tell them I was in the military. Maybe this has helped me become a director, but it has only taught me one thing — if anything at all: You may not think you're capable of doing something physically, but you actually can do it. It's all in the mind. You say, "I can't really run 10 miles." But if you say to yourself, "Screw the body," you can. I remember resisting it, saying, "I'm an individual. I can't do this." But they kept beating me down and I realized it was about collectiveness. If you're thinking as one, you're going to fail. How you start moving as a horde is fascinating to me.
MW: Can you apply the experience to directing? Are you the commander of actor-soldiers?
YEW: In a way. But in the end, what I've learned most essentially is something that I never expected to learn from directing: patience. If you start commanding people, it's not going to work. The most important things are listening and patience, which is not part of the military.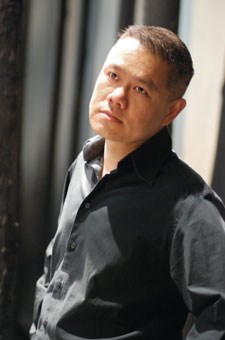 MW: When you went to California for undergraduate work, were you studying theater?
YEW: My father wanted me to do business. Then I kind of rebelled and didn't tell him that I started taking theater classes. When the transcripts were accidentally shipped home, he found out. I said, "Well, it's a class about how theater relates to business in America." He said, "You're lying! Take more business." So I suggested a compromise: "Well, why don't I do broadcasting?"
So I did broadcasting and film. At some point I left the theater department because I wanted to be an actor. I was auditioning for parts. I was good for the parts, but they would say, "We're doing a play about a white family in the Midwest. You don't quite look the part." This was the '80s. It was traditional casting. I felt a little disenchanted. I said, "Fuck this, I'm just going to go do my thing." I went to broadcasting where I could actually write and direct.
When I went back to Singapore [for military service], one of my friends was running a huge theater company in town. So I became a part of that group and did a lot of acting during time off from the military. But when he was setting the season of plays and had one called Safe Sex about AIDS, I said, "Oh, I want to audition for that." He said it hadn't been written. "Oh, can I write it?" That set me on my path to playwriting.
MW: That was your play that was banned?
YEW: Yes. As If He Hears. You couldn't put it on unless there were changes. In Singapore everything is easily banned. If chewing gum can be banned? C'mon. Your play being banned is no big hoo-ha.
MW: How much progress has been made in Singapore in terms of artistic expression since then? Is there more freedom?
YEW: There is and isn't. I don't completely understand the politics of the country. I do believe that there is a conservative streak still in Singapore, but they also understand that you cannot isolate yourself from the world. To make themselves more commercially viable as a center of commerce, they need to have art so tourists come. And businesspeople want to be in a place where they can enjoy art as well as do business. So the country has realized that they need artists to create entertainment. In the last 10 years, the country has been putting a lot of money into the arts. All the plays that they had once banned of mine, in the '90s, they've all been produced.
MW: Coming to California at 16 must have been liberating, or a culture shock.
YEW: When I came to California, I thought, "Great! This is where Charlie's Angels live. I'm going to be the fourth 'angel' and life is going to be great. It's going to be about expression, freedom and democracy."
And then you realize, oh, this is the '80s and gay people still have to fight for their equality. And, oh, look, AIDS came along, we're scum of the earth again. And, oh, women don't get paid enough.
Everything I thought this country was, it wasn't. I'd seen it through the rosy lenses of film, TV and novels. That's why I think, to some extent, theater became this other thing where I could respond to the things that I'd seen.
When I started in school, I loved doing theater. It was musical. It was fun. Then I came to New York one summer and had a free afternoon. I went to the Public Theater and saw The Normal Heart by Larry Kramer. That play changed my life. I realized that theater is not all costumes and musicals and "numbers." It's actually about how we live and how we must say what we need to say. That moment, stepping out of the theater, made me more invested in what I needed to say as a part of this country and as part of the theatrical community.
There are many strides that have been achieved in the last few years. When you see Will & Grace on TV, you think of its impact on a new generation of young Americans and how they perceive gays and lesbians. That has been a milestone, but I think in theater there are a lot more things that you can say than with TV or film.
MW: With what you want to say in the theater, do you consider yourself very political?
YEW: I think everything that I do is political. It's so hard to separate my point of view. My point of view is pretty black-and-white. You know where I stand on things.
I had a question once for Tony Kushner. We were just talking. "It's weird. I feel like we should be at forefront of everything we do, whether it's marching or creating political action. Being a theater artist, whether acting or directing, feels a little bit passive."
Then he said something really important to me: "What we do is probably the same thing as marching on the frontlines, only we do it differently."
To some extent, all the political causes I believe in are the plays that I direct and the plays that I write. Plays that don't express those political viewpoints, I cannot do, even if they pay well. Look, we don't get paid a lot in American theater. We don't. And life is short. I'm not going to spend four weeks of my life doing a piece of shit that does not enrich me, that does not have the power to ask the audience and me questions. I'm more than happy to do a 99-seat theater production that pays me $1,000 for six weeks of work if it enriches me and challenges me and asks important questions: What is it to be human? What is it to be American? What do we still have to do as a country?
I just don't feel like I want to make a lot of money doing stuff that says nothing, that makes everyone feel good, that tells everyone the world is safe again. There's enough room for that, but I have no time for it.
MW: Does theater in America receive its due?
YEW: No. American culture is born from puritanical roots. To some extent, the work ethic is always good. Anything that's entertainment is slightly evil. [Laughs.] Theater people are the worst of the lot, heathens.
You find different pockets for theater in different cities, but I think the challenge is to get younger audiences involved. If they are involved, the question becomes the price of tickets. And then it becomes a huge, national dialogue: Can the government afford to fund these places? And why are people saying that the government shouldn't fund art? It's an important thing. I don't think it can be sustained if it's for-profit. Once it becomes for-profit, the art itself has no center. It's basically who's buying tickets and what do they want? Then we give people what they want, in terms of art. I don't think that's what theater usually does well. What the theater usually does is not only show you who you are, but show you what we can be.
With Antebellum, I never realized Woolly Mammoth had "pay what you can" for the first two previews. To see a line around the block is pretty phenomenal. To get people who can only spend $5 to come to the theater, and they enjoy themselves? These are the people we want to give theater to, but they can't afford $20 tickets, given this economy as well. The question is: How do we make theater accessible, yet make sure people can still make a little living out of doing theater, and put some money into sets and costumes for these plays? We don't need to be given the pearl in the oyster, but it is something we can make better for the art form.
MW: How did the Antebellum script come to you?
YEW: Robert contacted me directly. He had been working on this at the Eugene O'Neill Festival. He decided to do a reading of it at Hartford Stage and he asked me to come along. When I read it, I thought, "How interesting."
Robert tends to write plays in way that you tend to find order in chaos. Whereas I tend to write work that is about finding chaos in order. This is play about chaos in order, which fit me like a glove. I love what he's trying to do with this play. He's bringing his own aesthetic: the wild melodrama, politics, gay politics, rape politics, as well as wit and humor and comedy, into this wonderfully serious play. I found myself being challenged at many different times. It was a great marriage of two mindsets.
When I was reading it, I thought, "How fun. How do we time-shift through some of these things?" I think most playwrights these days, they write a little more cinematically. So a big challenge to directing these plays theatrically is how do you shift from time, place, era? It was exciting theatrically. What really drew me to the play was the rape politics of 1930s Berlin and 1930s Atlanta. I had known through reading, and conversations with people who'd gone through certain experiences in these places, to really immerse myself in what people were doing, what people were feeling, what they were thinking, what they had been subjected to.
For example, last night, a gentleman came up to me, who I think was 70 years old. After the show he said, "I am a man who was married to a woman, but I didn't come out to her. During the time, I couldn't come out to her." There were all these restrictions. The play brought us back to a time when there were gay people running around in this country, but they had to be married. And the cost that they had to pay to live a kind of life, that they had to shut out what their true natures were, and what happened when their true natures came out. In this play, it's very strangely romantic. It reminds you how hard it would've been to be gay in the 1930s in Atlanta, for example; what one has to give up.
MW: How well did you know Robert O'Hara before Antebellum?
YEW: The beautiful thing about Robert O'Hara and I was that we were the children of George C. Wolfe, in a way. George had brought the two of us to Public Theater in the '90s. He produced A Language of Their Own, which is my play. Two years later he produced [O'Hara's] Insurrection[:Holding History].
Because of his politics, [Wolfe] was basically supporting and encouraging a lot of playwrights of color who were gay. He produced us. We were of that generation in the '90s. It was a wonderful way for us to intersect.
I am a playwright-director and Robert, too, is a playwright-director, so it's been a very neat experience for me. Usually I work with a playwright. The two of us, both playwright-slash-directors, it's been a great, schizophrenic dialogue.
"Robert, am I talking to you as a director now?" He'll ask me to shelve my director's dialogue: "Can I ask you, dramaturgically, as a playwright, does this work?" It's been kind of great. It's like having two directors and two playwrights.
MW: Is there any problem of egos?
YEW: No. Robert understands what I do as a director. I understand what he does as a playwright. The conversations have been great. I might say to him, "Don't cut this part yet. Let me figure it out." There have been no egos. Actually, I had a little trepidation. Are there going to be two egos in the room? But in the end, we did what we're supposed to do. We were supposed to make the play the most important thing in the room, all of us trying to figure out what this play is. It's been great.
Antebellum plays at the Woolly Mammoth Theatre Company, 641 D St. NW, through Sunday, April 26. Tickets are $26 to $60. Call 202-393-3939 or visit www.woollymammoth.net.