Despite the bohemian trendiness of the '30s when Noel Coward wrote Design for Living, he must have known that most audiences, being typically conventional, would see this sexually ambiguous, prototypically feminist entertainment as edgy, even if was also witty and elegant. These days, of course, it takes a fair bit more to rattle an audience than suggestions of homosexuality, bisexuality and female self-determination. But though we may be immune to Coward's silken urge to shock, we are nevertheless free to enjoy Design for just what it is: a light-hearted, often very funny, "Free To Be Me" cri de coeur.
Getting it absolutely right, director Michael Kahn eschews any attempt to revamp, update or otherwise mess with Coward's historical context, choosing instead to positively revel in deco attitudes and aesthetics, dancing up to, but never quite tripping over into, parody. That's not to say this play doesn't get campy — oh, it does, my dear, it does — but only on Coward's terms. Kahn's vision is superbly complemented by his artistic team, including set designer James Noone, who delivers increasingly sumptuous visions of bygone glamour, and Robert Perdziola, whose costumes get distractingly good. They speak to us in silent, amused concert with the action and people they contain.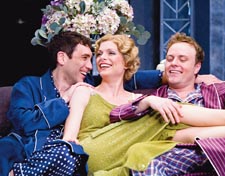 'Design for Living'
Having sung its praises thus far, it must be said that lift-off here is somewhat slow. Act 1 begins with a rather stilted back and forth between Gilda, our heroine, and the avuncular family friend Ernest during which there is an awful lot of Gilda alternating between glib and obtuse while Ernest looks on with bemused befuddlement. Gilda is laying the groundwork for many of the play's themes but it is also true to say that she can be a pretty tiresome character. Gilda is, in no uncertain terms, obsessed with whether or not she is "happy" at any given moment and though this triggers a number of fascinating and surprisingly relevant diatribes on both the human and the feminist condition, it does threaten to turn her into a humorless bore. Although Coward is clever enough to have even Gilda herself remark on this, the bottom line is (as is so often the case in real life) that while Gilda is the only one examining her life, the guys still get all the funniest lines.
Gretchen Egolf gives her Gilda a tremendous amount of intelligent, frustrated energy, but not much in the way of warmth and appeal. Yes, Gilda is rebelling against being a compliant woman, the "good wife," a go-along get-along, but what explains the mad ardor of her beaus, the ebullient Otto and urbane Leo? The fact that she looks like an art deco statuette come life? It just doesn't seem enough. It also doesn't help that Gilda's pleas, speeches and repartee are often tinged with an unconvincing English accent.
And so, though Gilda serves as our barometer, the play doesn't really take off until the two men in her life, Leo the playwright and Otto the artist, arrive and start mixing it up with Gilda, each other and anyone else who gets in the way. As Gilda's quest for fulfillment unfolds and she ricochets between Otto and Leo, there gradually surfaces a possible romance between Otto and Leo. And, regardless of the energy spent on Gilda's machinations with them, the truth is their relationship is the most interesting and fun of all. This is due not only to Coward's giving them some of the best scenes but also to the wonderful performances of Tom Story and Robert Sella in the roles.
Story is a wonderful Otto, offering just the right amounts of innocent charisma, hilariously good comic timing and incipient naughtiness. He has an excellent handle on the speed and cadence of Coward's banter and thus has the room to infuse much color and life. Of all the characters here, Otto is less like something from an old movie and more like a living, breathing, somewhat unpredictable, person who one feels will carry on careening through life half-crocked long after the curtain goes down.
Sella similarly has a superb grasp of Coward's sword-play, if you will, and though he occasionally sounds overtly noirish, his sonorous tones work nicely with Coward's extroverted Leo. His mix of elegance and silliness is a good counterpoint to the more boyish Otto and indeed, their second act bonding session is as memorable as it is ridiculous. And here it is again: Whatever Coward's original intent, Otto and Leo are by far the most believable couple, despite their separate and joint pursuit of Gilda. Kahn gives them the most physical contact, certainly, but it is really their banter that makes one believe they belong together. Still, the beauty of this play is that it doesn't really matter who ends up with whom as long as we all get a good laugh out it.
Stealing every short scene she barrels into, Catherine Flye gives great deadpan as an archetypal British domestic and though marking the periphery of the action, Kevin Hogan gives a nicely understated Ernest who serves as a useful foil as the arbiter of societal mores. Coward certainly enjoys letting him have his say and then knocking him and his conventions over like bowling pins, but as the curtain falls, one can't help wondering what will become of Gilda once she realizes she'll always be the odd "man" out.