Ivri Lider kissed a girl — and people liked it. "Yeah, it was like it was written by a gay man," Lider laughs, referring to his cover of the ubiquitous Katy Perry hit. Lider, the Israeli rock star, retooled the song as a melancholic acoustic ballad when asked for a cover from one of his country's biggest radio stations. "The fact that I, as a gay man, sing it, gives the song so many new meanings and feelings."
Lider has been a pop sensation in Israel for more than a decade now, having released five albums in Hebrew, earning him numerous awards and honors. He came out upon release of his third album in 2002. "Before then, I wasn't really gay in my personal life. It all happened kind of late," says Lider, now 35. He doesn't shy away from talking about the subject, in song or in interviews. "I'm just trying not to be afraid of anything, not to hold back on anything."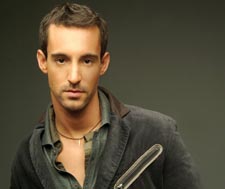 Ivri Lider
Since coming out, Lider has garnered international recognition collaborating with gay Israeli director Eytan Fox on films including Yossi & Jagger and The Bubble. He also lent his vocals to a dance cover of the Moody Blues' "Nights in White Satin" and was named to Out magazine's "Out 100" in 2007.
He's currently working on his debut English-language album, to follow the success of "Jesse," his song in regular rotation on Logo. He hopes to have the album ready by the end of the year. Though he will continue to record in his native language of Hebrew, Lider is planning to record in English.
"There's something very, very intriguing and interesting singing in English," Lider says. "It's like starting over again. It feels very, very exciting."
Ivri Lider performs Tuesday, June 2, at 8 p.m. as part of the 10th Anniversary Washington Jewish Music Festival. Nightclub 9:30, 815 V St. NW. Tickets are $35. Call 202-777-3251 or visit www.wjmf.org.