Those sentient during the excesses of the 1980s may recall The The's memorable big-band pastiche Twilight of a Champion in which a scathing Matt Johnson conjures an old-style tycoon sitting atop the world in a chair whose leather has been "ripped off the back of some unfortunate beast." It is, without doubt, a condemnation ("Anybody can be a millionaire, so everybody's gotta try"), and yet more than anything else it is just a very clever, very funny song.
This same comically irreverent mood, along with a few similar nods to the films of the 1940s, pervades Shelia Callaghan's Fever/Dream, a wry, witty send-up of all things corporate. A mega-contemporary take on Pedro Calderon's 17th century La Vida es Sueno (Life is a Dream), both plays share the basic premise of a son imprisoned from birth by a powerful father who suddenly decides it is time to test his grown son's mettle. Beyond that, these plays pretty much go their separate ways. Whereas Calderon makes his a reflective study of free will versus fate, Callaghan offers hers in the form of a fast-paced fable on corporate culture run amok. She may inspire less introspection than Calderon, but she is without doubt the purveyor of top-shelf American wit, not just in one-liners but also in concept. Even better, Callaghan is what I would dub a crossover playwright; she writes as aptly from the male point of view as she does from the female — and that alone is a rarity.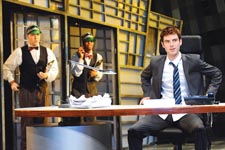 Fever Dream: Daniel Eichner with accountants
(Photo by Stan Barouh)
Director Howard Shalwitz, utterly simpatico with Callaghan's fast and furious twists and turns, delivers a superbly entertaining production, keeping his excellently cast ensemble primed and spinning like so many plates in the air. Evoking at times a kind of noirish silliness, these cleverly drawn characters keep the story moving across craftily employed segue music and the judicious use of hip choreography slyly reminiscent of old Hollywood musicals. Everything here, from sets to costumes to lighting complement Callaghan's sardonic energy.
Jumping out of the ensemble for her born-to-play-it comfort level is statuesque Kate Eastwood Norris, who delivers the utterly likable and utterly castrating Stella Strong with pinpoint accuracy. Her sense of comedy is as flawless as it is understated. Drew Eshelman as the ailing tycoon Bill Basil holds up the four corners of the production with a nicely detailed, wry portrayal of a complete bastard. Michael Willis as Fred Clotaldo, his long-suffering right-hand man, readily evokes the kind of squashed conscience that lurks in many a corporate headquarter, though his chemistry with Eshelman was sometimes a little off the boil.
Orbiting and competing with Stella is the strategically obsequious Aston Martin, played with slippery vigor by KenYatta Rogers. Rogers has a clear and convincing handle on the Martins of this world and he is a hilarious foil to Norris' Stella. Another stand-out performance comes from Jessica Frances Dukes as the lowly temp, Claire. In Claire, Callaghan gives us her clown but also, though never in a maudlin way, the one person who speaks to those of us who have shared versions of her hell at one time or another. Dukes is a talented comic; expressive and funny without saying a word.
Kimberly Gilbert is a slightly harder call. Playing Rose, a kind of nerdy anarchist with underlying motives, she is certainly written to be awkward. But while Gilbert seems to understand this, she doesn't quite capture the inherent humor in the character. It is also somewhat hard to reconcile the geek we meet at the beginning of the play with the nervy but obviously experienced woman who emerges later, but this uneven transition is as much about Callaghan as it is about Gilbert.
And then we have Daniel Eichner as Basil's son, Segis, who is drawn from the basement of the building to the top of the world in the blink of an eye. A satisfyingly crazed, energetic Segis, Eichner nevertheless doesn't quite make this madman his own. There isn't much room for comedic nuance if a character is played mainly at top volume and that's where Eichner misses an opportunity. He is very vocally expressive, and thus funnier, in the quieter ranges and less so when yelling. Since the theater is not large, there is plenty of scope here for some quieter comedy with this L'Enfant Sauvage. Eichner's got it, he just needs to tap it.
Finally, kudos to the collective from the University of Maryland theater program for bringing much color, life and pizzazz to this production. This will be the most fun you will ever have at a corporate event.