"What would it look like if everyone came together to experience a totally different quality of event?"
That's the question Vance Garrett asked himself when tasked with planning a party for gay pride in New York City. Garrett is artistic director of Saint At Large, New York's gay event production company best known for its notorious Black Party.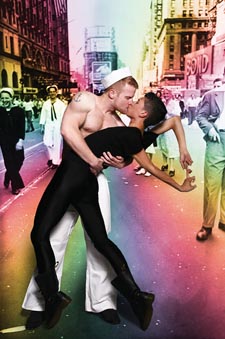 Love Ball
His answer will be unveiled in two weeks, Saturday, June 27, when Saint At Large produces the Love Ball in association with the Federation of Ballroom Houses. The event is the official opening night gala of and benefit for Heritage of Pride, the all-volunteer nonprofit that organizes the city's official pride events. This year marks the 40th anniversary of the city's Stonewall riots, which sparked the national gay rights movement.
"All the gay communities are coming together for our nice little spectacular," says Saint At Large producer Stephen Pevner, including circuit boys, theater queens and voguers. The party, taking place at Times Square's Nokia Theatre immediately after a special Pride concert of New York-based GLBT musicians, is being dubbed "Where B'way Meets the Runway" and will feature performances from Broadway dancers and Harlem voguers, as well as singers and drag queens. Pevner has invited a "major comedian" to perform — but if that happens, his or her identity will remain a surprise until the last moment.
Garrett says they're working very closely with DJs Alyson Calagna and Chris Cox to help ensure that partygoers dance continuously throughout the event. "There's no need for you to stop dancing," he informs. "You can watch and dance at the same time." Unlike the all-night-and-day Black Party, Love Ball will only go until dawn Sunday morning, the intention being to encourage revelers to get some rest before Sunday's Parade and Pier Dance.
Expect plenty of surprises, says Garrett. "As this thing takes on a life of its own, people who I never would have imagined are asking to be a part of it."
The Love Ball takes place Saturday, June 27, at 11 p.m. Nokia Theatre, 1515 Broadway, Times Square, New York. Tickets are $70. Call 212-674-8541 or visit www.saintatlarge.com.