There will be those who will embrace the Shakespeare Theatre Company's current production of King Lear as bold, political, and über-entertaining. They will marvel at the cleverness of the sets, the transformation of Lear's Olde England into a 21st century (vaguely) Eastern European tinpot regime. And they will find the spasms of nudity, real-time violence and unsentimental sex totally in synch with current expectations for anything "indie," or, for that matter, CSI.
But for those of us who prefer their Shakespeare unadorned, whose idea of seeing it live is to be drawn inexorably into the language — and in the case of Lear, the unfolding of a particular kind of madness — these rather too clever trappings are a frustration. Though we would like to spend our time with these actors, savoring their interpretations, seeing what they can bring to this disturbing tale of familial destruction, we are thwarted. Barraged with an endless stream of exciting props, ostentatiously choreographed violence and culturally charged fashion, we end up doing little more than playing catch-up to our emotions. Lear needs spaces and silences, director Robert Falls gives us far too few.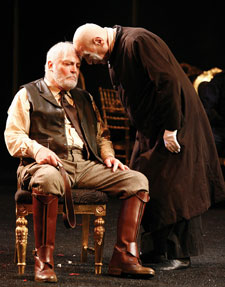 Keach in 'King Lear'
Mostly holding his own amid the stimuli is a grizzled Stacy Keach in the title role. Unlike the pared down Frost/Nixon, in which he offered emotion with the hunch of a shoulder and the flex of his jaw, here Keach must play it way larger than life just to avoid obsolescence in this crash-boom-bang of a production. But how, under such circumstances, can anyone hope to generate the pathos Shakespeare so carefully weaves into the disintegration of this huge and powerful personality?
And Keach can't get the balance right. Forced to navigate so much "scenery," he ends up chewing it. His Lear is a shaker, a shudderer, a portrayal teetering at times on the very edge of caricature. By the time Lear returns to some semblance of sanity, recognizing his favorite but estranged daughter Cordelia, it is far too late for the subtlety we crave. We are over-saturated, not just with Keach's prancing bag-man, but with the whole kit and caboodle. We have been through a graffiti-covered house of horrors and we are done. What annoys is that Keach never had the dramatic space to give us his far quieter, far better Lear.
And he is not alone in his struggle. Almost everyone resorts to turning up the volume, both vocally and dramatically, just to make oneself heard. One of the few actors who refuses to join the fray is Edward Gero as Gloucester, a member of Lear's court who falls victim to a scheming son. Gero hardly ever raises his voice beyond what is called for and he plays his Gloucester effectively and subtlety, yet still manages to carve out something of a credible dramatic presence.
Another who refuses to ramp it up is the compelling Howard Witt as the court Fool, who dispenses wisdom and friendship to Lear in between word-games and insult. Sporting an intriguingly incongruous New York accent, Witt delivers the only real sense of portent and foreboding we get, eventually managing to draw down the frenzy enough to allow us, at last, to feel something.
Kim Martin-Cotten with her booming mezzo-soprano and physically imposing stature is best matched to the mood of this production, playing Lear's daughter Goneril as an unapologetic bear of a woman. She is believable in this context, her acrobatics with her male lovers comical and handled with aplomb, her outbursts fully in character. Kate Arrington as second daughter Regan works hard to give her coddled Paris-Hilton-esque princess oomph, but she looks uncomfortable in this overwrought underworld. And because we are given so little space to "see" these women, by the time they come to the end of their fur-wearing days in the sun, their sudden freefall into despair feels alien and out of place.
And the same must be said of the final climax in which Lear confronts his greatest grief and despair. Despite the (yet-again) attempt to shock, the scene is remarkable for its sheer lack of power and emotion. There has just been too much already — a long strangulation, head shots, privates on parade, a protracted meditation on the collateral damage of war — we have simply lost the thread to this unraveling man.
Of course, one could argue that that is the point: War and destruction take all meaning from life. But I favor the view that once you blow off the car exhaust, cigarette smoke and gun fumes from this Lear there is just too little to fill the stage. Bottom line: If you like your Bard delivered betwixt urinals, stick with Ian McKellen's Richard III.