"I know you're patient. I know you'll wait," Lucas Silveira sings with a drawl as The Cliks' new album begins. "But it's complicated, and I can't stay." Well, to be exact, "Haunted" is not "Complicated" – there's nothing on Dirty King as rousing and great as that opening track from the band's last set, Snakehouse. Meanwhile, Dirty King is the band's first album in two years – which, in the end, is not that long to wait. Three years between albums is the average. Those with high expectations of Dirty King to be a resounding triumph, a perfect piece of punk-pop, will probably think it came too soon.
After all, it wasn't just the novelty that made Ian Astbury of the Cult and Cyndi Lauper such ardent fans of this queer Canadian band made up of bassist Jen Benton and drummer Morgan Doctor with lead vocalist and guitarist Silveira – two lesbians and a female-to-male transgender. The band's name itself is transgendered, combining dirty words for both male and female anatomy. Snakehouse was fierce, ferocious and fun, and the band was tapped to open for the Cult and to appear on Lauper's True Colors Tour because it puts on quite a show. In February 2008, the then-quartet – second guitarist Nina Martinez left the group last fall – so enthusiastically jammed at a gig at DC9, it was an early, easy pick as one of last year's best local concerts.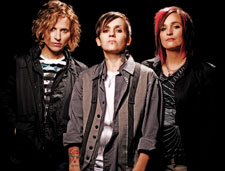 The Cliks
(Photo by Dean Karr)
But is the peeling electric guitar solo on "Haunted," about the end of a relationship, the sound of falling out of love? No, not really. While not as bold as I had hoped it would be, and certainly far from flawless, Dirty King still has its lovable moments. There are strong tracks worth repeated play, and the album shows real sparks of promise as the band struggles to make its way.
Certainly the hard-charging title track finds Silveira swaggering in the same chest-thumping way that drew fans from the get-go. "I am your dirty king!" he shouts in a manner both menacing and seductive, and all over surfer-rock chords that make it impossible to argue with him.
Many of the album's tracks try to split the difference between sweet and sour, with tender verses and a smoldering chorus. More often than not, the technique fails. Too much splitting the difference leads Dirty King to be pretty middle-of-the-road – not too wild it makes you crazy, not too mild it puts you to sleep. Just too safe.
The album finds the previously balls-to-the-wall band trying a little too hard to be soft and sweet. It also, less contradictorily than it sounds, suffers from a somewhat tinny sound, as Silveira whines a bit more than he should. This must be the result of tapping an engineer to co-produce the album this time out. The focus seems to be more on the sounds than the songs; the immediate feelings, not the ultimate effects.
So a song like "Red and Blue" rotates between a Beatles-esque verse that's sweet and winsome, with evocative strings, and a pouty, angry chorus, full of resignation. Silveira wails with such little conviction, the barbed lyrics become dull. You'd be forgiven if you stifled a yawn.
THE CLIKS
Dirty King
Tommy Boy
$16.98
"Emily" is another problem. It's a sweet piano-based love song, about looking to the promise of the long-term future, not the perils in the short-term. It's the closest The Cliks have ever come to writing a nursery rhyme – but it's hard to believe anyone really wants to hear Silveira sing a nursery rhyme. "Hold on, Emily," Silveira counsels dispassionately, and totally out of character.
If it insists on changing gears, let's hope the band instead takes its cue for its next album from another thoughtful, sweet-sounding track, "Not Your Boy." This is an aching, mournful rock ballad – not to mention another track offering some subtle gender wordplay. It's also another song, like "Haunted," about falling out of love. "I'm not your boy," Silveira sings with the backing chorus, then lamenting at song's end, "I don't think I've ever been." More pensive charmers like this, Silveira, and you could become our man.