The biggest news to come out of President Obama's Sept. 9 address to a joint session of Congress had less to do with health care reform and more to do with Rep. Joe Wilson's (R-S.C.) "You lie!" outburst. Getting far less attention was Easter Spencer, among those invited by the White House to sit in Michelle Obama's section of the gallery for the speech. Spencer's invitation came after the White House asked for a suggestion from the Mautner Project, the National Lesbian Health Organization, based in D.C.
"Since President Obama has been in office, the LGBT community has been more and more invited — literally — into the White House, whether ceremonially or for things that are substantive," says Leslie Calman, Mautner's executive director. "This is the new normal, for the White House to reach out the LGBT community."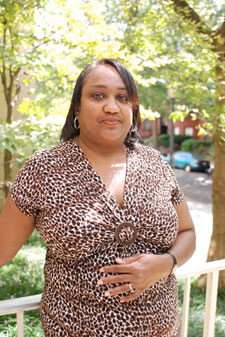 Easter Spencer
(Photo by Todd Franson)
While the invitation might be good news, Spencer's health is not.
"I do think [the president] was speaking to my situation," says Spencer, a full-time administrative assistant whose $26,000 annual salary makes her too wealthy for Medicaid, though she can't afford insurance.
"It was hitting home, the part about trying to get health care coverage, but it's too expensive. That's why I don't have it: because of the premium."
And Spencer needs health care. Finding a lump in her breast recently turned into a nearly best-case scenario. The lump was not cancer, but a benign cyst. Still, she has been advised to have the cyst removed. It's an operation she can't afford on her own.
"I thought I was going to be eligible for [Medicaid], but I'm over-income by about $200 monthly," says the 44-year-old mother of four grown children, grandmother of eight, who lives in a housing project in Northeast Washington with her partner, Phyllis — both of whom have been clients and volunteers at Mautner. "I'd thought about trying to get it. Maybe I could take a pay cut or work less hours. But I shouldn't have to do that when I'm trying to work and not be on public assistance. Work is very important."
Spencer says her best option is to join her employer's health plan, which she says will cost her about $100 per month and still leave her responsible for 20 percent of her medical costs. But she'll have to wait till December for the return of the annual enrollment window.
Benign or not, Spencer has reason to worry about the waiting period, saying that if her cyst is removed now, she may lose only a nipple. "If I wait, they may have to take more."
Elizabeth Ide, Mautner's director of client services, says that while most of Mautner's local clients have either private or public insurance, she fields calls and e-mails from women around the country making it clear that American health care is in desperate need of reform.
"I don't think I should be getting the kinds of calls I do," she says, explaining that she often hears from women who have just discovered a cause for health concern and are unsure of their health care options.
"When you find a lump in your breast, it's not a time when you're going to be doing your best research. You're scared. You just worry," says Ide. "Having a problem with health insurance is not unique. It's too complicated and too unavailable."
Ide's clearest point about America's health care shortcomings is one sentence pairing one of women's common health threats, breast cancer, and the health care of last resort, the E.R.: "You can't get a biopsy in an emergency room."
Despite the threat to her health, Spencer was able to shake off the anxiety for the night and enjoy her evening with the Obamas, which began in the Roosevelt Room of the White House, where she heard the stories of other invited guests who struggle with health care. In the Capitol, Spencer was seated about four rows behind the first lady. The evening ended with photographs and handshakes with the Obamas. It's a night Spencer says she will never forget — including Wilson's outburst.
"I definitely heard that," she says. "I want to know if it's a lie. He said [undocumented immigrants] would not be eligible for health care. It's important. I have mixed feelings. Do we deny them coverage and just let them die? Or does the United States foot the bill?"
Regardless of the answer, Spencer says that while she felt Wilson's jeer was offensive, she'll reserve absolute judgment on protocol, joking that this was her first joint session of Congress. But Spencer has no doubt that it was in good taste for the White House to reach out to Mautner.
Darlene Nipper, deputy executive director of the National Gay and Lesbian Task Force, a group that has worked with both Mautner and the Obama administration, concurs.
"Having a client of the Mautner Project sit with the first lady during President Obama's high-profile speech on health care reform is significant because it elevates the visibility of our community and fosters dialogue about the particular challenges we face due to discrimination and bias," she says. "The fact that the White House reached out to a national lesbian health organization is both an important gesture and reminds us all that heath care reform is indeed an LGBT issue."
For information about the Mautner Project and its services, call 202-332-5536, e-mail , or visit www.mautnerproject.org.