A musical revue featuring songs from the creators of Chicago and Cabaret? Including standards such as "New York, New York," "Ring Them Bells" and "All That Jazz?" It's a given the gays will flock to it. But the first-rate Signature Theatre, as is its wont, isn't coasting with First You Dream: The Music of Kander & Ebb [FOUR STARS]. Led by Eric Schaeffer, Signature has pulled out all the stops, creating with this short-run, world-premiere production a must-see, razzle-dazzle showstopper.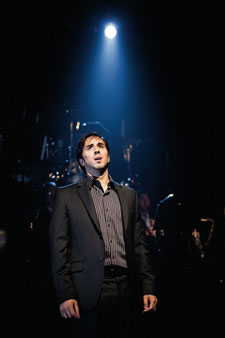 First You Dream
(Photo by Scott Suchman)
Schaeffer didn't just recruit one Broadway belter — he lined up six of them. He didn't just hire a piano player or a small ensemble — he put together a full orchestra, 20 top-notch players led by Jon Kalbfleisch. The orchestra, in fact, takes center stage just as in Chicago, on risers facing the audience and framed in lights.

Shaeffer didn't just create a simple cabaret, but a fully fledged stage production to honor the work of composer John Kander and the late lyricist Fred Ebb, an unusual partnership in life as well as music. The nearly two-and-a-half-hour show is a bit too comprehensive, 20 minutes or so longer than it ultimately should be. But the stunningly superb ensemble cast — Heidi Blickenstaff, James Clow, Eieasha Gamble, Norm Lewis, Julia Murney and Matthew Scott — keeps you enthralled throughout. Just wait until you see the show's gender-bending twist on "Cell Block Tango" (he had it coming, all right).
All performers are given a few solo turns, and all shine in the spotlight — and this includes the orchestra, the de-facto seventh cast member, deservedly earning the loudest applause at show's end. That happens just before an encore that, despite the show's length, leaves you wanting more. Come on, babe, why don't we paint the town? –Doug Rule
Through Sept. 27 in Signature's MAX, 4200 Campbell Ave., Arlington. Buy one regularly priced ticket – $60 to $65 – and get up to three additional tickets for just $20 each. Call 703-820-9771 or visit www.signature-theatre.org.