"This kind of party is really big in Europe, in places like Manchester and Berlin," says Jacob Nathaniel Pring. He's talking about the new monthly fetish party he's launching at EFN Lounge and Motley Bar this Saturday, Sept. 5, with longtime friend David Merrill. The party's name itself stems from a weekly party at the New York Eagle: Code.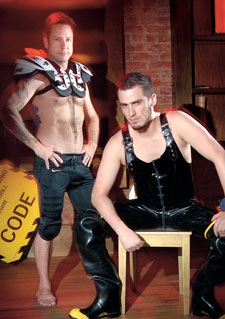 David Merrill (left) and Jacob Nathaniel Pring
(Photo by Todd Franson )
Code for what, you ask? Sexy attire, that's what. From official uniforms to full athletic gear to rubber to, of course, "old skool leather." Whatever you've got to butch it up.
"It doesn't take much to put on a Speedo or a singlet," Pring explains, when asked how strict the dress code will be. At least for its first iteration, only the Motley Bar upstairs will follow the code — meaning, according to the party's detailed Web site, no street clothes and no sneakers unless worn as part of a sports ensemble. Merrill explains that much of the downstairs space will be given over to a changing area, a free clothes check and a mini gear shop operated by the Leather Rack.
Each month, a different charity will garner 10 percent of the door proceeds. (Brother Help Thyself is this month's beneficiary.) Fort Lauderdale's DJ Shane Woten will be on hand, and New York's Jake the Barber will give buzzcuts. There will also be live acts and videos, focused on bondage, such as a football jock being hog-tied to a pool table.
Both Pring and Merrill are die-hard fetishists — and have been since teenagers. "That's why we're so advanced," the 34-year-old Merrill laughs.
"We should stress this is not a sex party," Pring, also 34, notes. Sexual activity is frowned on — in that space and time. Show some discipline and restraint and perhaps your reward will come later.
The monthly Code party makes its debut this Saturday, Sept. 5, from 10 p.m. to 3 a.m. at EFN Lounge and Motley Bar, 1318 9th St. NW. Cover is $10 with ad flyer, $15 without. Call 202-341-8281 or visit www.codedc.com or www.efnlounge.com.