Fresh from his flight home from Germany, where he was part of the final yet unsuccessful push to secure Washington's Gay Games bid for 2014, Councilmember David Catania (I-At large) did not come to the Sept. 30 Convocation for Marriage Equality empty-handed. He didn't have the games, but he did have a commitment: introduction of marriage-equality legislation in the City Council on Oct. 6.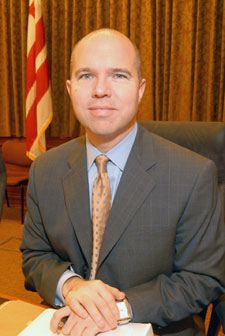 Councilmember David Catania
(Photo by Ward Morrison)
Tuesday, he kept that promise, introducing the Religious Freedom and Civil Marriage Equality Amendment Act of 2009 at the City Council's legislative meeting.
"If our efforts are successful, the District will join Massachusetts, Connecticut, Vermont, Maine, Iowa and New Hampshire in permitting such unions," Catania told the crowded Council Chambers audience.
The bill has been referred to the Council's Committee on Public Safety and the Judiciary. Councilmember Phil Mendelson (I-At large), chair of that committee and the councilmember who earlier this year introduced a successful measure to have D.C. recognize same-sex marriages from other jurisdictions, pledged at the Sept. 30 convocation to allow both sides of the marriage-equality debate ample opportunity to testify on the bill.
Testimony is scheduled for Monday, Oct. 26, beginning at 3:30 p.m., in the fifth floor Council Chambers.
Longtime activist Bob Summersgill, who has had a major hand in writing legislation that has brought marriage-equality in the District to this point, has asked to be the first to testify. Summersgill says he was impressed at how gay pioneer Frank Kameny was able to use such an opportunity in 1993 to set the tone for sodomy reform.
"I want to make it clear that the bill is not about rights and responsibilities of marriage, the word 'marriage,' the religious aspects of marriage," Summersgill says. "We already have hundreds, possibly thousands, of [same-sex] married people in D.C. This is about whether we have to go downtown or we have to go to Iowa [to get married]. I want it to be downtown."
Rev. Eric Lee, president/CEO of the Southern Christian Leadership Conference of Greater Los Angeles, someone who has been under pressure for his stalwart support of marriage equality, also set a tone. At the convocation event, he told the crowded hall at the True Reformer Building about some painful lessons learned in the fight against Proposition 8 — lessons that may be put to use in coming days with Catania's legislation.
"We did a less than adequate job in framing how marriage equality is a justice issue, and allowed the right-wing and the influence of the Mormon Church and the Catholic Church to frame the issue of marriage equality almost exclusively as a religious issue," Lee said. "That's a very difficult place to have a civil dialogue. … It's a safe place for people who do not want to reason."
Nick McCoy, the announcer at the convocation, is one of the local activists who has been working on the fronts Lee described, having attended 24 Advisory Neighborhood Commission meetings to talk about marriage equality.
"You've got a sense that people are holding onto something that doesn't belong to them, as opposed to an ideal that belongs to love," McCoy says of some of the conversations he's had at those meetings, adding that, like Summersgill, he also plans to testify in favor of Catania's bill.
So does Michael Crawford. Tuesday evening, preparing to head out to an impromptu celebration of the legislation at Duplex Diner, Crawford labeled his mood "ecstatic." But, following the conventional wisdom that passage in the Council is nearly a foregone conclusion considering the bill was co-introduced by a large majority of the Council, Crawford also talks about the work that needs to be done to secure marriage equality.
"We have a lot of work to do," says Crawford, co-chair of DC for Marriage, pointing to community education, particularly in communities of color and of faith.
"And we should be prepared if Congress tries to intervene," he adds, granting that the possibility of congressional-oversight intervention or of right-wing members of Congress simply grandstanding on the issue are remote. Catania emphasized that point while fielding a question at the convocation, promising the audience that his office has been communicating with congressional counterparts regarding strategy.
Still, Crawford cautions, "That doesn't mean they're not going to try it. We need to be prepared for whatever they throw at us."
Looking at the particulars of Catania's legislation, it's been written with a clear exemption for all clergy as well as "each religious organization, association, or society," to allay politicized fears of churches being forced to open their doors to same-sex weddings and the like. Only those facilities, services or similar offered to the general public need be offered to the GLBT community alike.
Further, Catania's bill will end domestic partnerships after the close of 2010. At that time, those in domestic partnerships will have the option of either continuing the partnership, or converting it at no cost to a marriage license.
"Mr. Chairman, there is no question we are about to embark on an exciting journey here in the District, fulfilling a more perfect understanding of human rights and equality, which has long been the trademark of our city that I'm proud to call home," Catania concluded at Tuesday's Council meeting.
Joining Catania in the introduction of his bill were Councilmembers Muriel Bowser (D-Ward 4), Michael Brown (I-At large), Kwame Brown (D-At large), Mary Cheh (D-Ward 3), Jack Evans (D-Ward 2), Jim Graham (D-Ward 1), Mendelson (D-At large), Tommy Wells (D-Ward 6) and Chairman Vincent Gray (D-At large).
Not signing on to introduce the legislation were Councilmembers Yvette Alexander (D-Ward 7), Marion Barry (D-Ward 8) and Harry Thomas Jr. (D-Ward 5).
Evans spoke after Catania, congratulating all who had worked to bring marriage equality to this point. Graham added a comment after Evans, saying, "As an openly gay member of this Council … it is just an incredibly historical and important moment for me to be associated with this bill and to promise you I'm going to vote 'yes' at every stage of its consideration."
Crawford says DC for Marriage will offer training to those hoping to testify at the Oct. 26 hearing, but who are unfamiliar with the process, on Tuesday, Oct. 20, at 7 p.m. at the Human Rights Campaign Equality Forum, 1640 Rhode Island Ave. NW. Those interested should contact Crawford via e-mail at Michael@DCforMarriage.org;