Wesley Marguerat spins as DJ Wess both Fridays and Saturdays at Town. But each night the music differs — and not simply because he's upstairs Friday and downstairs Saturday. "Just a few years younger makes a total difference," says the 34-year-old of Friday night's age-18-and-up policy. "You could play a song that was big in the clubs in the '90s and they don't get it."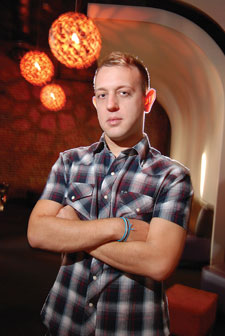 DJ Wess
(Photo by Todd Franson)
Janet Jackson's "If" is iffy. And Mariah Carey's "Fantasy"? Only deep in your daydreams.
Wess occasionally plays those two videos downstairs Saturday night, when everyone is at least 21. He also plays more Madonna on Saturday. "On Fridays the kids aren't even into Madonna as much as the Saturday night crowd," he says. "They think Britney is a god."
Wess has been Town's weekly resident DJ since the club opened almost two years ago. Before that, he was the resident DJ in the "blue room" at Nation. Ed Bailey, who ran Nation and now Town, says Wess is a "great DJ."
"A lot of DJs play for themselves, a lot of DJs are too concerned about their own image or playlist or reputation," says Bailey. "Wess is great DJ because, above all else, he cares about making it the best party it can be when he is playing. In fact, there are [Saturday] nights when his room is busier and has more energy than the nationally recognized DJ upstairs."
Wess got his DJ-ing break after moving to Miami in the '90s, when he was a backup DJ at several celebrated South Beach nightspots, including Crobar and Salvation.
In the future, Wess aims to get into music production, putting to use the associate's degree in sound engineering he earned at a school in Orlando earlier this decade. (He'll actually be in Orlando this weekend, a rare weekend off from Town, traipsing through Disney World celebrating his birthday with his boyfriend.)
Upon his return, he's happy to pick up where he left off.
"I'm just here for right now," says Wess. "I'm kind of settled. I love it here at Town on weekends, and being a housewife during the week. A housewife DJ."
DJ Wess spins upstairs Friday nights and downstairs Saturday nights at Town Danceboutique, 2009 Eighth St. NW. Visit www.towndc.com or www.myspace.com/wessthedj.