"If it's anything like [the Millennium March], I don't know what I'll do," says David Perruzza, manager of JR.'s, when asked how many gay rights marchers he expects to serve this weekend. Perruzza says JR.'s was busy every day from morning until late night with revelers toasting their activism during the last national gay march, in April 2000. If D.C. nightlife hops that much this year, Perruzza says "I'll pull out all my hair."
Better get used to the idea of a bald Perruzza.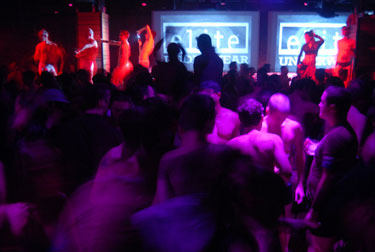 Chances are this weekend will be as busy at area bars and clubs as it was the last time a march descended on Washington. Nearly a decade later, the fifth march for gay rights takes place over a three-day holiday weekend, when the city reliably swells with out-of-town guests. Mix in the throngs of people venturing into town for the Human Rights Campaign's 13th Annual Dinner, headlined by President Obama and Lady Gaga, plus hundreds of athletes from around the country participating in various national gay sporting tournaments, and it should add up to a lot of discovery for Columbus Day Weekend.
Thursday kicks things off — literally — with a special midnight Best Package Contest at Cobalt, featuring the hottest athletes from the flag-football tournament, Gay Bowl IX, being played in Washington this weekend. The pants (but not the undies) are shed at midnight.
On Friday, Oct. 9, the Gertrude Stein Democratic Club, the National Stonewall Democrats, the Stonewall Democrats of Central Maryland and the Virginia Partisans Gay and Lesbian Democratic Club present a welcome reception at Halo Lounge from 6-9 p.m. It's open to the public and will feature appearances by various councilmembers and Mayor Adrian Fenty. Over at EFN Lounge, GLAAD plays host to a "Thank GLAAD It's Friday" reception from 6-8 p.m. DJ D-Rizzo will spin, and will stay on the turntables for the bar's Revolution party starting at 9 p.m. Cover is $5 before 11 p.m., or $10 after. Phase 1 will host another official March-affiliated lesbian party that night, a dance party benefit starting at 7 p.m., with a cover of $10. Also Friday night, Town Danceboutique hosts a "Students Party," sponsored by the throngs of students arriving for Sunday's march. Doors open at 9 p.m., and cover is $7 before 11 p.m., or $12 after.
Fuego, a popular Latin party hosted by Philip Doyle and DJ Hector, will hold its regular Friday night fiesta, with special appearances by Gigi Paris Couture, Epithany and Afrodita Washington. Doors open at 10:30 p.m. at Club Aqua. Apex Nightclub, meanwhile, offers a Latin dance party of its own: Caliente Grande, with DJ Michael Brandon. Doors open at 9 p.m., and cover is $10. Cobalt turns back time with a Flashback party, helmed by DJ Gary Givant. Cover is $6.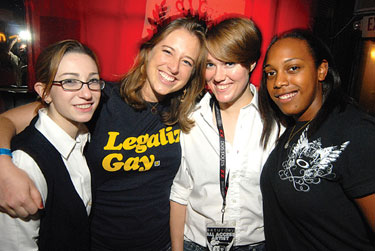 Saturday, Oct. 10, brings the Imperial Drag-Trans Extravaganza, billed as "Marching for Equality…in Heels" and benefiting the Matthew Shepard Foundation, to the Renaissance M Street Hotel. DJ Emporor X Gabriel Della Notte of New York will spin for the event, which costs $50 for an 8 p.m. cocktail reception and 10 p.m. drag show, or $30 for the show only.
Lesbian DJ Tracy Young, one of the gay circuit's most popular DJs and a D.C. native, will take control of the turntables Saturday night at Town, on a starry night when many celebrities are also expected at the club following the HRC National Dinner (rumors from reliable sources have surfaced over whether Lady Gaga, Gavin Creel and the cast of Glee will make their way to the dance club, but nothing has been officially confirmed). Doors open at 9p.m., and cover is $15.
A block or so away, the 9:30 Club welcomes the muscle bears and the men who love them for Bob Mould and Rich Morel's monthly dancestravaganza Blowoff. The fun begins at 11:30 p.m., with a cover of $12. And drag queen Kristina Kelly and her Girls of Glamour will put on their weekly show — Under the Big Top — at Apex, featuring DJ Joey O. It starts at 11 p.m., with a $10 cover. Cobalt, meanwhile, welcomes DJ Kuhmeleon, a regular at Baltimore's Club Hippo, which is bringing in DJ Seth Gold for the night.
The march at noon and the rally at 2 p.m. will disturb traditional plans for "Champagne Brunch," but Freddie's Beach Bar in Crystal City is just as famous for its Freddie's Follies Drag Show hosted by Destiny B. Childs Sunday evenings at 9 p.m. Sunday also brings the final alt-queer dance party Taint to DC9, starting at 9 p.m., with a $5 cover. Town will host a special Tea Dance starting at 7 p.m. with DJ David Knapp and a cover of $10. And Philadelphia's lesbian DJ Melissa will prove why she's a popular mainstay at Apex, spinning at the club starting at 6 p.m. for a special Sunday night party, with only a $5 cover. At 10 p.m., Cobalt will present the party Equalizer, hosted by NYC's Mr. Black and featuring DJs Nita and Michael Magnan. Cover is $6.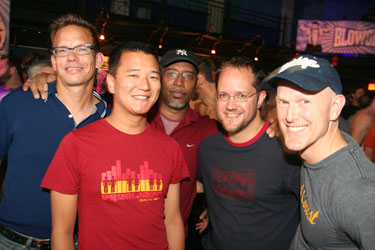 Perruzza says JR.'s will be decked out with posters and artifacts touting gay history. The bar serves as D.C.'s de-facto Stonewall Inn, but it should be only one of many regular outposts for the weekend, from the leather-haven DC Eagle, to the comfortable and (on Thursdays from 10-11 p.m. shirtless) Green Lantern, to the lush ladies retreat Lace, to the video-happy cruise bars Omega and Fireplace, to one of the nation's oldest and finest country-western bars, Remington's. And don't forget gay jock headquarters PW's Sports Bar in Laurel, Md., and Nellie's Sports Bar, which will be celebrating gay flag-football players participating in Gay Bowl IX, as well as those taking part in water polo and softball tournaments hosted by the DC Wetskins and Chesapeake and Potomac Softball, respectively.
But for spectator sports of a more, ahem, alluring kind, check out the new Secrets/Ziegfeld's complex, where all weekend long fully nude dancers and fully wired drag queens — including the drag queen mother of all D.C., Ella Fitzgerald — will enact their own special brand of celebrating equality for all.