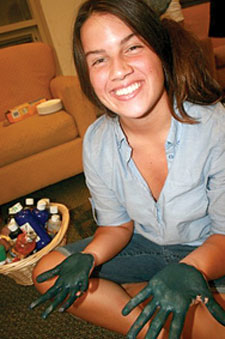 Lisa Wojehowski
Lisa Wojehowski says it's her duty as a young, straight person to stand up for other people's rights.
"What I always say to people, especially in trying to get people to go down to this march, is: 'If you were gay right now, and you're living in America, you are a second-class citizen. And that's unacceptable."'
Wojehowski is a 19-year-old freshman at the State University of New York at New Paltz, where she studies political science and also serves as the treasurer of the Queer Action Coalition. Outside of school, Wojehowski volunteers as the vice president of the Alliance for the Realization of Legal Equality.
Wojehowski recruited 55 fellow students to fill a bus, partially paid for by the college, to attend the National Equality March. Wojehowski, however, won't be on it as she is arriving earlier to get involved in pre-march events.
"I know that it's going to be a very profound moment in the struggle for LGBT rights," she says. "I want to be involved with it because I know it's the right thing to do. I believe strongly in the 14th Amendment and equal protection for all."
Non-GBLT people who are involved in the fight for gay rights inspire her.
"Because it shows where the movement is right now," she says.
"The fact that people who aren't directly affected by anti-gay laws are standing up against [those laws] — there's no way that we're not going to win now. It's very similar to the civil-rights movement in the '60s when white people joined in."
---
.