This Sunday, you can wear your football finest to your favorite video watering hole, be it Colts blue and white or Saints black and gold. Or even Redskins burgundy and gold, if you feel like sulking.
Yes, it's time for the Super Bowl.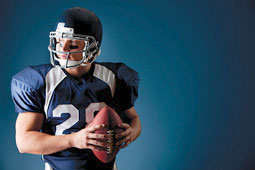 (Photo by Sean Locke)
The DC Eagle's Bill Cappello says all colors are welcome at his bar, where a special cookout and buffet starts at 5 p.m., with the big game on big screens at 6 p.m. Of course, it's the Eagle, so you could just wear leather.
JR.'s general manager David Perruzza expects the night to be just like any other Sunday – in other words, packed. JR.'s will have its usual special of $2 Skyy Vodka cocktails, and will play music during the actual game, only broadcasting the commercials and the halftime entertainment in full. The 17th Street institution will also have a Super Bowl pool in which $5 buys you a square and a chance to win $250 at game's end. (Another $250 will be donated to D.C. Main Streets.)
Not familiar with a Super Bowl pool? "You're not a straight boy, so I have to explain it to you," laughs Doug Schantz of Nellie's Sports Bar. Nellie's will have a pool in which $5 buys you a square in a 100-square grid, with your odds totally dependent on the luck of the draw. At Nellie's there will be a $125-winner after each quarter of the game, meaning that one super-lucky person could win, theoretically, $500. (If you need further pool explanation, hit up Schantz or Perruzza.)
In Bowie, Md., PW's Sports Bar will offer a free Super Bowl buffet beyond chips and dip, according to the gay bar's Scott Gould, who rattles off options including barbeque pork, wings, potato and macaroni salads and veggie platters. PW's will also serve from its regular menu, including the burger WTOP Radio listeners recently voted among the 10 best in the metro area.
All three bars promise to offer neutral turf, where fans of either the Indianapolis Colts or the New Orleans Saints can cheer in peace.
"We have two giant screens in different rooms so the fans can group together if they want," says Gould. At the Eagle, Cappello says "it'll probably get loud on the first floor," so the second floor will be a game-free respite, open for music and cruising as usual.
If you opt for Nellie's, Schantz suggests getting there early for prime viewing space. Referring to Shi-Queeta-Lee's new Drag Brunch in the venue, with its last seating at 2 p.m., Schantz jokes: "Eat brunch, get full and get a good buzz going before the game, and we'll carry you out when you're done."
Now that's team spirit.
The DC Eagle is at 639 New York Ave. NW. Call 202-347-6025. JR.'s is at 1519 17th St. NW. Call 202-328-0090. Nellie's is at 900 U St. NW. Call 202-332-NELL. PW's Sports Bar is at 9855 N. Washington Blvd. in Laurel, Md. Call 301-498-8202. For more info on these and other area gay bars, visit metroweekly.com/nightlife.'