"It's all I wanna do, so won't you dance?" Kylie Minogue asks on her new album's first single, "All The Lovers." "I'm standing here with you, why won't you move?"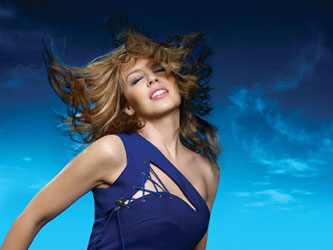 Kylie
(Photo by William Baker)
It's a euphoric song, sure to make you move and perfect for a celebration. But she makes the command to dance and move in a sweet whisper, which is awfully strange when you think about it. Maybe if she shouted it, to match the implied hostility, her intended target would oblige her?
And that's the mystery of Minogue. There's something a bit puzzling, even silly, about her music. Ultimately, she just doesn't seem to put much effort into it. She only ever co-writes her songs, and usually just shows up to sing. (She only co-wrote two songs on Aphrodite.) That's okay, though — it's the vocal quality that matters. In Minogue's case, her singing is generally plain and simple. She often sounds like a little girl, less than half her 42 years of age. She sings light-hearted pop that hasn't grown much wiser with age — even if you forget her first hit, "Loco Motion."
"What's the point of living if you don't take a chance? What's the point of living if you don't want to dance?" she poses on "Better Than Today." In fact, Minogue doesn't take many chances on Aphrodite, set for release Tuesday, July 6, and billed in press materials as Minogue's "triumphant return to the dance floor" and to "her dance floor roots." It will certainly please her fans.
Minogue, who remains as popular worldwide as Madonna, hasn't repeated the U.S. success she had with 2002's Fever. America just doesn't seem to fawn over its female pop stars after a certain age (just ask Madonna). Both Minogue's Body Language from 2004 and X from 2008 were adventurous collections of electro-pop that actually didn't betray much interest in the dance floor. But they weren't ballad-less dance-pop through and through as Aphrodite is. Hiring Stuart Price to serve as executive producer was Minogue's best decision here. By working on which songs to select, in which order, and then editing them as needed to fit into the mix, Price gives the album a relatively uniform sound.
If only she had tapped Price to co-write and co-produce more than three songs, maybe even follow the lead of Madonna, who had Price fully produce her best album of the past decade, 2005's Confessions on a Dance Floor. He just did the same for the Scissor Sisters' new set Night Work.
"Closer," for example, with its moody, minor-key melody, and its prominent synthesized organ and string sounds, comes across like Minogue's version of Madonna's "Isaac." It's as dazzling as you could hope for. So is "Illusion." The choir and violins add to the slightly melancholic mood, reminiscent of Ace of Base (and recent Lady Gaga). "I'm surrounded by confusion. And I'm lost in this illusion," Minogue leads the choir in singing.
KYLIE MINOGUE
Aphrodite
Astralwerks/EMI
$18.98



AND A HALF STARS
Available July 6
"Too Much," co-written by Scissor Sisters' frontman Jake Shears, features a chorus that's all trance euphoria, with a repeated dramatic handclap. It may remind you of Janet Jackson at her most clipped (think "Pleasure Principle" or "All For You").
But even Price as a co-writer can't save "Looking for an Angel." The song only has a hint of the rocker's edge he's known for, not nearly enough to make one stop looking for heavenly intervention. "I'm looking for an angel," Minogue repeats three times in the chorus — and that's it, nothing else she can think to say. At another spot, she sings "put your hands up, if you feel love tonight" — a club platitude that isn't saved by banal music. Later, she sings "I'm fierce and feeling mighty; I'm a golden girl, I'm an Aphrodite." But she also adds, "I'm going back and forth, forth and back." Ain't that the truth. "Everything Is Beautiful?" Not on the track of that name, unfortunately.
And if only Minogue could refrain from resorting to her breathy coo as much as she does. Like much of the set, "All The Lovers" wins you over because of its musical flourishes — in this case, because of its fullness of feeling and especially its giddy, whistling synth bridge. But with a little less immature breathing — she repeatedly coos the words "fire," "higher" and "breathe" — and a more sophisticated singing style, not to mention sharper lyrics, Minogue could make us love her as the Greek goddess to which she compares herself. Instead, she remains the goddess of lighthearted pop, generally pleasant but rarely exciting, breaking little ground.