"I tell people, if I were in prison, I would be out already," says Donna Summer. "It's kind of old."
In the mid-'80s, rumors swirled that Summer had made anti-gay comments. At the time, AIDS was ravishing the gay community and striking fear in everyone. And Summer, regarded as the Queen of Disco for her dominance in the genre — custom built for the hedonism and freedom of nightclubs — had also recently proclaimed herself a born-again Christian.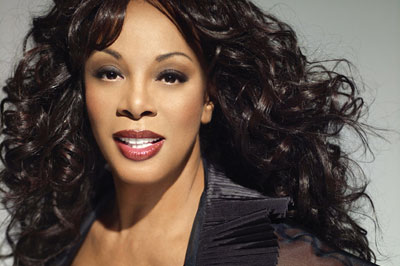 Donna Summer
To this day, it remains unclear what exactly Summer said or did — but reliable indications are that it was blown out of proportion. Summer says she's not sure of the specifics. (Did she agree to pray for a gay fan with AIDS who asked her to do so? Seems likely. Did she go on to say AIDS was God's punishment for gay behavior? She adamantly denies that.) "I think it was [based on] an assumption on somebody else's part, not on mine," says Summer. "If you go, 'Oh, that person is that way,' then they believe [it]. It's not necessarily something that came out of my mouth. It's something that someone assumed.
"I have tried over the years to bridge any misunderstanding," she continues. "And I think the more you talk about it, the more it creates questions."
Summer has not repeated the wild success she had prior to the controversy — but her most ardent fans have stood by her, or eventually returned to the fold. "Oh, huge, huge," she says, about continued support from gays. Over the years, Summer has performed at gay events and for AIDS benefits.
Summer also hasn't been as prolific as she was in the late '70s, when she created a new album at least once-a-year. Still, just over the past decade, many artists have sampled or covered her songs, from Madonna ("I Feel Love") to Beyoncé ("Love to Love You Baby") to, most recently, Jennifer Lopez ("On the Radio"). "I think it's great," she says. "It does give them longevity, [and] it does give them new light."
Now that her three daughters are full-grown, the 61-year-old has been increasing her work. She's preparing to record a new dance album, a follow-up to 2008's Crayons, as well as a standards set.
For her stop at Wolf Trap this Sunday, Aug. 28, Summer plans to road test some standards. "They're theater pieces I haven't done before that will probably go on my new album."
Summer notes that "different songs mean different things to different people," but reasons "Last Dance" is the favorite, for the crowd as well as for her. "That song is tied in with a lot of personal memories. And there's something magical about [it], honest and truly," she explains. "I used to see Judy Garland, and she would be in her light and in her moment. And there are times in that song when I have a sense of that [same] feeling. Everybody knows the lyrics, they're singing it back to me. There's a real connection in that song. That's beautiful."
Summer will also perform the standard "Smile," originally written by Charlie Chaplin, with lyrics by John Turner and Geoffrey Parsons. "As a performer," says Summer, "sometimes you're physically and emotionally in pain, and you have to get onstage and make other people laugh while in pain. Very few people have to do that. You know, usually if you are in business and you don't feel good, you're just grumpy and people stay away from you," she chuckles. "But in our business we really have to perform and get beyond it. It's not always easy."
Donna Summer appears Sunday, Aug. 29, at 8 p.m. Wolf Trap, 1645 Trap Road, Vienna. Tickets are $25 to $48. Call 703-255-1900 or visit wolf-trap.org.