Dana Beyer, a candidate for Maryland House of Delegates, is one of six candidates seeking the Democratic nomination to represent District 18, which includes Wheaton, Kensington, Chevy Chase and Woodside and has three delegates in its representation.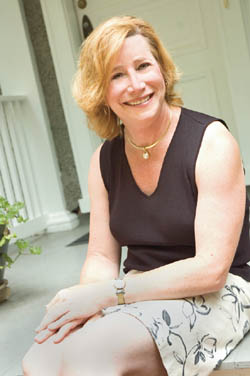 Dana Beyer
(Photo by Todd Franson)
Beyer is a known entity in D.C.'s LGBT political sphere, serving on the board of directors of the National Center for Transgender Equality and the board of governors for the Human Rights Campaign. She's a former eye surgeon who spent several years working in Montgomery County government before first seeking election to the House of Delegates in 2006.
Beyer, who would be the first transgender member of the Maryland legislature, spoke with Metro Weekly about the race – and the way her would-be constituents view her candidacy – as the road to the September 14 primary election comes to a close.
METRO WEEKLY: So, where have you been?
DANA BEYER: I decided back in April that I was going to do this right, and that meant getting out of the D.C. scene. I decided I was simply going to go out and meet my constituents. So that's what I've done for the past four-and-a-half months.
MW: How's it going?
BEYER: I love [campaigning]. It's something I never knew I would enjoy. It's been a joy. I've knocked on 10,107 doors. I know my district, I know the streets, I know the park, and I know my neighbors. It's been a humbling and gratifying experience.
MW: What have people been asking about?
BEYER: It's fluctuated. For the first three months, it was all about the budget. I met a whole lot of people who were at home because they were out of work or underemployed. Once we got to late July, with our storms, the top issue has been Pepco. You've got the acute crisis of energy delivery and the underlying issue of the economic woes and issues in the county and the state.
MW: What do you expect to happen on Tuesday?
BEYER: I don't expect anything. I learned when I began transitioning, the best way I can get through my life, day by day, is to have low expectations. My campaign strategy, though, is to come in first Tuesday, and that's going according to plan.
Everything's been leading up to the GOTV, and that begins tomorrow. There are three seats, and I need one of them, so I just need to come in third.
MW: But?
BEYER: I want to come in first. We're all going to have to deal with low turnout, so my plan is that I hope that my voters are more enthusiastic than their voters. The persuasion ends today, and starting tomorrow we just work to get out the vote.
MW: And after Tuesday?
BEYER: My plan is to relax. I will have no competitive race. The general election is a foregone conclusion.
MW: How will Maryland benefit from having you in the legislature?
BEYER: Aside from the fact that I'm a forthright and honest leader, I'm willing to fight back. I'd be one of only two physicians – the only surgeon – and one of the few scientists in the legislature. I, for one, find it to be shameful that the Democratic Party hasn't encouraged more of us to run.
Also, I will be the only county legislator with recent county experience. The lack of that has had very significant impact in Montgomery County in the recent past.
MW: Has your being a transgender person been an issue in your campaign?
BEYER: That issue has not come up once, not to me, not in 2006, not now. I find that hard to believe, but that's the reality. What's been a remarkable change since 2006 is that all the earned media stories then were about gender…. This time around there's been nothing about that.
I think I've done a very effective job of making this campaign about the voters and about this issues about which they care.
MW: How does being a transgender person – or LGBT person – figure into your – or anyone's – candidacy?
BEYER: People do, I think, know that candidates who are transgender or gay and have been honest with them about that are likely to be more honest with them as their representative. I think that's something that people read into their candidates. And that's a measure of the success we've had as a community over the past 40 years.
There's a possibility we could double the LGBT representation in the legislature on Tuesday – we could go from 4 to 8. And, this isn't a pipe dream, it really is looking like it could happen. And that will be a remarkable event.
The Maryland Democratic Party primary will be held on September 14. In addition to Beyer, the other candidates for District 18 include attorney Vanessa Atterbeary, Del. Al Carr, Del. Ana Sol Gutierrez, NASA contractor Michael Heney and Del. Jeff Waldstreicher.