Did you know William Shakespeare's Mercutio might be gay?
"Perhaps Mercutio is bisexual, who knows? He's a sexual provocateur, let's put it that way," says The Washington Ballet's Septime Webre. For his adaptation of the classic Prokofiev ballet Romeo + Juliet, Webre has this popular secondary character taunt Tybalt sexually — even kissing "the classic bully" on the lips at one point. He also has his company's dancers convey Mercutio's deeper feelings of love toward his best friend Romeo. Those are just two of several subtle twists that Webre has made to the tragedy, which he thinks has particular resonance today, with the struggle for mainstream support of same-sex love.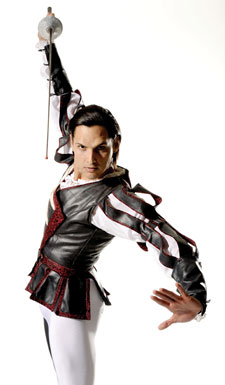 Luis R. Torres in "Romeo and Juliet"
(Photo by Steve Vaccariello)
"I don't see Romeo and Juliet as star-crossed lovers at all," Webre says. "Somehow that reduces the responsibility of the society around them. I see them as two earnest people in … a kind of illegal love. And the tragedy that befalls them is not a result of coincidence or fate, but it's actually the result of a society which does not value their love or accept it."
Webre first adapted Romeo + Juliet in 1994 as the 30-year-old artistic director at the American Repertory Ballet in Princeton, N.J. He's made changes to the piece even since the last Washington Ballet performance in 2005. "I streamlined the production," he says. "I cut out some music, maybe 15 minutes' worth, to really focus on the story and the principal characters."
The kickoff to the Washington Ballet's season, the production includes 80 dancers, with three distinct casts performing principal roles, allowing younger dancers a chance to shine among company veterans.
Now in his 12th season as the company's artistic director, Webre is looking for his own Romeo — or even Mercutio. "I'm gay and single and available," he teases.
Romeo + Juliet runs Wednesday, Nov. 3, through Saturday, Nov. 6. Kennedy Center Eisenhower Theater. Tickets are $20 to $125. Call 202-467-4600 or visit washingtonballet.org.