The most important aspect of today's American Civil Liberties Union lawsuit challenging the Defense of Marriage Act's definition of marriage — as reported on Monday night by Metro Weekly — follows the rules of real estate: location, location, location!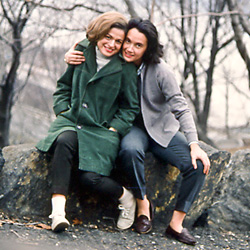 Edith "Edie" Windsor — a New York City widow who lost her wife, Thea Spyer, after a decades-long battle with multiple sclerosis and, later, a serious heart condition — provides a ready-made picture for media operations centered in the Big Apple, and her compelling story is the type that can — and will — be told over and over in the coming weeks and months.
From the complaint:
Edie and Thea met in New York City in 1963 ….
Edie and Thea first met at Portofino, a restaurant in Greenwich Village, where it was comfortable for a lesbian clientele to go on Friday evenings. Edie, who was working long hours at her job, decided to call an old friend and ask her to take her "to where the lesbians go." At the restaurant, Edie was introduced to Thea. Although Edie and Thea were each there with other people, they danced together all night. In fact, by the end of the evening, Edie had danced a hole through the bottom of one of her stockings.
Then:
After a wedding engagement that lasted more than forty years, and a life together that would be the envy of any couple, Thea and Edie were finally legally married in Toronto, Canada in 2007. Having spent virtually their entire lives caring for each other in sickness—including Thea's long, brave battle with multiple sclerosis—and in health, Thea and Edie were able to spend the last two years of Thea's life together as married.
And, then, after Thea died as a result of her heart condition, the legal conflict:
New York State legally recognizes Edie and Thea's marriage and provided them with the same status, responsibilities, and protections as other married people. However, Edie and Thea were not considered "married" under federal law because of the operation of the statute known (ironically) as the Defense of Marriage Act ("DOMA"), 1 U.S.C. § 7.
And, finally, the ACLU's summary of the wrong that Windsor is seeking to have righted:
This clearly unequal treatment of Edie and Thea's marriage both demeans their remarkable commitment to one another and has great practical significance for Edie, the sole beneficiary of Thea's estate. Under the Internal Revenue Code, the transfer of money or property from one spouse to another upon death generally does not trigger any estate tax at all. Because of the operation of DOMA, however, the federal government does not consider Edie and Thea to have been married, and, as a result, Edie has been forced to pay more than $350,000 in federal estate tax that she would otherwise not have had to pay if Edie and Thea's marriage were recognized under federal law.
The remedy sought by the ACLU is simple.
As Roberta Kaplan, the lawyer with Paul, Weiss, Rifkind, Wharton & Garrison LLP who is the lead attorney on the case, told Metro Weekly on Monday night, "What we're seeking in the case is a check back — with interest."
Read the lawsuit: 2010-11-9-WindsorvUS-Complaint.pdf
[Photo of Edie Windsor and Thea Spyer provided by the ACLU from the documentary Edie & Thea: A Very Long Engagement.]