"My whole life has been making sure I ran the Eagle properly," says Bill Cappello. And that he has certainly done: This weekend, the DC Eagle celebrates 39 years of serving as the perennially popular perch for the city's leather community.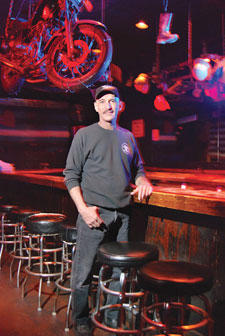 Bill Cappello
(Photo by Todd Franson)
Among activities on tap are an Anniversary Open Bar Friday night from 8 to 10 p.m., which Cappello says "is usually a good time, as people drink on the house." Saturday night brings the annual Mr. DC Eagle contest, hosted by Boy Ky and coordinated by the outgoing Mr. DC Eagle Derrick Thomas. The festivities don't officially end until next Wednesday, Thanksgiving Eve, when the bar is open until 3 a.m. for its popular All Colors Night, with all the various leather groups represented.
Turns out, this weekend will also serve as Cappello's last in charge.
The 56-year-old Cappello, who has worked at the Eagle since 1981 and been a co-owner since 1992, will announce he's stepping aside. He'll turn over the reins to his co-owners Ted Clements, Don "Angus" Hughes and Peter Lloyd, along with manager Carl Domer.
"I'm really proud of how they ran things while I was away," says Cappello, who was absent the first half of the year with non-Hodgkin's lymphoma. Though it's now "all cleared up," he says, "going through that type of [chemotherapy] treatment takes its toll on you. I can't give [work] my all [anymore]." He's got to be careful about his health.
"It's very amiable, probably the easiest transition of ownership in gay bar history," Cappello laughs, adding that he's not exactly going anywhere. He plans to remain "at their beck and call."
He'll also part of the planning for next year, when
the bar turns the big 4-0. The DC Eagle signed a lease earlier this year for several more years in its current space (where it's roosted for 23 years). But Cappello says they're always scouting out new opportunities. So who knows?
"We'll probably have more news to announce next year, too," he teases.
The 39th Anniversary events start Thursday, Nov. 18, at the DC Eagle, 639 New York Ave. NW. Call 202-347-6025 or visit dceagle.com for more details.